The current state of things is the biggest seismic shift in the dance world seen yet for many, if not most, dance artists and enthusiasts: theaters shut down, staged productions turned to films, regular classes taken over Zoom rather than a favorite studio, time in the studio spent masked and physically distant. Resources to keep dancers and staff paid, performances scheduled and community initiatives running can be, to put it mildly, tight — tighter than ever, in an industry that's notoriously scrappy.
Many larger companies at least have donor bases, corporate partnerships and grant procedures that make the threat of having to disband the company not a likely outcome. Even so, keeping an expansive mission alive, many people on payroll provided for as much as possible and maintaining creative generativity — that's no easy feat.
What about mid-size and emerging companies, as well as independent choreographers and performers? What does support, creative energy and morale of those artists and entities look like in this time? Will they decide to shift course in their life away from the arts, effectively throwing in the towel — meaning that we lose their artistic voices in the dance ecosystem?
Wanting to explore these important questions, Dance Informa spoke with leaders at dance companies of varying levels — emerging, mid-size and nationally-known — to hear about their experiences through COVID. In this first of a two-part series, we're highlighting the experience of three emerging companies. We'll hear from leaders at bigger companies in part two!
Kristen Klein, Inclined Dance Project (NY, NY)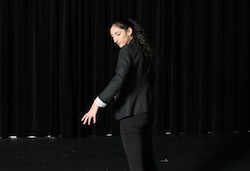 Kristen Klein, artistic director of Inclined Dance Project, confirms that she knows of several artists in the "emerging dance community" (as she defines it) shifting course away from a full-time life in dance as a result of this time. She sees many of them going back to school for, or getting certifications in, something not necessarily dance-related. One of her dancers recently got her real estate license, for example. She believes that a newer generation of dancers will come from current students of college dance programs, but there might be a time with a scarcity of available dancers for choreographers to work with.
Klein also believes that before COVID, there was a creative multiplicity that emerged from dancers working with several smaller companies and ideas therein spreading out through their metropolitan dance communities. With COVID, and many dancers moving elsewhere or shifting course, she sees that effect fading away.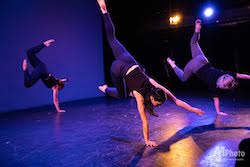 As for herself, "I've definitely asked myself if I wasn't doing this, what would I be doing?" Evincing the draw that the performing arts can have on those who love it, she kept coming back to things involved with that world (such as stage management). "Even when resources are low, the drive is still there; we need to be in that creative space," she confirms. She's enjoyed learning new skills involved with dance filmmaking but notes a couple of drawbacks — the stress of having to pick up new skills just about instantly and the lack of dancers being able to explore the artistic nuances of a work through multiple performances, for example.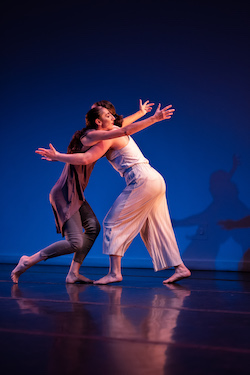 As for supports, Klein expresses sincere gratitude for a supportive community around the company, which allowed her to provide a sort of private COVID relief for her dancers, she says. Dancemakers in her circle similarly provided an "emotional safety net", she says; even the simple act of checking in with one another and swapping COVID-dancemaking strategies created a sense of solidarity and a support network that's felt helpful for her spirit. She's found the grant system less supportive and easy to navigate. She describes how, at one point, even the thought of filling out COVID relief grant applications felt exhausting to her. Nevertheless, the company dances on — with a dance film created and other projects in the works.
Victoria Awkward, VLA Dance (Boston, MA)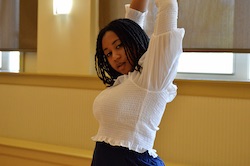 From the outside, there seems to be a buzz of creative energy around VLA Dance — with performances in the books and others brewing, ongoing classes, community initiatives, and a merchandise line including masks and t-shirts. Victoria Awkward, director of the company, describes how an upcoming work will be presented for small audiences (10-20 people) and toured throughout Greater Boston. Awkward sees this approach as aligned with what the company has already been doing, "working in pretty intimate and non-traditional spaces and breaking down barriers between the audience and the dancer," she describes.
Before COVID, Awkward had also been interested in creating ways to encourage sustainability in concert dance. She's found there to be a lot of competition for available grants in Boston, and not "many sustainable, formed pathways to funding work" otherwise, she says. "It can be really hard to be so vulnerable about your work [in grant applications] and then not hear back."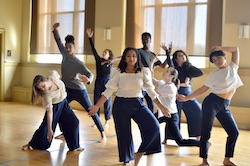 Yet, through initiatives such as the company's merchandise line and classes (both contemporary dance dance and fitness-based), Awkward and her company have been carving their own pathways that are resilient through times like these. Part of that is keeping your eyes open to the skills and interests of your company members and wider community. VLA dancer Mitzi Eppley is a talented designer and came to Awkward with the idea to make and sell masks. That expanded to include t-shirts, Awkward recounts. Community partnerships, which can broaden the supportive base of all involved entities, have also been fruitful, Awkward explains.
She's also found it useful to have a business plan. It's certainly changed (and especially this past year, as we might all expect), but — particularly with smaller steps that can be more feasibly checked off — it helps to demonstrate how even if you're not where you want to be right now, you're moving in that direction. Above all, it's vital to Awkward that any way in which her company builds sustainability is in sync with the company's main values of "artists and community first," she affirms.
Sheena Annalise, Arch Ballet (NY, NY)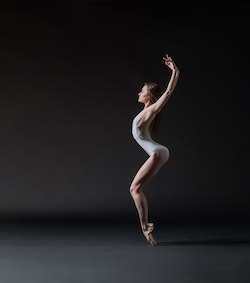 Arch Ballet decided to take a pause through the last year — for both creative and budgetary reasons. Toward the former, Artistic Director Sheena Annalise's work translates to the stage in a unique way that she hasn't wanted to compromise. Toward the latter, the company didn't have the infrastructure of a film production company, and Annalise was concerned that the finances of making that shift wouldn't "pan out", she explains. NYC's larger companies were churning out a lot of free film programming, generating large viewerships that could translate to grant funding that was directly tied to those viewer numbers, she notes.
Annalise describes how her company's base of support is mainly its community and ticket sales (regularly selling out performances pre-COVID). When COVID hit, and there was immense need out there, many of the company's donors shifted to giving toward charities addressing those needs. Annalise certainly understands that, and also underscores the importance of supporting emerging and mid-size arts organizations as a large — and vital — part of the arts economy.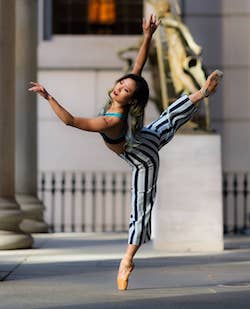 "I always ask people to see young arts organizations as businesses, and we must support small business," she says. "There are only a handful of big name dance companies, and without these companies like ours, these artists will have no home. Seeing the talent of non institutionalized dance companies is something not to be missed." In a "Ballet for Breakfast" campaign, she challenges donors (and potential donors) to donate what they spend on a daily Starbucks latte to a company like hers. The best way to support the arts ecosystem right now? "Donate, donate, donate," she says.
Nevertheless, Arch Ballet has stayed financially resilient through the past year by cutting costs, such as cancelling all subscriptions not absolutely necessary for standard operating. Fair dancer pay is a top priority for her, Annalise explains, and the company assisted dancers with receiving unemployment. She is happy to report that the company will be back for outdoor performances in April and May (controlling costs as much as possible to keep the performances viable), and will also be in two separate "bubble" residencies" over the summer. "Our usual theater is still closed, and our usual rehearsal studio is, too, but we are making it work!" Annalise affirms.
By Kathryn Boland of Dance Informa.