March 6, 2021.
Streamed live from The Gamm Theater. 
COVID has us not able to hug certain loved ones, precluded from breaking bread with good friends and barred from experiencing creative acts in community. For many dancers, partnering and sharing sweaty space has become moving together in a Zoom meeting or — even more disconnected — through Instagram Live. What does human connection become when we can't physically connect with one another, something our very biology leads us to crave? What is that experience in our body? What truths are we called to reaffirm through that experience?
Island Moving Company's Together in This Dream — Dancing Through the Digital Divide wrestled with these questions through its unique contemporary ballet idiom. The Newport, RI-based company streamed the show live from The Gamm Theater (Warwick, RI), with COVID protocols in place while audience members enjoyed the show safely from their home. The program included favorite repertory works as well as exciting premieres, all which could uniquely contribute to those questions of community and connection through this highly digital, socially-distanced time.
Apart from the three premieres described in this review, the company performed favorite repertory pieces — the theatrical and delightful Let Me Introduce You (choreographed by Colin Connor, 2020), the mysterious and thoughtful Marionetas (choreographed by Rodney Rivera, 2018) and the atmospheric, ethereal La Tierro Gira (choreographed by IMC Artistic Director Miki Ohlsen, 2015).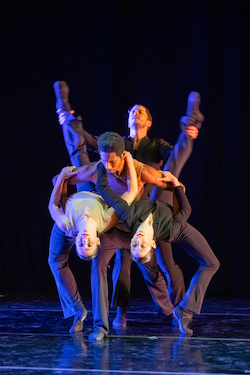 The program opened with the world premiere of Steady Grip, choreographed by Mark A. Harootian. Dim lighting made a mysterious and also somber feel permeate the air. The dancers' theatricality and highly gestural movement supported that feeling; they held one hand to their head and the other hand grabbing at the elbow of the first hand, swaying back and forth. What felt salient here was the movement possible in the face of constriction.
Also contributing to that feeling of constriction was how each dancer had a chair, which they stayed with through much of the piece. What possibilities emerge when that is the space around which one moves? What is not possible, and what results from that absence? These questions are certainly meaningful a year into a common experience of limited space and limited physical prospects.
Leaps up with legs spread just wider than the hips was another motif at hand, particularly from those chairs — also demonstrating the movement possible in the face of limitations to where you can go (a chair being stationary). The dancers found impressive height and power in these leaps. Even with spatial and physical limitations, freedom of movement can be found.
To end, for the first time acknowledging one another, then all looking to the dancer who had often been spotlighted. Individual experience was an emphasis here, but so was possibility within community. From there, the lights went down fairly quickly. I wonder what the emotional effect of that lasting a little longer might be.
Rhea Keller danced Danielle Genest's Venus and The Crescent Moon, third in the program. She wore a simple purple dress, on which the lighting created entrancing shadows. That lighting was reminiscent of midnight, yet a midnight with a bright moon and stars overhead. Keller danced with elegance and poise, stepping quick and high on the balls of her feet.
Later in the piece, something drew her lower, and ultimately into the ground: rolling, lunging low, stretching and reaching while outstretched on the ground. There was a sense of her carrying on the sacredness and power of woman, timeless and ageless. The connection to the Earth beneath her would not be denied nor forgotten. The wildness at hand could co-exist with elegance and poise, Keller's performance and Genest's choreography made clear.
Genest also choreographed Skeleton Crew, another world premiere closing out the program. A memorable atmosphere and striking movement vocabulary stood out in the work. Dim lighting joined with low and slow movement built a mysterious, and also somber, feeling in the air. The dancers wore grey suits, something that felt purposefully Spartan (costumes by Eileen Stoops).
The lighting came up as they came to formation, and a snakey feeling in the movement through the spine evolved. This movement quality matched the energy of the movement low to the ground in the beginning of the work. The score gradually rose at this quality built, one that underscored a feeling of discomfort and uncertainty.
Another theme that gradually emerged was the feeling of mutual support. For example, a memorable section was the dancers slowly walking back and one falling, while two others lifted that dancer up and they kept walking. They all looked out with intensity, as if something threatening was ahead. But they had one another. Other instances of weight sharing and partnering further created this feeling of mutual support.
In times when we share common challenges, what we do have is one another. Even the physical presence of another, or others, can remind us that we're not alone in our struggle. Brava and thank you to IMC for these meaningful reminders with Together in This Dream — Dancing Through the Digital Divide.
By Kathryn Boland of Dance Informa.