While not everyone will contract COVID19, no one is immune from the impact of isolation and social distancing. The emotional side effects of this pandemic may be even worse because they are invisible and last longer than the actual virus itself. In addition to fear and anxiety, people may begin to feel paranoid, restless, hopeless and a myriad of other symptoms, including grief and loss. Yes, grief can play a big part in all of this as we are all dealing with the loss of something, or in extreme cases, someone.
As I write this article, I myself am dealing with a new and hopefully temporary normal. Since the "shelter-in-place" order was given in my hometown, the overwhelming reality of transitioning my therapy practice to telehealth, working from home and homeschooling my daughter all while caring for my newborn son has left me stressed to say the least. If you are anything like me, dance is your escape, your outlet, your lifeline. It is the first thing I turn to when times get tough. It is one of the main reasons that I became a dance/movement therapist. So what do we do when we are urged not to go to the dance studio? How do we maintain virtual connection? How do we cope with this new reality? And most importantly, how do we remain connected to dance when our connections themselves are compromised?
Let me start by saying that whatever you are feeling is valid. You are allowed to feel everything and anything. Furthermore, just because many of us are practicing "social distancing", that doesn't actually mean we need to limit our socializing. Physical distance is the most important thing right now but so is social connection and communication. We are social beings, and we must find ways to stay connected to ourselves, others and our communities. Some ways that I am seeing people maintaining connection are through:
Virtual dance parties
Online dinner dates
Family gatherings on FaceTime
Community sing-a-longs from apartment balconies
Drive-by well wishing
Old-fashioned phone calls
Movement is needed more than ever, for all of us. Thankfully, the dance world is using its resources to bring classes, seminars and workshops online. With services like Zoom, you can take class from Debbie Allen, Brian Friedman and Misty Copeland. But that may not be accessible to everyone, and dancing at home is much different than being in a studio. Here are some suggestions on how to bring dance into your home:
Ballet in bed
Stretching
Authentic movement
Dance parties
Walk/Run/Dance outside
It is alright if you are finding it hard to dance in your apartment. New routines take time to settle into, and just because you are a dancer, that doesn't mean you should automatically find it easy to dance in a new environment. Keep in mind that it can be difficult to dance in a place where you are experiencing strong emotions. Let's look at ways we can keep moving; after all, movement is the core component of dance. If we can ease into movement, then we can find ways to engage in dance. Here are some ways we can continue to move through this difficult time. I like to think of these as movement prescriptions.
#1. Breathe.
Pay attention to your breath. This does not necessarily mean taking deep breaths but instead tuning into your breath. Seeing as this is a symptom that we are hearing so much about, be careful, as this can trigger more anxiety. Notice your breath, play with the flow of your breath, and find ways to mirror or match your movement to the rhythm of your breath.
#2. Explore dimensions.
Connection can be as easy as finding ways to move through space. Try standing in a doorway and reaching into the four corners. This will reinforce connection to self. Oscillate between hugging yourself and stretching your arms out to each side. This represents connection to other. Lastly, try moving forward and backward through space. Practice advancing and retreating provides an opportunity to "move" through difficulties that arise.
#3. Embrace stillness.
Movement is in everything. If you are finding it hard to move, then focus on all that is moving while you are remaining still. Bring awareness to all the movement on a cellular level — cells dividing, blood flowing, heart beating.
#4. Watch dance.
Lastly, if movement feels inaccessible, then find ways to engage with dance visually. Might I suggest some movies like Dirty Dancing, Center Stage and Footlose! Watching dance can evoke similar emotions that we feel when actually dancing. Listening to music can also be a great way to get the body's natural rhythm going. Plus, your eyes are engaging in movement as you watch the screen.
If you are finding this time enjoyable from a body perspective because you have been taking dance class after dance class online, then embrace it. Allow yourself to soak up every minute of it because dance is an inherent way to express ourselves, and that is something we all need right now. For those of us who are looking for online resources my colleague, Mariah LeFeber, a dance therapist and educator, compiled a fantastic document with Online Movement Resources. Check it out, and pass it on!
I'd like to add that as I am finding myself on social media to stay "connected" and informed, I am so inspired by the plethora of movement and dance videos that are being created, posted and shared. I only wish I could join in the content creation, but until then, I thank you all for your creative contributions. Now is the time to be creative. Tap into that primitive need for the mind, body and spirit to connect. Most importantly, may everyone have good physical and mental health in this unprecedented time, and may we all find comfort in dancing alone together.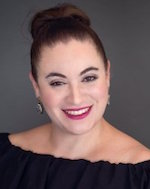 By Erica Hornthal, LCPC, BC-DMT, Dance/Movement Therapist.
Erica Hornthal is a licensed professional clinical counselor and board certified dance/movement therapist based in Chicago, IL. She received her MA in Dance/Movement Therapy and Counseling from Columbia College Chicago and her BS in Psychology from the University of Illinois Champaign-Urbana. Erica is the founder and CEO of Chicago Dance Therapy, the premier dance therapy and counseling practice in Chicago, IL. As a body-centered psychotherapist, Erica assists clients of all ages and abilities in harnessing the power of the mind-body connection to create greater awareness and understanding of emotional and mental health. For more, visit www.ericahornthal.com.