The dance community is small but connected. And dancers are physical people. During this time of social-distancing, it's easy to lose our mind a little. Without regular class to keep our body in shape, it's safe to say we're all feeling a little claustrophobic. Shows are closing, companies are laying off their artists, and few performers can work from home. The unemployment website is continuously crashing, and calls are constantly dropped from its hotline. It's been a rough few weeks, and we can't connect to our community the way we usually would in tough times.
But almost immediately as bad news started lighting up my phone, so did support from the dance world. Dancers are stepping up and sticking together. I've never seen such an influx of art on all my social platforms. My Instagram feed is overflowing with live classes designed to fit in your living room, and my Facebook is posts upon posts of dancers collectively brainstorming creative solutions on how to teach class, have a rehearsal or even perform a show from home. My first day in self-quarantine, I woke up to an email with an open access Google doc of resources for dancers during COVID-19, forwarded to me by a friend, who got it from another friend. There were about a hundred of us logged on to it at once.
In the same spirit of sharing, Dance Informa has put together a list of financial, physical, mental health and other resources that have come across our screen in the past few weeks. Browse through to find out what you can offer and what might help you. At the very least, we hope seeing so many examples of our community coming together (while staying apart) puts a smile on your face. Share with your friends, and add any other resources you can find.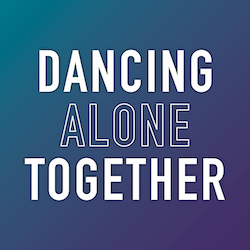 Online classes
Lack of access to studio space isn't stopping dancers from getting their daily class in. Livestreaming is dominating Instagram and Facebook. American Ballet Theatre dancers like James Whiteside and Isabella Boylston host themed classes, and Tiler Peck is doing #turnoutwithtiler every weekday. Try the Paul Taylor Company for modern. For more styles, check out our articles on the Steps on Broadway and Broadway Dance Center teachers who are keeping a regular schedule of classes going. Dance Church, which normally draws about a hundred people per class for accessible, Gaga-like movement, is livestreaming too. Founder of Dancing Alone Together, Katherine Disenhof of NW Dance Project (currently on layoff), has amassed a rosters of dancers teaching digital classes, and provided a platform for artists looking to create or share their work.
If you're a dancer affected by the pandemic, these classes are a way to get consistent training from the pros for free. If you do happen to be in a position to donate, please help support these artists during this difficult time.
Online shows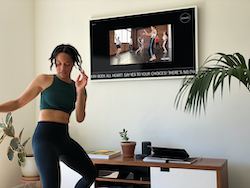 The Met Opera is currently streaming one opera a day for free. The Joyce is sharing clips of some of the pieces it's hosted, as well as interviews with choreographers on its podcast. The Trickle Up is a new network of 50 successful artists in New York which is offering original content (new dance pieces, monologues, songs, drawings, behind-the-scenes looks) for a subscription of $10 a month. With a goal of 1000 subscriptions, The Trickle Up hopes to donate to 10 fellow artists living below the poverty line each month.
Financial relief
With potential help from the government still being debated in the Senate, immediate relief funds are being put together by individuals and organizations alike. Many are also providing their own lists of resources, so be sure to check those out. The Dance Union has resources to share, and has put together two relief funds. Artists Shawn Escarciga and Nadia Tykulsker started the NYC Low-Income Artist/Freelancer Relief Fund. Check out Springboard for the Arts, Artist Relief Tree and Artists At Risk. Here's one dedicated to artists of color, here's one for freelancers, and here's one for AGMA members. And here's that Google doc my friend sent me.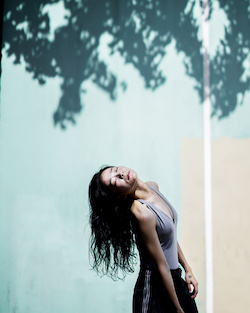 Petitions
Here's a way you can give back without spending a penny. DanceUSA.org is urging dancers to contact their representatives and senators to explain how the virus has affected their livelihood, as well as to take their Coronavirus Impact Survey to provide quantitative support that can be pointed to. Actor's Equity calls on artists to tell Congress to include displaced entertainment workers in the relief effort, easily done through that link. DanceNYC has two impact surveys up and running; one for individual artists and one for organizations. Do your part in saving the arts industry from the comfort of your couch. (It's not like you're busy.)
Stay social
If you need a break from social justice, or if social distancing has you feeling lonely, check out these social media movements dancers have started up to keep connected.
Dance photographer James Jin has had the idea for #dailydanceclub for awhile now. "I wanted to encourage dancers to be creative and get into a habit of improv," he says, "and I thought this is the perfect time to start it since we have so much time to ourselves."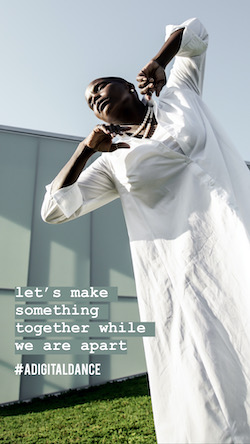 Jacob Jonas the Company started #adigitaldance, challenging dancers with new movement tasks from a different choreographer every Monday. Artists include Damien Jalet, Emma Portner, Pilobolus and others. "As we respond to the limitations of our current time," Jonas explains, "we look to these restrictions as the bedrock of our creativity. Let's make something together while we are apart to unite our community."
And as always, Biscuit Ballerina is providing much needed comic relief. But she's providing resources (check her bio for more relief funds) and some words of wisdom as well. "Dancers and other artists are often the first to volunteer their services for free in order to help raise money for various causes. Please consider helping artists through this rough patch any way you can."
As dancers, we're used to making it work. Creative problem-solving is our specialty. By staying connected and supporting one another, we'll make this work, too.
By Holly LaRoche of Dance Informa.