The road for any of us can take an unexpected turn, at any point — but that's perhaps all the more true for performing artists. The life and work of Lily Frias, LA-based dance artist and educator, is an exhibit A of that truth. Born in Mexico, she began dance training in New Mexico. Those early ballet and jazz classes led to a journey in dance art that continues to this day, and most likely for many years to come. Dance Informa speaks with Frias about that journey — past, present and future. We hope that you enjoy getting to know her!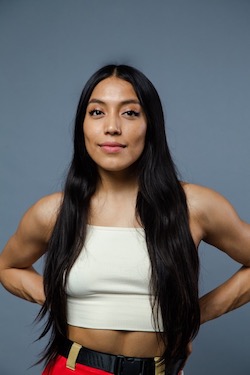 In New Mexico, Frias was steeped in dance competition culture for some years. In addition to training hard and competing, she began teaching at her studio. She then became more interested in hip hop dance, and delved deep into learning the movement and the culture. That led her to Monterrey, Mexico, where she joined a hip hop crew and continued to teach and train. Her crew worked hard and got far, as far as the hit television show America's Best Dance Crew. They were the first crew hailing from Mexico in the show's history, something that Frias is proud of. A year or so later, she moved to Los Angeles. She's lived, worked and danced there for six years as of this writing.

While in LA, she was on Season 12 of So You Think You Can Dance. "It was intense!" she says, describing the process of being on the show, but with a note of nostalgia and joy in her voice. Frias shares a bit about that process, starting with a freestyling portion of the audition. Former contestants and judges watch the many improvising dancers in the room and send a select number of them to the main judges (the first televised part of the process). Frias made it from there to the Vegas audition portion, and ultimately to the Top 20 (the main portion of the show). Similar to with America's Best Dance Crew, she was proud to be the first Mexican in the show's Top 20. "I had those of Mexican and other Latinx descent writing to me and telling me how much that meant," Frias says.
Since then, she's worked hard teaching, performing and creating all over the world. She's been honored to have toured internationally and continued to represent Mexicans and Latinx people more generally, she shares. Frias is now with the dance trio Femme Fatale, with Dassy Lee and Marie Poppins aka Marie is here. They dance predominantly hip-hop, but also explore various aesthetics and break all sorts of boundaries, she affirms. She's also been heavily engaged with The Hip Hop Nutcracker, as well as danced for Tracee Ellis Ross at the American Music Awards. "[Tracee] was super gracious, offering so many moments pushing us to work even harder, to see that the sky's the limit," Frias recounts. She's also recently worked with Tov Lo.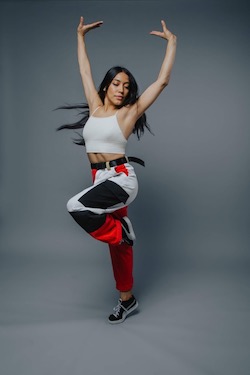 Frias also teaches workshops in the U.S., Europe and Singapore, as well as a Thursday cross-training session for dancers in Los Angeles. She also teaches whacking and other hip hop forms on the online platform cv.co through Steeze Dance Studio. Frias hopes to teach a regular class at Millennium Dance Complex sometime soon as well. "Teaching and performing are two different energies," she believes. Frias says that she "wants to be a light when performing," whereas teaching is more about putting students first and letting them be the light. Having taught since she was a teenager, she's built both of these skillsets and the ability to smoothly switch between them. Frias also believes that "the more you delve into artistry as a performer, the more you have to offer as a teacher." She also does a good deal of judging for competitions, she says.
Asked about versatility, as someone who's worked in so many different contexts and settings within dance, Frias points to how she's been incredibly dedicated to every form she's worked in — such as in always stretching before ballet or jazz class and in honing her unique artistry in hip hop "battle" culture. She sees both sides of the versatility debate. "Training in different forms can help you through making you more adaptable, but I also have so much respect for the people who really dive deep into one style," she asserts.
Frias describes an instance when she auditioned in hip hop, having planned to audition only in that form, yet she ended up staying around to also audition in contemporary. Interestingly, she booked a job from that contemporary portion of the audition, dancing in that form. "That really shows how you never really know when you'll be able to call upon a particular skill," and the key thing is training your body and mind to be more adaptable and have more available to it, she affirms.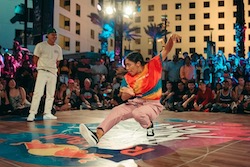 Asked what's the most difficult part of her work and life as a globe-trotting artist and educator, she shares that being away from family can be quite hard. Even so, she says, they're her "biggest fans," from afar — tagging her in videos and cheering her on through social media, for instance. "They give me a sense of community, support and groundedness," she says.
Supported as such, where to from here for Frias? She will be working with Redbull, Maximum Entertainment Productions, touring with The Hip Hop Nutcracker again, and will be involved with many other projects.
Frias also wants to work with more artists from various art forms — musicians, visual artists and more. She wants to innovate and experiment with various media coming together in a concert dance context, within a hip hop dance aesthetic and ethos. She's interested in deepening her knowledge and skills with videography and editing. Whatever further twists and turns she takes on her journey in dance art, she'll continue representing and innovating with a strong work ethic, warmth and vision.
Follow Lily Frias on Instagram: @lilyfdc.
By Kathryn Boland of Dance Informa.