October 28-November 7, 2021.
Available through BB at Home.
For not the first time since March 2020, I logged on to watch a Boston Ballet program — for a review — from home. Each time I've done so, one little voice in the back of my head wishes I was experiencing the company's work in the beautiful CitiBank Opera House, while another is grateful to be experiencing it in any form (and to be healthy enough to do so!).
This time it was reSTART, the digital opening of Boston Ballet's 2021-2022 Season. The program offered the company's typical commitment to excellence in works spanning the stylistic spectrum. Yet, also, this program — while not without its weighty, important meanings to be found in its work — just felt good: overall cheerful, hopeful and aesthetically bright.
Dance has incredible power to hold a mirror up to ourselves — and what we see isn't always to our liking. Yet at other times, it can just feel pleasant. It's been a long, hard pandemic, and programs like RestART can be just the right thing for audiences needing a little relief from it all.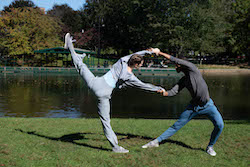 Yin Yue's layered, yet wholly accessible A Common Movement kicked off the program. The work put a pedestrian touch to concert dance formalism — demonstrating that dance can (and should) be something for all to experience with confidence and joy. The work's title seems like a triple-entendre, with arguably even more reference points. For one, the work was filmed in Boston Common, a large and lush public park in bustling downtown Boston.
For two, the dancers moved out in a common space, in everyday clothing as costumes (although somewhat stylized and uniform among the dancers, designed by Yue in collaboration with the Boston Ballet Costume Shop). For three, the ease, joy and approachability of the work underscored that dance can and should be a "common" thing, as extraordinary as it is; no one should feel like it is not for them.
Fittingly, the movement oozed jazzy suave and cool. Layered on a steady classical ballet foundation were jazzy touches such as shoulder shimmies and hips pops. Unified structure undergirded release and individuality for each dancer. The ensemble seemed to be having, simply put, a ton of fun — their smiles easy and the feeling in their bodies light and joyful.
Vibrant jazz scores supported all of these elements. I thought about the discipline and structure yet also space for improvisation and freedom within jazz as a musical form; it all just aligned beautifully.
A middle section to the work brought a contrasting reflective, even somber, quality — yet also a hopefulness, musical notes hitting high and low and movement finding such possibilities in space as well. Partnering was predominant, as camera angles faded in and out of different partners working together (photography direction and editing from Ernesto Galan) — each pair with their own unique feel.
Their lines were expansive, reaching out past flesh and bones to the open outdoor space surrounding them — yet the connection of their bodies remained close. This middle section added another layer of quality and feeling to an otherwise high-energy, carefree tone in the work. Some degree of contrast can be not only effective, but essential.
The ending section brought that high-energy vibe back. A smorgasbord of groupings, formations and camera angles complemented all of this entertaining dynamism. To end, the dancers lay back on their forearms, finding gentle, pedestrian movement — as if lounging in the park on a pleasant Sunday, unhurried and unworried. Dance can be something that's just as common and accepted. What could it bring to our lives if it was?
The Balcony Pas De Deux from Act I of Romeo and Juliet followed. It's an iconic image of young, forbidden love painted in classical ballet. Boston Ballet's rendition offered the intriguing creative choice of a sparse aesthetic: no balcony, just a wide spotlight and a backdrop abstractedly portraying what looked like a forest. With such design, the movement and expression must speak loudly and deeply enough to tell the story, and here it certainly did.
Juliet (Soo-Bin Lee) beautifully brought across the startling coexistence within the character of girlish innocence and the weight of experiences beyond her years — with ethereal softness to her port de bras yet also a rock-solid stability and groundedness through her footwork. Romeo (Seokjoo Kim) remained consistent in his own character's inner contrasts: the precision and exactitude of a young man from a "good family" yet also the boldness and rebellious streak within him.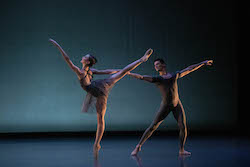 An excerpt from Jorma Elo's Ruth's Dance stripped a pas de deux down to its essence, the connection and energies of two bodies dancing together through space — to quite pleasing and moving effect. Costumes were simply cut, in earth tones. Lighting (by Jon Gonda) and the backdrop was in the same elemental color scheme. The score (from Bach) was for a single piano, allegro but also with a softness and a grounding to it.
The dancers (Addie Tapp and Lasha Khozashvili) brought those qualities across in their performance; their footwork moved faster or slower than piano notes at times, in a way that was both playful and thrilling. It would seem to be incredibly challenging to keep count and tempo with such contrasts, but Tapp and Khozashvili succeeded in that.
At the same time, the work had an ease and a calm in the air — partly from the dancers' assuredness and command, it felt like. Tapp knows how to use her long lines to bring some truly beautiful shaping and energy to her movement. The effect of that ability in this work was to enhance its playful, thrilling feeling. Khozashvili, steady and exacting as a partner, similarly offered something thrilling but also calm and grounding.
George Balanchine's Apollo (1928) came next, an adept illustration of Balanchinian formalism yet ingenuity of shape and musicality. Balanchine was never afraid to take a risk, and even sometimes get a little quirky — and Boston Ballet delivered that ethos here.
The company's rendition also stayed true to the iconic choreographer's design aesthetic: a simple blue backdrop, standard bright stage lighting of a yellow hue, pure white costumes with cuts elegantly reminiscing ancient Greek togas.
In movement, the uniqueness of Balanchine's vocabulary successfully built this ballet's melange of classical grandiosity but also the mystery of Greek mythology. The ensemble brought all of those qualities across to the letter.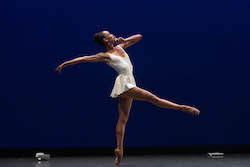 Paulo Arrais, as Apollo, conveyed the confidence and larger-than-life personality that one might imagine of a Greek god. The three muses were harmonious in unison, but and delivered their own qualities to very different choreography and music in their solo sections: the staid, grounded, and reflective qualities of Calliope (Viktorina Kapitonova); the lofty and enticing drama of Polyhymnia (Chyrstyn Fentroy); the gracefulness but daring and suave of Terpsichore (Lia Cirio).
A pas de deux with Cirio and Arrais toward the end of the work was pure magic; they seemed to have the trust and wordless understanding that makes a pas de deux truly come alive. To conclude the work, the lights darkened and the quartet posed in tableau — embodying the grandness, poise and drama of mythology.
Grand Défilé closed out the program, a short but grand chance for the whole company to step, stand and bow proudly. In fact, it felt like an extended bow befitting the program as a whole. Dancers walked forward in lines of various numbers. Grandiose music (from Tchaikovsky) and bright costumes in sparkling gold and white (by Jens Jacob Worsaae and Judanna Lynn) supported an overall feeling of pride and opulence.
The movement was simple, yet the company made it exciting with their presence, precision, and confident ease. With the pageantry and atmosphere of a royal court, it felt almost like a tipping of a hat to ballet's very roots.
It was simply pleasant, no deep reflection or intellectualizing required. Boston Ballet's reSTART as a whole demonstrated that sometimes, that's more than enough for dance to offer — particularly in turbulent times, when hearts need soothing and minds need rest.
By Kathryn Boland of Dance Informa.