I love reviewing dance. Since 2015, I've reviewed — on average — about one performance a week, for this very publication. In mid-March of 2020, right before the country fully shut down, I was scheduled to see two shows in one weekend. Rather than see those shows, I headed to where I'd quarantine (and am still living). Like just about everyone, I had no idea what would happen with my reviewing work. (Admittedly, I was focused on staying safe and healthy, and in utter shock at what was happening.)
Well, it being a year and four months later, what did happen? With some short slower periods, I've reviewed just as much work as I always have — livestreamed performances, dance films, a few outdoor shows and other creative iterations of those formats. I also began to notice certain trends in COVID dance, some resulting from practical necessity and others coming from choreographers' creative interest in the context of inherent constraints — or, in some cases, some amalgamation of both those forces. This article describes notable trends I saw (with memorable examples) and — from my position as a reviewer — why I think they're notable.
As the world begins to open back up and live performances are taking stages once again, I wonder what we'll keep of what we discovered in COVID dance and what we'll leave behind. Have we learned things or gained new interests that could benefit the art and field of dance going forward? Have we learned about what doesn't work and what we don't want to do again?
Whatever happens, over the course of COVID I've been taken aback by the adaptability, creativity and resiliency of the dance field — and proud to be part of it. Never have I been more confident that whatever we face, we'll dance on. It is who we are, and there's no changing that.
#1. More theatricality, less virtuosity
In the confines of screen dance, there may not be a significant amount of space — in three dimensions — to move. Spaces to leap, turn, and reach fully and expansively might not be there. Two-dimensional film can also take away some of the magic of intricate, dynamic movement vocabulary. What, then, might choreographers call upon to draw audience members in and elicit a response in them? Theatricality, including storyline and emotional execution, is one key answer there.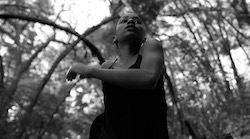 I've seen this sort of emphasis on theatricality over virtuosity through COVID as more and more choreographers, mainly out of necessity, have dove right into the deep end of film dance. Nathan Hirschaut's Seek, from Hive Creative Company and with a memorable performance from Zoe Hollinshead, is an evocative example of this trend. The work brings us inside one person's experience — with compelling abstraction but also illumination of the experience at hand through supportive elements such as text, score and props.
Hollinshead's movement throughout the short film is mostly pedestrian, yet notably intentional and chalk full of meaning to be found. Works like these throughout COVID have demonstrated that sometimes a reach, gesture or simple locomotive movement can support the telling of story or building of meaning more than the most virtuosic, technical movement ever could — something to keep in mind as the dance world moves forward from here.
#2. Expanded creative thinking with site-based or site-specific work
One of the things that scientists discovered about COVID in the early stages of the pandemic was that gathering indoors made spreading the virus more likely than gathering outdoors. Being sufficiently responsible and caring about the well-being of all involved (notwithstanding theaters being closed), choreographers took performances outdoors. One could understand how that could lead them to wonder how they could make the best of site-based work, how they could explore location in support of concept, aesthetics and more.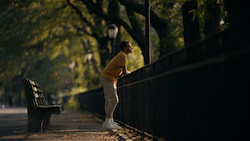 New York City Ballet's New Works Festival, for example, made use of NYC locations — Lincoln Center and beyond — to deepen meaning and clarify the execution of concept within each work. The closing work and its score, Justin Peck's Thank You, New York, truly brought this theme of place and space home. Four soloists danced in four separate locations in New York City — from the green to the ultra urban — engaging with each space in their own ways.
Throughout COVID, many of us spent more time within the four walls of our home than we ever have before. One result of that could be seeing various spaces, in our nation and beyond, with new eyes — something that dance art could perhaps reinforce with continued creativity with setting, place and space.
#3. Fresh approaches to partnering
After companies and studios shut down for a few months, many states's guidelines relaxed to the point that dancers could train, rehearse and perform (in films and in other COVID-safe contexts) again — masked and physically-distanced, that is. Partnering is a fundamental tool in choreography, for building both aesthetic and meaning. Once they could create again, would choreographers abstain from this choreographic tool? Partnering as usual could endanger dancers and those with whom they interact.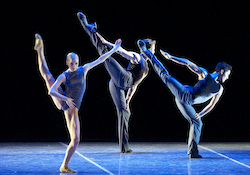 As a reviewer, I saw that some choreographers didn't give it up — while shaping that partnering in a way that would keep dancers safe. How? Choreographers made intriguing use of negative space between partnering dancers. How Boston Ballet Principal Dancers Paulo Arrais and Lia Cirio would just short of embrace in Jorma Elo's Bach Cello Suites, within the company's virtual program Celebrating Norma Elo, was a vivid example of that approach in partnering.
Sometimes that negative space went outside of dancers' kinespheres, working toward the fruits of connection between two bodies and two souls that partnering brings without "partnering" per-se. In that same virtual Boston Ballet program, Soloists Viktorina Kapitonova and Tigran Mkrtchyan maintained a visceral connection even as they were separated through space by a huge black box, for example. How wonderful to discover new ways of two humans moving together and closely connected in space!
#4. Reduced numbers of dancers in each work
Just as being indoors and being in close proximity were risk factors for spreading COVID, so was being in large groups. Choreographers, with safety and responsibility in mind, have known that solos, duets and trios were safer bets than large group numbers. As such, much of what I've reviewed in the past year and four months have been in solo, duet, trio and other smaller groups of dancers.
The final result, in many cases, were memorable illustrations of individual and interpersonal experience portrayed in dance art. Large group choreography can be hard pressed to get as personal and as intimate. As the dance world moves forward, we'd do well to consider that as we create new work.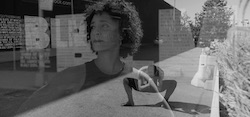 Complexions Contemporary Ballet's Black is Beautiful, for example, presents solos, duets and small groups edited together. A large group could have powerfully reinforced the work's message of the beautiful creativity and resilience of people of color. Yet, those small groups were powerful in another way — by illustrating the beauty in each of the Black dancers just as they are, in their unparalleled individuality.
#5. Through film editing making formations without having dancers together in space
We've all become quite familiar with those Zoom screen boxes over the past year and change. Having groups of dancers together in space is essential for creating formations — or so we thought before COVID led dancemakers to find another way. Without being able to create formations in the usual way, by assembling bodies in space and seeing what happens, thankfully they've had film editing tools.
Those boxes that house our faces in Zoom or other videoconferencing tools? They can be assembled in various ways just as various dancers in space can, each screen containing one dancer to a few dancers. In this approach, the film screen becomes the new stage space in which formations form, dissolve and form again. This is a dancemaking tool that can only be used in the context of filmed or livestreamed dance, with the exception of images projected on a cyc or other backdrop. Yet, it can be something that we beneficially carry forward into future film dance in certain cases.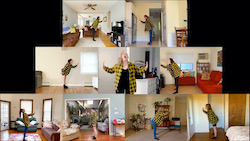 Several pieces within OnStage Dance Company's Season 20 virtual program demonstrate the use of this choreographic tool, in pieces of very varied aesthetics and dance styles. As one example, Melissa DeFriesse's What's Up makes and shifts Zoom screen formations in grunge-styled contemporary dance as an illustration of the raw frustration that COVID has created. 
As another, Sandra O'Donnell's Together, Apart is a pleasing portrayal of taking time to join together (even if virtually) and do something for your soul — even if it feels like there's a lot of work to be done. In an aesthetically satisfying and memorable way, the piece presents moving videoconferencing screens of dancers doing simple ballet exercises as they take that time away from work and for themselves — together yet apart.
Like all of the COVID-era dance tools and trends discussed here, it's something that could enliven and strengthen dance art in the post-COVID world — or it could be something that we choose not to take with us out of COVID, yet perhaps we've still learned something. Dark times have lessons to teach us, if we're open to receiving them. Let's keep creating, and never forget what a gift it is to come together and do just that.
By Kathryn Boland of Dance Informa.