Raise your hand if you've ever been told that ballet is the base technique for all other dance forms. I know I was. It wasn't until I got to college that I heard the rest of that sentence, and even then I was lucky I had a dance history teacher who set the record straight. Ballet is the base technique for other Eurocentric dance forms. King Louis XIV didn't have a hand in West African, or Japanese Kabuki or Polynesian Hula (no, it's not what you're picturing).
In the dance world and in our everyday life, there's a habit of consuming Black culture without recognizing where it comes from. Or consuming art that we don't realize is appropriated from Black culture. Here are a few things you might not know about the Black or African-American origins of three common styles included in standard American dance training. (African-American referring to Black Americans, and Black referring to all Black peoples of the larger diaspora.) 
Tap
Tap might have been born in the U.S., but it was brought about by enslaved African peoples and Irish indentured servants. Sharing close quarters in the poorest parts of New York City, they often competed in dance-offs against one another, showing off their respective styles — juba (or gioube) and Irish dancing. This led to the dances intertwining and combining. An African-American dancer named William Henry Lane, known as Master Juba, became a star on the circuit and travelled internationally with minstrel troupes, often having to wear blackface to pass as a white dancer imitating a black person. Despite the discrimination he faced, he was one of the first commercially successful tap dancers, and helped to pave the way for others.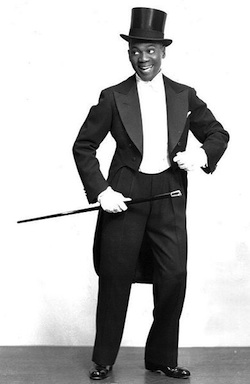 You know little Shirley Temple's tap dances. But do you know the man's name who danced beside her in many of her films? Together, Bill "Bojangles" Robinson and Shirley Temple became the first interracial dance partners in Hollywood. Robinson's career spanned minstrel shows, vaudeville, Broadway, Hollywood, radio and TV. He's credited with bringing tap dance up onto its toes and dancing upright, creating a style with light and elegant footwork. National Tap Dance Day is on Robinson's birthday, May 25.
If you want to see some seriously impressive style, look up the Nicholas Brothers. Fayard and Harold Nicholas took tap to the next level as the faces of "flash dancing", a type of tap to include crazy acrobatics and daring virtuosity. Their number, "Jumping Jive", has them leapfrogging over each other down a set of stairs, landing in the splits each time. Although Cotton Club Dancers Bessie Dudley and Florence Hill might have given them a run for their money.
Modern
While most people see those like Martha Graham, Merce Cunningham, José Limón, Lester Horton and Isadora Duncan as the founders or masters of modern dance, there are a few key names missing from that list, and a whole history that goes with them. Alvin Ailey, definitely. He's the father of the most celebrated American modern dance company (and now the world's largest and richest). But not only him.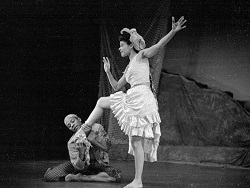 Katherine Dunham was a dancer, choreographer and anthropologist. As an anthropologist, Dunham studied Caribbean culture (notably in Haiti) in the '30s. As an artist, Dunham brought African and Caribbean dances to the American stage, presented alongside white art. In continuation of that legacy, she opened her own school in midtown New York, where she trained the likes of James Dean, Jerome Robbins and (guess who) Alvin Ailey.
Pearl Primus (PhD. in African and Caribbean studies) was a Trinidadian-born and American-raised dancer and choreographer. Like Dunham, she traveled and brought home African and Caribbean dance forms to theaters and her own school. They both integrated Black styles with ballet to build modern techniques. Primus' works contextualize Black dancing as an art form that deserves to be studied and performed, and dispel the idea of African culture as "savage". 
Jazz
The jazz music scene was inarguably brought about by African-American artists like Dizzy Gillespie, Miles Davis, Charlie Parker, Duke Ellington, Billie Holiday, Louis Armstrong and Cab Calloway, especially during the Harlem Renaissance. Jazz in and of itself was diverse, from ragtime to blues to swing. And from those came rock and roll, soul, funk, R&B, country (yup), and others widely appropriated by white masses.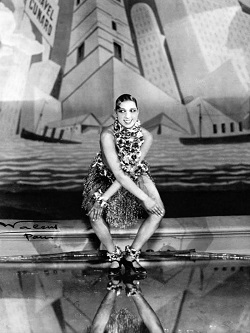 Just like its musical counterpart, jazz dance has a habit of intersecting with other forms of its field. Tap was also referred to as jazz in the '20s and '30s. The Nicholas Brothers' tap dance, the "Jumping Jive", was accompanied by Cab Calloway and his jazz orchestra. Katherine Dunham was a huge influence to the jazz scene, as the first to introduce body isolationism and syncopated rhythms. And as Jerome Robbins' teacher, she holds immense influence in the Broadway world. For a wild read, look up the life story of Josephine Baker, the poster girl of the jazz age. Sneak peek: she was a vaudeville dancer, French spy, owner of a cheetah named Chiquita and was asked to lead the Civil Rights Movement after Martin Luther King Jr.'s assassination.
From those varied roots, jazz expanded into Broadway-style jazz, classic jazz, jazz funk, contemporary jazz and many others that fall under the umbrella term. By then, many of the commercially recognized jazz dancers and choreographers were white (Jack Cole, Matt Mattox, Luigi, Bob Fosse, Gwen Verdon), but their styles of jazz are an evolution of undeniably Black art forms.
The variety in jazz music effected variety in jazz dance. And the eclecticism of both could be due to the variety of their source materials. Blanketly referring to Black music and dance forms as "tribal" or "primitive" is like calling Africa a country. Distinct styles come from different countries and regions in Africa, and the same applies to the Caribbean, Brazil and elsewhere. 
So Black and African-American dance techniques shaped most of the styles we learn in schools today. It would only make sense to learn those techniques to help with our training, just like we do with ballet. And while we're at it, we could learn the historical contexts of their appropriation (sometime before college?). It will take some recalibrating, physically and mentally, to students whose only source of technique has been ballet. But it will ultimately give them greater experience to draw from. You might compare it to the work that allies of the Black Lives Matter movement are being asked to do today: unlearn old habits and incorporate Black history and its legacies into our worldview and everyday actions. 
By Holly LaRoche of Dance Informa.