Have you ever heard the phrase "out of adversity comes opportunity"? It doesn't mean that adversity doesn't happen, or that it's not hard when it does. It just means that, from both serendipity and being adaptable to changes as they come, good things can grow from difficult times. The COVID experience of Sarah and Katie Daniel, twins who've been dancing professionally since they were little and have performed as Rockettes, is a clear example of opportunity coming out of adversity.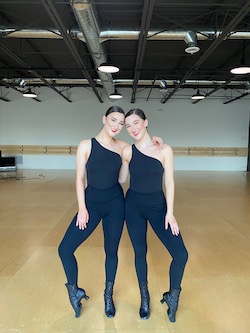 They were living the dance dream in NYC, but with a global pandemic, it all came to a halt. Yet, as many dancers might find relatable, they've found new interests and passions in and out of dance, reconnected with geographic and family "roots", cultivated new routines to bolster their holistic health (body, mind and spirit), among other positive outcomes.
Dance Informa spoke with the Daniel sisters as the last installment of our "dance life in quarantine" series: how high-profile dancers are staying creatively engaged, keeping their spirits up, giving back and more through COVID. We hope that you enjoy getting to know a little about them and hopefully learn something from them — and the same of all the stellar artists we've featured in this series!
When COVID first hit is likely something all of us will always remember. What was that like for you two? What were some immediate and longer-term changes that you both put into effect?
Sarah Daniel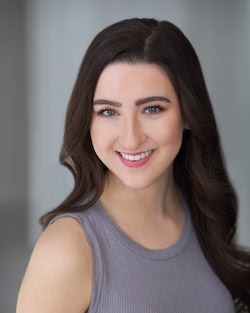 "We were in New York City when COVID hit. After quarantining there for a couple days, we decided to come home to 'visit' for a short period of time. When we got home to Michigan, we dove into taking virtual classes to sustain our training. Ultimately, after a few weeks and months, we decided it would be best for us to stay in Michigan, and discover ways to be productive here and establish our footing as teachers and enjoy Michigan at a slower pace than ever before. Taking in the nature aspects and trails like we never have!"
You both have shifted to teaching full-time over COVID. Coming from being full-time performers, what has that been like?
Katie Daniel
"For us, making the shift from being performers into full-time dance teachers, choreographers and creators was not linear. While we were prepared to become teachers, there was a definite learning curve becoming full-time teachers. It has been so rewarding to teach and share with dancers of all ages this year and to see the development of a dancer in front of our eyes over time. We have learned so much from our students, and now we have more of that experience to carry forward with us. The main benefit is how rewarding we find the work to be, and for us, the main challenge is staying inspired to then give in return to our students."
Through COVID, many artists have explored new art forms, begun new projects, initiated new philanthropic ventures and the like. Have either or both of you delved into something new and exciting through this time?
Katie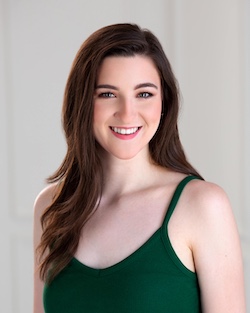 "Together, we have delved into the choreographic and creative side of dance more than we ever anticipated this year! We went from being sisters who dance together to co-collaborators. We always say we are better together, and we are so grateful to have spent this time mutually nurturing our creative sides. We have each taken up our own passions to practice and enjoy. Sarah enjoys capturing photos of family and friends, and I enjoy writing and creating short stories. During this time, Sarah also started leading a dance program at our local Down Syndrome Achievement Center, GiGi's Playhouse Detroit."
Sarah
"I aspire to create a safe space for these individuals to hone their passion for dance and expand their knowledge. All while refining their motor skills and increasing body awareness. I love leading these exceptional individuals; they have been a joy for me to teach."
As hard as this time has been, a gift for many people has been extra time and quiet space to think and reflect. Has there been meaningful reflection, growth or lessons learned for either of you?
Katie
"We have been blessed beyond measure in terms of our living situation, having quality family time and exploring all that Michigan has to offer under COVID restrictions. As we imagine for others as well, time in isolation has allowed us to reflect, truly search within ourselves, and it brought a new awareness to our lives."
Sarah
"I believe this time has allowed us to make some changes to our lifestyle, such as listening to our bodies and placing more value in what makes us genuinely happy. We have practiced being more mindful in all areas of our lives. We have had the opportunity to practice meditation throughout the pandemic, and it has helped us keep our headspace clear, assisted our mental health and overall well-being. There are many lessons we will take away from this year, but we feel the biggest lesson we will carry with us is the value of being present, and truly how much joy can be found in embracing each moment as it comes."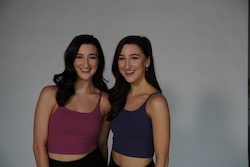 As the world slowly begins to open back up, many people are also thinking about what's next for them. How about you both?
Sarah
"We intend to get back to performing as soon as we can when things start to return! However, we have found a passion for teaching and choreographing, and I believe it will always be something we continue to do in the future. We have plans to be back in New York City at the end of this summer, and we are looking forward to being back!"
Katie
"We've been grateful to expand our dance careers here in Detroit. Under COVID restrictions, we have been able to teach and share our love for musical theatre virtually and in-person with studios all over the country and teach at a new drop-in studio in Detroit called RELEASE Detroit. This space has been a saving grace for us during this time, allowing us to take class, create and be part of a community that has become like family.
Our experience as dancers throughout the pandemic has been unique because we have had the privilege to train with other dancers in a studio while cultivating relationships and community, something we know others may not have had the opportunity to do, and a lot of that has to do with RELEASE Detroit. We are so thankful for that!"
You can follow Katie and Sarah Daniel on Instagram: @katieanndaniel and @sarahmariedaniel.
By Kathryn Boland of Dance Informa.