Los Angeles-based professional dancer and wellness expert Alessandra Stenta has created a 21-Day Wellness Program, called "Aspire with Alessandra", that provides tools to help us tune into our greatest potential, and live a life filled with happiness and fulfillment, no matter the circumstances.
Stenta has danced with some of the biggest names and brands in the music and entertainment industry, including Snoop Dogg, Meghan Trainor, Paris Hilton, J Balvin, Rich the Kid, Roddy Rich, Adidas, Disney, Beachbody and 20th Century Fox's American Horror Story, just to name a few. While continuing her dance career, Stenta started working on a wellness program more than a year ago. She was hesitant to launch it during this global pandemic. Luckily, some of her greatest friends encouraged her, knowing that this could be the most important time to launch the 21-Day Wellness Program. "This is when the world may need it the most, and it could absolutely change lives," Stenta said.
The program has gained astonishing attention worldwide in just the first week of its launch, and already has remarkable testimonials from participants raving that they "needed this so badly [during COVID-19] and can already feel the benefits in the first couple of days." Stenta's program provides concrete courses of action to help master mental wellness as we cope with the rollercoaster-ride of this global pandemic.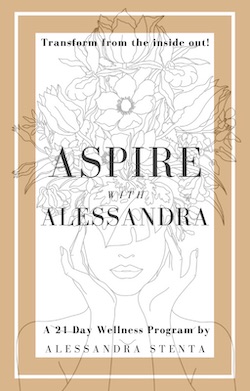 Stenta was first introduced to the practice of mental wellness 10 years ago while completing her Bachelor of Science Degree in Biochemistry. She was pursuing a career as a dentist and made a pit stop travelling to India, and gained certifications in yoga and spirituality. She eventually declined dentistry school, and followed her life-long passions of dance, entertainment, fitness and wellness.
"I always loved science but knew that dentistry was not my life's calling," Stenta said. "I started searching for answers in spirituality, and became very intrigued with yoga, meditation and the power of the mind. The more I learned of spirituality and studied the chakra system and energy work, the more I saw how all these concepts are related to science and the biochemical systems of our body. I began to see that science and spirituality are intrinsically related. I grew obsessive in researching scientific journals on neuroscience and neuroplasticity, and how these concepts relate to mental wellness and our endless abilities as humans."
Aspire with Alessandra is designed to be an engaging, hands-on approach to wellness that is loaded with questions, exercises and tools of action! The e-book is separated into four parts: Reason for Being, the Morning Ritual, the Wind Down and the 21-Day Challenge. Stenta pushes participants to focus attention inward, asks deep and meaningful questions, and gets participants to complete daily morning and evening exercises as a part of the 21-Day Challenge.
The 21 Day Wellness Program is the consolidation of all her years of study, research and personal practice. Stenta credits these teachings and practices to completely changing her life. "They allowed me to uncover my true self and my true desires," she said. "They allowed me to gain the mental strength to dream big, pursue my life-long passions and accomplish my greatest ambitions! It's our life's mission to shine! There is immense strength and power in each of us, but it's up to us to realize it."
Aspire with Alessandra is designed for everyone. "I believe that anyone, no matter what walk of life, will greatly benefit from these concepts and practices, especially through the stressful times of COVID-19," Stenta explained. The 21-Day Wellness Program, Aspire with Alessandra, includes a 60-page e-book and a 15-minute guided meditation. The program is available to download on Alessandra Stenta's website, www.alessandrastenta.com.