Thursday March 4th, 11th, and 18th at 8 PM.
Streamed on YouTube as part of NYCB's Digital Season.
George Balanchine — the artist who, arguably, had more influence on American ballet than any other — is most known for his plotless, neoclassical ballets. That's not the only side to his legacy, however; his works can also fit into the two other categories of classical and narrative ballets. As part of its Spring 2021 Digital Season, New York City Ballet (NYCB) streamed archival performances of three ballets — one representing each of these three categories, on three consecutive Thursday nights.
In a short pre-show talk, Principal Dancer Russell Janzen offered cogent commentary on each of these works: putting them in context of Balanchine's life and career, describing certain meaningful elements of aesthetic, structure, or movement quality, and sharing aspects of his personal experience with these works as a dancer with the company. This commentary brought deeper understanding of these works, laying the foundation for viewers to enjoy them more and find more meaning in them.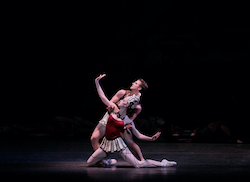 Prodigal Son (1923), with Daniel Ulbricht as the central character, opened the series. The aesthetic was agrarian and rustic, such as with the painted backdrop and costumes reflecting the early Biblical context of the story. Ulbricht's power in turns and leaps was truly memorable; he seemed to find momentum from the air itself (at times it was unclear where else he could be getting it through the quick and lifted choreography!).
The "Goons", as Janzen had introduced them, were eerie characters — wearing black and white as well as ghostly makeup, and moving in ways that reminisced zombies from classic horror movies (low to the ground, jerky, and unpredictable). They were ominous creatures reflecting the temptations and trouble that the Prodigal Son faced as he left home to chart his own path.
The fiery-red Siren (Teresa Reichlen) was the true embodiment of temptation, however. Red lines down her white tights and a large red cape evoked the raw passion of a beating heart, of the blood moving through it. Her movement was full of lengthening and drawing towards, beckoning the Prodigal Son closer.
The movement of the Siren and the Prodigal Son became that of intertwining, folding and unfolding, as the "Goons" also drew closer — making clearer what had happened with the Prodigal Son. Temptation had won. Soon they had taken everything from him, even the clothes on his back. He stumbled forward, desperate and full of grief — crawling towards home on bloody knees. With open arms, the father accepted him back, covering his son with his cloak as the curtain fell. It's a story demonstrating the power of love and redemption, one NYCB shared with courage, technical command, and care for Balanchine's legacy.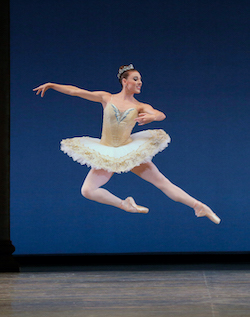 Theme and Variations (1947) came next in the series, exemplifying Balanchine's classical works. Classicism was indeed clear from the very opening, the corps holding steady in a diagonal formation with a male and a female soloist dancing downstage of them (Tiler Peck and Joaquin De Luz). Bright colors and intriguing patterns enlivened the ballerinas' "bell"-style (bell-shaped) tutus. Body positions were exact yet fluid, footwork and port de bras precise but not rigid. The dancers maintained a soft lyricism even while their movement remained meticulous.
Even with that precision, some small leaps and transitional steps seemed to be more about direction, energy and timing than about exact placement as a definable step. That quality demonstrates Balanchine's interest in speedy movement bursting with energy. That's different from the Cecchetti focus on purity of facing and placement through every step, for example. The dancers honored Balanchine's legacy through their commitment to dancing with these qualities.
Following that interest of Balanchine's in musicality, tempo changes brought energetic changes — including varying speeds and corresponding variations in movement quality. For example, a lovely section had Peck supported by corps dancers, extending in adagio tempo and quality as corps dancers supported her weight and others shifted formation — hands joined throughout.
A following solo from Peck — with the score's tempo speeding to an allegro one — was bright, quick, and dynamic. An adagio tempo returned with a following pas de deux. The corps then returned, and the energy remained fast and effervescent. Circles, intersecting lines, sloped formations, and clumps filled and enlivened the stage for the final ten or so minutes of the piece.
The curtain dropped on Peck lifted on the shoulder of her partner and the corps behind them reaching up and smiling out to the audience. While the nature of his treatment of women raises some eyebrows nowadays, it's undeniable that the beauty and creative force of women was Balanchine's muse. Peck lifted high felt like a symbol of that. As for the title, what is the theme and what are the variations, we might ask?
Focusing back on Balanchine's fascination with the joining of music and movement, the music itself had a theme and variations. Additionally, as Janzen had noted, within the piece Balanchine built upon rudimentary steps and movements of classical ballet — the theme — to create his own variations. At the risk of reductive commentary, it's really that straightforward. As multifaceted an artist as he was, Balanchine saw the wisdom in just keeping it simple sometimes. What you see is what you get, and that can be magical!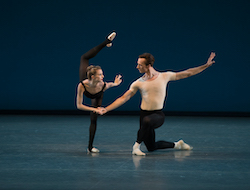 Stravinsky Violin Concerto (1972), emblematic of Balanchine's plotless neoclassical ballets, rounded out the series. A dynamic quality was in the air from the very start — with many little jumps, directional changes, quick extensions, and close embodiment of the music. Yet as Janzen had explained, there are social and emotional dynamics at play in the work, as well; it's about more than just music and movement coming together. As one aspect, the ballerinas wore black leotards and short skirts, men in black leggings and white shirts, making the segmentation of male and female clear. The choreography called upon that duality for structure and formations. Black tights distinguished the two soloist ballerinas from the corps ballerinas.
A pas de deux with Sara Mearns and Ask la Cour had a bit more time to breathe, seep in, and resonate than some of the other sections — some which seemed to flash by. Unique gestures hit staccato musical accents in memorable ways, whereas much of the movement thus far has fit within the classical canon. Something new was building in the ether. The following pas de deux, with a yearning lilt in the music, had a new air of passion, romance, and conflict. Touches such as flexed feet in a lift continued a trend in the work of subtle rebellions against classical "rules".
The corps returned towards the end. As Janzen had also alluded to, moving in line formations reminisced folk dance. The work contained a fascinating paradox — an embrace of both the old, the traditional and the new, the inventive. A playful quality came through the interactions amongst the dancers in this final group section. It added further dynamism to all of the movement and formation shifts. The dancers posed all together and looked to the audience as the curtain fell, as if to encourage audience members to carry that energy and joy forward.
Speed, physical power, alignment with bright instrumental scores, and joyful energy arising from those ingredients — all of these characteristics are key to Balanchine's work, be they narrative, classical, or neoclassical. New York City Ballet recontextualized this legacy for viewers craving creativity and artistry at this time. This global "pause" has brought new space for reflection and thought leadership. Brava to NYCB for taking advantage of that space in their own way with Three Sides of Balanchine.
By Kathryn Boland of Dance Informa.