December 2-31, 2020.
Accessible through www.alvinailey.org/performances-tickets/virtual-winter-season/watch-now.
For over 60 years, Alvin Ailey American Dance Theater has presented dance art that uplifts, inspires, educates and provokes thought — from the proscenium stage to the dance studio to community-based settings. That's a big part of why thousands of dance and art lovers have come back to what the company offers time and again — through times of war and peace, scarcity and plenty, discord and harmony.  
Given the COVID pandemic, what the company can present looks different this year — strikingly, also the 60th anniversary year of Alvin Ailey's masterwork Revelations. Yet, it's arguably no less meaningful and no less special. Nothing can replace live performance, but what the company has offered in its first-ever virtual season (something historic in its own right) had its own creative innovations and ways in which the company speaks with its own voice. 
Those innovations were particularly prescient in the two original works presented this season — Jamar Roberts' A Jam Session for Troubled Times and Testament by Associate Artistic Director Matthew Rushing (in collaboration with Company Member and Assistant to the Rehearsal Director Clifton Brown and Former Company Member Yusha-Marie Sorzano). Other programs in the season celebrated 60 years of Revelations, investigated how dance and social justice intersect, offered all-ages content for the whole family, and celebrated two company members retiring this year.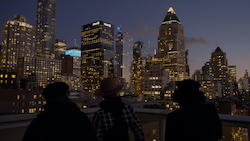 Roberts' A Jam Session for Troubled Times began with beautiful overhead shots of New York City. In voiceover, a gentleman shared stories of the life of a jazz musician in the city. Shots of musicians on a rooftop together spliced into those of Alvin Ailey dancers in front of Ailey Studios (signage of "ALVIN AILEY AMERICAN DANCE THEATER" clearly located them). The dancers — although they remained physically distant — had a few moments of excitement at seeing one another, and then quickly shifted into movement. That choice was humanizing and heartwarming, particularly in this time of physical disconnection. 
The movement was, at the risk of reducing something so layered and rich, an embodiment of jazz music: improvising off a rudimentary element, riffing off one another, dancer's energies feeding one another's. Unison movement became predominant later on in the piece, but the improvisational uniqueness of each dancer's body and movement signature remained.
The ways in which the movement shifted and evolved over the course of the piece was also intriguing, as well as aesthetically satisfying. It began, for the most part, highly angular and highly gestural — like jazz dance itself. (And much of the vocabulary is jazz dance influenced — isolation-based and parallel, for instance). A more curvilinear and fluid quality came in later with bongo drums taking a melody line. The dancers continued to embody the music through fresh approaches; tangibilizing music within the body is not a new concept, but this work offered that in ways which I've never seen before.  
The piece's cinematography and lighting also kept its visual experience dynamic. The camera brought us into close-ups later on in the work, and as the dancers moved into an alley, a yellow light illuminated them. With that new lighting, a fresh hue came over their skin and costumes — something with which dance on film offers endless possibilities. 
Also enhancing the experience of the work was the dancers' authenticity and humanness. There was an unassuming and very human quality to how they moved together, as astoundingly virtuosic as they were. Each dancer's personality got a moment in the spotlight, something fun and joyful to see. Pedestrian clothing in line with the classic jazz club vibe bolstered this feeling. The ending frames did as well, with the dancers clapping, grooving out together, and each getting a few moments on a solo shot and name credit. The title of the work itself is in that tone and spirit: straightforward, hones and accessible. The work is just what the title tells us it is.
In a post-performance chat, Roberts and Artistic Director Robert Battle discussed the inspiration for and context of the work. Roberts acknowledged the time we're in, and the contrast between that and the piece's mood. He sees it as akin to things we do to keep our spirits up and connect with others in safe ways — going for bike rides and to the park, for example. We can jam in troubled times, finding joy and creativity together. The discussion exemplified the deeper understanding around works that such talks with choreographers can bring.
Testament, choreographed by Associate Artistic Director Matthew Rushing in collaboration with Clifton Brown and Yusha-Marie Sorzano, was a piece to commemorate, honor and see from a new lens Ailey's seminal work Revelations in its 60th anniversary year. Like Revelations, the work centers a story of "turning pain into power" and the cycle of "lament to hope", said —- in a post-performance talk with the three choreographers. The three of them — "Team Testament", as they joyfully shared in the post-performance chat — also discussed how shared stories and "tangible proof" are central ideas that shaped the work.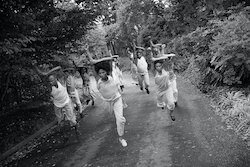 The piece began with people moving together, and with a breath of one woman, a candle shone. With the flame dying out moments later, there were images of Black pain and subgation — ones that were intense to experience. The first ensemble section followed that, with dancers on a blank stage in a tight and linear formation. There was a soundscape of water and wind, of a storm at sea. Beams of light shone in, illuminating an otherwise dark stage. The score sang out "Why am I here? / What is this place? / What did I do to get here?" I thought immediately of the Middle Passage, between Africa and the Americas — where, arguably, it all began.
The movement had a reach and a desperation, but at other times a fear and withdrawal into oneself. Moments of stillness and blank expressions signaled a lack of hope and resignation to the current fate. Some of the most powerful movement vocabulary was slow unison movement, a simple raising of a leg above the hip while laying on the side.
The following section featured two dancers, each in a long spotlight. There was a high level virtuosity in deep bends, high extensions, and powerful turns. Yet what felt most significant was what was not there — the lack of connection between them and the lack of moving out from the spaces which their spotlights illuminated. The score's simple electronic tones enhanced this feeling of what was lacking. They moved forward and back, signalling action, yet they were unable to break those barriers and connect with each other. That was until one notable point, when, for the first time, they gazed at each other — a moment that took its time and resonated.
Images of oppression of Black people again flashed across the screen, and following that of resistance against that oppression: of MLK Jr., protest signs and standing together against intimidation tactics. Following that was a stirring ensemble section of dancers moving together with power, conviction and purpose — literally moving forward together. Angles in movement conveyed strength, while curves illustrated adaptability and complexity. "I am here / I am worthy" the song sang — and everything about the dancers' presence spoke that truth. 
The next section was a solo to truly stir the heart — a woman dancing in her power, yet with agitation and trouble in her body and soul evident. The speech in the score spoke of emotional unsettling, and loneliness in that unsettled place. Those words reminded me that as we speak and dance about liberation, mental health is not an aspect to forget.
Dancers circled around her, as if in support and protection, and the speech shifted to be that about being in her power and stepping forward in the clarity of her convictions. Flashing across the screen were photos of Black leaders and visionaries — from Frederick Douglass to Harriet Tubman to Rosa Parks to Malcolm X to James Baldwin. Finally, we saw Michelle and Barack Obama as well as Vice President Elect Kamala Harris. My heart could not help but leap.
The shot shifted to outdoors, with a large group dancing, once again. The movement this time was softer, lighter and more joyful than in that first ensemble section. It was as if they no longer had to push and fight and prove; they could just be. Gestures melted into new gestures, spines undulated, and energy radiated from their center out beyond their kinespheres. 
Yet, that which is uncertain remained. The main dancer saw another woman in a headscarf and walked toward her, as the other dancers continued moving — it was back to the opening shot. I thought about how the weight of history can't be fully shed — what has been lost, and what could have been, will never be fully regained. On the other hand, the legacy and strength of those who came before is something that remains with us as well. 
In troubled times, reminders of truths like that — through the medium of art — can mean more than ever. These works felt like they were shaped by these times and also offered something essential for those living in these times, therein of these times and for these times. Interestingly, art of and for a particular time can be that which resonates through the ages. I do believe that these works, and the larger season in which they were presented, will be remembered for what they offered, when they offered it — a special and commendable thing indeed.
By Kathryn Boland of Dance Informa.