In an unprecedented show of solidarity, NYC dance studios are collaborating in support of the Frontline Families Fund, a not-for-profit organization providing direct financial support and education scholarships to the children of healthcare workers who have lost their lives to COVID-19.
The Dance Studio Alliance NYC presents Dancing for Heroes, a lineup of masterclasses and the first installment in the studios' efforts to support those who answer the call to serve, protect and heal us selflessly.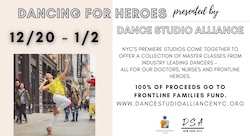 This collaboration brings together some of the world's foremost dance teachers and choreographers, including Kelly Peters, Emily Bufferd, Vibeke Toft, Dante Puleio, Julie Carter, Rodney Lopez, Soraya Lundy, Felicia Limada and more.
Studios contributing to Dancing for Heroes are Brickhouse NYC, Bridge for Dance, Broadway Dance Center, EXPG NY, House of Movement, Limón, PMT House of Dance, Sweetwater Dance and Yoga, and Luna Performing Arts. 
Classes for Dancing for Heroes run through January 2, 2021. For more information, visit www.dancestudioalliancenyc.org/dancingforheroes.