Mannakin Theater and Dance has prepared a truly global celebration of The Nutcracker, called The Nutshell!, and it's streaming to your home for the entire holiday season!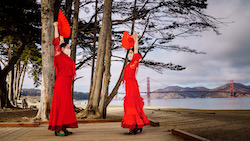 The 2020 production of The Nutshell! by Mannakin Theater and Dance stands out from other COVID Nutcrackers because it's more than a simple transition from indoor theater to open air with colorful masks added to the costumes. It's an entirely different way to celebrate The Nutcracker, and it's tailor-made for 2020 and the realities of the coronavirus pandemic.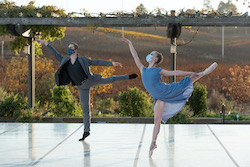 The Nutshell! is a festival-style presentation of all the dances from The Nutcracker in the familiar show order. You'll feel like you're watching The Nutcracker even though you won't see Drosselmeyer present the Nutcracker to Clara, or any Nutcracker at all! The plot has been lifted to allow the stunning array of cultures and dance styles to take center stage.
As you move from Spanish to Arabian to Russian, you'll see three distinct films created by three different companies, all invited by Mannakin Theater and Dance Director Nathan Cottam to choreograph in their own culture and style, be it flamenco, kathak or tap. In The Nutshell!, you'll see Mexican Folklorico, Chinese classical, contemporary and modern dance, even clown and mime work. Ballet is strongly represented through appearances by principal dancers Sasha DeSola and Tiit Helimets from San Francisco, and Indiana Woodward and Harrison Coll from New York City Ballet.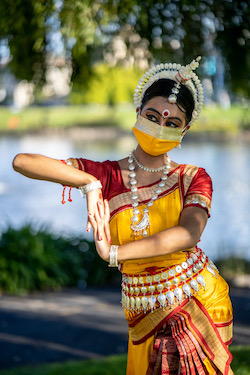 Every one of the 50 companies and over 400 performers in The Nutshell! filmed their dances locally and in compliance with COVID-19 guidelines. This means that the dances you'll see in The Nutshell! were filmed internationally in Lagos, Nigeria; Belgrade, Serbia, Tianjin, China; Linz, Austria; Nuremberg, Germany; Amsterdam, Netherlands; Cairo, Egypt; Barcelona, Spain; and Pristine, Kosovo. Companies and schools from all over the U.S. will be seen as well, with strong showings from New York City, San Francisco, Salt Lake City, and a creative new version of the Grand Pas de Deux from Santa Fe. You'll see dances set in local neighborhoods, parks, before grand architecture, even on the expansive salt flats of the Great Salt Lake.
The Nutshell! is available for streaming and on demand starting December 23 through January 2. Single streams start as low as $9. For tickets, go to www.thenutshelldance.com.