It doesn't take long into a conversation with Jamar Roberts to get a sense of who he is — passionate, curious and a very hard worker. Roberts seems to have a reverence for tradition and legacy, even while remaining committed to moving forward into a better future. He pauses and takes his time speaking, as if thinking carefully about what he'll say before saying it. Asked how he's feeling about being appointed to the role of Alvin Ailey American Dance Theater's first Resident Choreographer, he says, "So far, so good," and laughs a bit. It's a milestone for the prestigious company, as well as for Roberts and his career. Dance Informa speaks with Roberts about his life in dance up to this point, what he's anticipating in the role and more.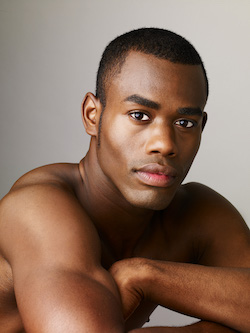 Roberts grew up dancing in Miami, FL, where he first saw the Ailey company perform. The company made quite an impression on him at the time. It again appeared in his life when he auditioned, successfully, for Ailey II. He was promoted to the main company in 2002, and all seemed to be going quite well. Yet, in 2007, he was feeling quite burned out, he recounts, and left the company for a year. He returned to Miami, and began teaching at his old studio, the studio where he grew up dancing. During this time, Roberts became "obsessed" with trying out different movement, investigating what movement his body could generate, he says. He struggled a bit more with the conceptual side of things, "what the movement is really about," he explains.
During this period, he was in the studio generating a lot of choreography for many students, working on choreography from morning to night with "very few breaks," he says. He still somehow found time, energy and mental space to blog about his choreography — with sample videos of his work to share. Without hesitation, he agrees that he's a "worker". Roberts affirms that this time was formative for him in developing a movement vocabulary of his voice, a beginning to his true voice as a choreographer. He also was interested in the work of the masters, resurrecting works of Graham, Limón and, yes, Ailey.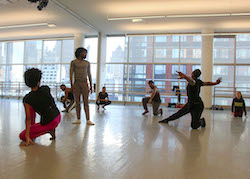 Referencing classic modernism, Roberts says that he's "a bit of an archeologist. I like to dig up the bones, only bones to those who see them as dead, really. I like to show that there's still life there and so much to be learned." This interest of his also reflects his rigorous and curious spirit; he directly states that he's a curious person, and he seems to consistently act on that curiosity. He says that he's "always interrogating what I'm doing, asking myself, 'Why am I moving like I'm moving, using the approach that I'm using?'" A year later, he found the amount of inspiration he could spur and receive in Miami limited, and the novelty of studio life there wearing off. He returned to New York City and to Ailey.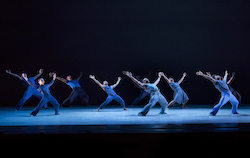 Even while living the busy, rigorous life of an Ailey company member, he continued to play around with movement and choreography. Eventually, Ailey officials learned of his choreographic inclination and assigned him pieces to choreograph. His first work for Ailey II, Gemeos, premiered in 2016. Members Don't Get Weary, his first work for the main company, premiered a year later, to both critical and audience acclaim. In 2019, the Ailey company appointed him as its first Resident Choreographer and commissioned a second work from him, Ode. He acknowledges that the process of making the work was "difficult" but memorable. The work centers on gun violence in America. Roberts is clear that he's not an activist, just an artist sharing his art and his voice. "Making a work like Ode doesn't take activism, it just takes empathy," he asserts.
The work also reflects his interest in digging up those "bones" of dance, with costumes reflecting the spare aesthetic of 20th century modern dance masters. He agrees that their aesthetic has a beautiful simplicity — something to honor, something to learn from, something very much alive. Roberts also affirms that the conceptual part of choreography now comes easier to him. "I learned that it has to come from a very personal place, and I got better at digging that out of myself," he explains. In a larger view of going forward, he's confident and cool when asked how he's feeling about taking on this new role, the first of its kind at the Ailey company. "It's nothing I can't handle; I feel prepared," he says. "I've definitely put in the work."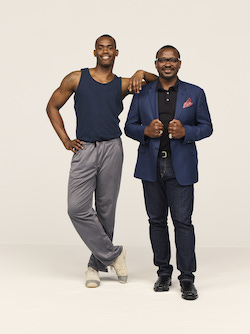 Yet pressed a bit further on this point, later on in the conversation, Roberts shares that he acknowledges the weight of the Ailey company's legacy, perseverance and responsibility to so many different communities. He wonders how he'll be a part of carrying all of that on, while also speaking to the current world as an artist through the company. He also thinks about how there are an abundance of talented African-American choreographers putting forward meaningful conversations with their work, and he "wants to be part of that." Yet, he's indeed put in the work. He's stayed curious and kept questioning. He's honored the legacy in modern dance masters while looking to the future. Hard work, investigating and interrogating, honoring the past but gazing forward — these could be the powerful ingredients for Roberts adding his own chapter to the story of the Ailey company's illustrious legacy and history.
Click here to purchase tickets to see Ode in Alvin Ailey American Dance Theater's upcoming Lincoln Center season.
By Kathryn Boland of Dance Informa.