The time has come for many of us to start thinking about life after lockdown. Most of us have been in lockdown for several months now. As states begin to re-open, there is an eagerness to get back to life before the pandemic. Politics and opinions aside, we will all emerge at some point in the future, so why the rush?
Often, we begin to notice sensations in our body that suggest we need to get out and move around. We may even have the feeling that we cannot sit still. Without paying attention to the feelings and emotions underneath these sensations, we become impulsive, which could lead us down a path back into isolation. While we may be eager to leave the house, are we ready for all that it entails? What will it look like, and what preparations does our mind and body need to go from isolation to socialization?
Let's focus on what movements we can do to prepare our mind and body for re-entering the world. Keep in mind this may include maintaining social distancing, going back to work and getting back to the dance studio. How can we learn to listen to our body in order to maintain physical and mental health and safety? Here are five things that I believe will help ease the transition.
#1. Recognize the body's current state.
It is absolutely vital that before we make changes to our current routines, no matter how much we want it, that we take time to tune in to what we currently feel. Our body houses all of our experiences, and this pandemic is certainly not exempt. Take time to tune in to how your body holds your current situation. Give it the respect it deserves and the trust it needs to transition back into the world. We must understand where we are in order to move forward. This may look like silent meditation, a nature walk, a body scan or a gentle movement class. Give your body time and space to process all it has endured during this challenging period.
#2. Make realistic movement goals.
Keep in mind that our levels of activity have drastically changed. Some may be more sedentary, while others are on overload. Make a list of the goals you have both movement and otherwise. Just because we were capable of certain movements before doesn't mean we are now or that we won't be again in the future. Again, the body is holding on to so much that we must give it time to adjust. Now is the time to be compassionate to the body in order for it to heal and progress.
#3. Prepare mind and body for connection.
We can actually use our body to prepare our mind for socializing as well as interacting with our environments. Try stretching and moving in the following planes:
Vertical: Reach your arms up and down.
Horizontal: Spread your arms out to the side and wrap them around your body.
Sagittal: Move forward and backward through your environment.
This is a simplified adaptation of Rudolph Laban's Dimensional Scale. Engaging in the vertical plane emphasizes connection to self, while engaging in the horizontal and sagittal planes connect us to others and our environments respectively.
#4. Envision the transition.
Just like we can use the body to prepare the mind, we can also take time to prepare the body by beginning in the mind. Set aside time to envision what you want to do and where you want to go. Tap into imagination and creativity envisioning as much detail as possible. Pay attention to the feelings and emotions that surface through the process.
#5. Embody the transition.
Once there is a clear vision of the transition, bring it into the body. Move through space with awareness and intention. Allow the movement to change, noting any hesitation or fear that may arise. There is no need to rush. Take time to transition, and recognize limits and boundaries that come into play. Even exploring "transition" in the body can be a great place to start. Be aware of how rhythm and pace play a part in how quickly and/or smoothly transition happens. Most of all, be aware of any judgment that comes up, as we cannot be expected to "return to normal" since everyone is faced with a "new normal" altogether.
Know that this is a trying and difficult time. We are all eager to return to pre-pandemic life, but there is safety in taking the time and space we need to own our environment and all the emotions that come with it. Starting from a place of self-awareness, we can learn to re-emerge and re-engage in an enlightened way that allows us to connect to the world like never before. I wish everyone health and wellness and know that we will meet again — in person — very soon.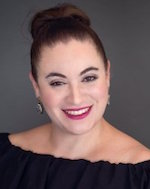 By Erica Hornthal, LCPC, BC-DMT, Dance/Movement Therapist.
Erica Hornthal is a licensed professional clinical counselor and board certified dance/movement therapist based in Chicago, IL. She received her MA in Dance/Movement Therapy and Counseling from Columbia College Chicago and her BS in Psychology from the University of Illinois Champaign-Urbana. Erica is the founder and CEO of Chicago Dance Therapy, the premier dance therapy and counseling practice in Chicago, IL. As a body-centered psychotherapist, Erica assists clients of all ages and abilities in harnessing the power of the mind-body connection to create greater awareness and understanding of emotional and mental health. For more, visit www.ericahornthal.com.