World-renowned choreographers, teachers, directors and dancers Johannes Wieland and Evangelos Poulinas co-founded the Berlin-based contemporary dance festival, b12, now an international event attracting dancers from all over the globe. This year, it's cancelled.
Johannes Wieland
"Coming to understand how the pandemic was developing, we had to make that decision. Realistically, many people would not be able to travel here. Or they would, but then would be in quarantine for two weeks. And I'm not sure how much fun it would be to hold a festival right now that's meant to grow from exchange, and feed off of being and researching together. There was no way of doing it safely."
Evangelos Poulinas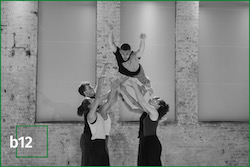 "We were monitoring China, to watch as an example. When they loosened their restrictions, more cases came back. It didn't just go away; things weren't back to normal after three months. We realized things would not be back to normal here either. It would be horrible if people became sick, and we carry a responsibility to not let that happen. So we canceled the festival."
Valeria Valleto, founder and director of NYC contemporary dance theater company VALLETO, was considering relocating her company's summer intensive (normally held in New York) when she met some resistance. Not from the dancers but from the residents of Marfa, Texas.
Valeria Valleto
"I had the whole VALLETO New York intensive planned. I had space reserved at Gibney, I had guest choreographers. When this happened, I had to cancel the whole thing. I still wanted to do it, to be honest, but it felt irresponsible. I also didn't know if I'd be able to afford the studio space, because I wasn't sure how many students would come, since New York is the epicenter of COVID.
I'm currently based in El Paso, teaching dance at the University of Texas, and there's this little town nearby called Marfa. There's so much art there. So I thought maybe this would be a good spot for the intensive, make it a small residency type of thing. Get an Airbnb together and spend two weeks isolated in a theater, and just create art.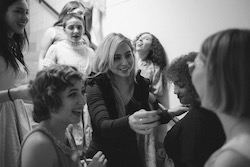 I polled my Instagram community, asking if they would be down to take an intensive in Marfa. A lot of people were excited about it. But people from Marfa began to contact me, saying I was selfish, and who do I think I am, that people are dying and they only have one hospital. So I decided to just not do it. It's their home, and everything that they were saying was completely understandable. They were worried about people coming in from New York, and bringing the virus with them. I responded and thanked them for telling me. I told them I was officially not doing it, and that I hoped in the future I could come to their city and create art. After that, they told me I'd be received with open arms then."
Maddie Parrish, who played Peter Pan in the most recent national tour of Finding Neverland, found herself at a loss when the tour was shut down early, and her gig guest teaching at a summer program was put in jeopardy.
Maddie Parrish
"I was meant to teach musical theater jazz for a ballet school in South Carolina in June. Which now can't happen in June. Tentatively, it might get pushed to July, so the director asked for my availability then. My schedule has been cleared because of COVID, so I told her absolutely. But it all depends on if things are opening up or if there's a resurgence. And that's all I know. That's the only information she has. If it's not doable by the start date in July, then it's not happening at all."
How is COVID affecting your finances?
Parrish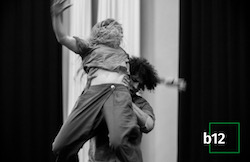 "The school director told me, I don't want to have to put you out of a job, I already don't like that you can't be making this money in June.' She gets it. That was income that I was relying on. When I was still on tour, I figured it's okay, my tour ends in April, I'll finish it out and get my bonus (which I did not get). And then the tour ended a month early. I was out of a job with the tour cut short, but I still had this summer gig to generate some income and pay my rent for a little bit."
Valleto
"VALLETO has been on hiatus since I've moved to El Paso, but I'd been planning on bringing dancers here, or going to New York to create work there. But all of that requires money. I was going to use some of the funds from the intensive to do some work with my company. It's not just about the money, though. My passion is to teach, and to unify artists and emerging choreographers. To have those emerging artists connect with VALLETO values and make a difference in their communities. That's the mission of the VALLETO intensive. I'm sad that won't happen."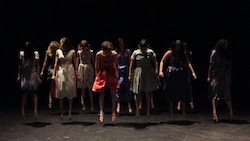 Wieland
"b12 runs pretty independently. And that's putting it positively, meaning we don't receive any funding. We are dependent on how booked the workshops are, but we have never put the emphasis on that, because the festival was invented for professional dancers thriving for a high level of motivation, potential and technique. It's all risk calculation. We also try to support artists who are maybe not so famous, who don't get so many people in their workshops. It's not about 'who brings in the most.' That's our philosophy. But now, because of the epidemic, we've lost a lot of money. It's hard to get funding for a festival; it falls through many cracks because we don't run year-round. That became very clear in the crisis. Companies and productions have more possibilities to apply for aid, and we need similar support.
Our community has been so understanding. We refunded all the festival fees, we reimbursed everybody. Some people donated their fee, some people scooted their fee to next year. If you don't have money, of course you want your tuition back, totally understandable. But there were some people who also maybe needed the money, who were very giving. It was wonderful to experience. We also have an online program launched called planet b12. Many of the teachers we had planned for this year are voluntarily contributing, and staying connected to people who wanted to come."
Poulinas
"All those courses and events are free of charge. If people want to donate something to the teacher, they can donate to b12, and b12 will give everything to the teachers. It's a way to stay connected to our community, but there's no financial gain from it. We're hoping that 2021 goes really well! It will be from July 2-August 1 next year.
Connect: @b12.research.or.die, @valletodance and @madsparrish.
By Holly LaRoche of Dance Informa.