Beauty can arise out of tragedy. Life can be funny like that. The Andréa Rizzo Foundation ("Dréa's Dream") started with something incredibly tragic — Andréa Rizzo, a college student with a bright future ahead of her, was killed by a drunk driver. Her mother, Susan Rizzo Vincent, sought to honor her memory and her legacy through an initiative to make her dream, pediatric dance/movement therapy available to all children experiencing cancer and special needs, come true. Andréa had experienced pediatric cancer and found healing in dance. She wanted to bring that healing and joy to other children experiencing cancer and special needs, and was planning to study dance/movement therapy.
Dréa's Dream was born, a non-profit organization that establishes, staffs and oversees pediatric dance/movement therapy programs in hospitals nationwide. Dance Informa speaks with Rizzo Vincent to learn more about how studios become involved in the Andréa Rizzo Foundation's mission of bringing dance/movement therapy to realize "Andréa's dream of helping children with cancer and special needs through the physical, social and emotional benefits of dance," (dreasdream.org) through "Dance Across America" events.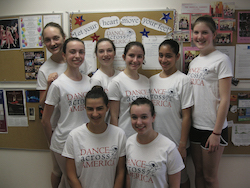 In a second serendipitous twist of tragedy creating something beautiful, 10 years ago, a young girl from New Jersey was sitting with her mother at Memorial Sloan-Kettering Hospital, her brother in treatment for pediatric cancer. She read a profile on Rizzo Vincent in Woman's Day and wanted to help. She had an idea to have her dance school do a benefit concert for Dréa's Dream. Interestingly, a charity gala had already planted the seed of this idea in Rizzo Vincent's head; she had heard about a non-profit raising funds through collecting pledges for the number of laps swum by participating swimmers.
This young girl got her studio to offer a benefit concert for Dréa's Dream — one of many benefit concerts (or dance-a-thons, funds obtained through pledges), one of many studios. Thus, Dance Across America came to be. Rizzo Vincent shares how this young girl, now a college student, is still involved with Dréa's Dream. Her former dance school still does an annual benefit concert for Dréa's Dream. Continuing this circle of giving, a dance student at Purdue University saw an article on this young girl and her involvement with Dréa's Dream. She wanted to get involved, too, and organized a benefit concert with her dance department at Purdue. To this day, the department presents one every semester.
Rizzo Vincent shares that these events are a key fundraising stream for the organization. Studios handle conceptualizing, organizing and producing benefit concerts and dance-a-thons. Dréa's Dream contributes public relations work (ensuring there is press coverage of the event), promotional materials and logistics around gathering raised funds (such as pledges with dance-a-thons).
Additionally, dance schools who do a Dance Across America event are listed on the Dréa's Dream website. Every dancer also receives a small gift, such as a Dréa's Dream wristband, and the school a commemorative plaque — momentos of appreciation from the organization. Another notable token of gratitude that the organization grants to each participating dance school is a "thank you" video from Carrie Ann Inaba, ballroom dance star and Dréa's Dream national spokesperson.
Dréa's Dream also works to establish a program at a hospital in the school's area, if there isn't one already established. Rizzo Vincent keeps these schools involved in the work around doing that, such as in copying the school in emails with the hospital. "It's a team effort, and they're part of the team," she affirms. "I want them to feel fully involved in what happens, because they're a huge part of it."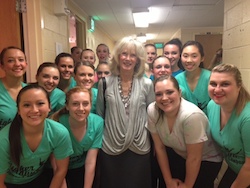 Rizzo Vincent loves how this model of fundraising puts those helping in control of how they help, versus her asking for donations (as with many nonprofit administrators, very much not her favorite part of the work). "The dancers know that they're part of something bigger than themselves, and they really like that," Rizzo Vincent shares.
Getting started is as easy as filling out a form on the Dréa's Dream website. The sky's the limit in terms of possible concepts and participants, Rizzo Vincent says. For instance, a favorite Dance Across America event of hers takes place annually in Lake Washington, WA. Lindsay Ryan, a high school dance team coach, brings together competing dance teams in the area to perform in an outdoor Dance Across America benefit concert. Dancers even teach members of the involved school's football teams a short routine, which they perform in tutus!
Rizzo Vincent also agrees that Dance Across America builds awareness and positive regard for dance/movement therapy — a body-based therapeutic modality with a deep tradition and substantial empirical backing, yet without universal notoriety and acceptance as an effective form of treatment in this country at this time. She notes that many dancers who've participated in Dance Across America events have gone on to study dance/movement therapy and enter the field themselves — in so doing expanding the field's pool of talent and possibility. That's apart from awareness and advocacy that they can bring forward even if they don't go into the field professionally. With Dréa's Dream and dancers across the country joining forces through Dance Across America, teamwork truly makes the dream work. It's a circle of giving, receiving and gratitude — a dream worth working toward.
For more information on Dréa's Dream, visit www.dreasdream.org.
By Kathryn Boland of Dance Informa.