A life in dance can be taxing and trying on so many levels. One's future in it can also feel incredibly uncertain. As if all of that wasn't enough, The Washington Ballet dancer Chiara Valle had cancer thrown into the mix. At 19 years old, she was diagnosed with a rare form of pediatric dancer, Ewing Sarcoma. Treatment was grueling, but it didn't keep her down in the end; she's back taking full class and will be onstage with The Washington Ballet for the 2019/20 season. Dance Informa speaks with Valle about her journey from the first symptoms to being back to taking full class.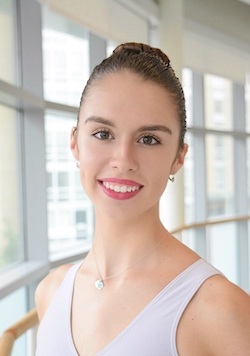 Valle trained at Boston Ballet School, Manhattan Youth Ballet and Jacqueline Kennedy Onassis School. She was hand-picked at a 2016 open audition in NYC to be a trainee with The Washington Ballet for the 2016/17 season. After dancing with the company at The Kennedy Center in ballets like Les Sylphides and The Nutcracker, she seemed to be on her way to a successful professional ballet career. Then came late 2017, when Valle was experiencing severe pain in her left hip and femur — "like someone was repeatedly stabbing me in the leg," she describes. It was worse at night, and she was having a lot of trouble sleeping, she says.
Yet Valle was dancing as usual but had to take long, hot baths at night to ease the pain. Strangely enough, even while incredibly painful, she says dancing was her "safe place" through the pain. She thought that she had a labral tear, a fairly common injury in dancers. Initial doctor visits got Valle a different diagnosis, but a misdiagnosis, of a benign tumor. A second opinion at a different hospital got her a diagnosis of Ewing's Sarcoma, in February of 2018.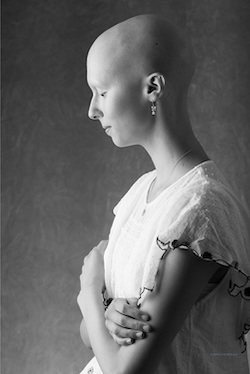 She describes how because it's such a rare form of cancer, incentives to create advanced new treatments just aren't there. "I was shocked to learn that the latest treatment for this disease was developed in the 1970s!" she says, adding that resources for research and development mainly come from philanthropic foundations and other non-profit organizations. She persisted through this less-than-advanced treatment, however. It was certainly not easy — she cites significant hair loss, severe nausea and fatigue as prime symptoms of the aggressive radiation and chemotherapy treatments she was undergoing.
On an internal level, the treatments were causing her to lose blood platelets and white blood cells (an important part of the human immune system). She was hospitalized as an inpatient for more than 80 days in 2018, often in isolation because of her fragile immunity. Valle says that she's incredibly grateful for Child Life, a hospital department dedicated to making sure youth in treatment have fun and time away from the stresses of what's happening to them.
After 14 rounds of chemotherapy and 31 rounds of radiation, treatment is behind her. She received her last chemotherapy infusion in November of 2018, and was declared NED (no evidence of disease) one month later. Valle is now, at 21 years old, six months out of treatment.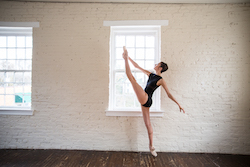 She stresses how supportive Julie Kent and The Washington Ballet community were for her. When she had to step away for treatment, Kent told her, "You're going to have your spot at the barre back." The dancers kept in close contact with her, as well, Valle shares. Still, it was hard to see her friends and colleagues performing and celebrating their accomplishments over social media, such as for a run of Romeo and Juliet, in which she was cast before her diagnosis.
All of that being what it is, for Valle, "cancer was its own journey — after it is another." She wants to "come back a stronger dancer" than she was before the whole experience, and in so doing be a true inspiration to others going through something like she did (whether Ewing's Sarcoma or other severe pediatric disease).
More than just inspiration and a story to offer hope (as important as those things are), Valle has founded a non-profit organization to raise funds for research as well as offer retreats for patients of the disease — Wings for Ewing Sarcoma. This was something that she wanted to do ever since learning how underfunded research for treatment of this disease is, she says.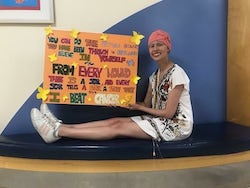 As for dancing, Valle says that she is taking full classes and is "just trying to build pointe work back up." She's also conditioning with Pilates strengthening and physical therapy. She'll be back performing with The Washington Ballet this fall. Kent was right — she's gotten her place at the barre back. "The cancer will always be part of me, but I'll use it as encouragement to keep working hard and doing what I love," Valle asserts.
To support Chiara Valle's foundation, Wings for Ewing Sarcoma, head to www.wingsforewingsarcoma.org.
By Kathryn Boland of Dance Informa.