We've heard it before — "I'm too old to start dancing." Yet accomplished dance artists like Ayodele Casel show us that it's never too late to start. Casel, celebrated tap dance artist and a Frances B. Cashin Fellow at the Radcliffe Institute for Advanced Study at Harvard University, fell in love with the work of Ginger Rogers and Fred Astaire in high school. She shares that she would play their videos, and try to learn their routines, in her bedroom. Dance Informa speaks with Casel to learn about her journey in tap dance, the Harvard fellowship, where to from here for her and more.
Her first dance class was at 19 years old, as an acting major at New York University. She was thrilled to finally dance formally, like Fred and Ginger, she says. Within a year, she met Bakaari Wilder, a tap dancer who brought her into the tap world. "Learning that many tap heroes were people of color also really cemented and fulfilled something for me in regards to the art form," Casel shares. "Although I always loved Ginger, I thought that I could never really be her." Casel's tap career grew from there.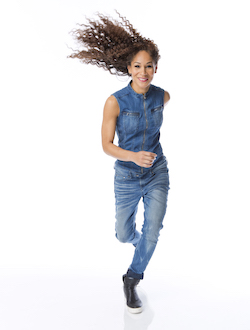 One highlight, she describes, was writing and producing While I Have the Floor for the Spoleto Arts Festival. "It was something that I had wanted to do for 17 years. I didn't do it because of fear and other things that I told myself, like many people do," she says. Casel also danced in the Broadway for Hillary fundraiser in 2016. A "wow" moment was being named with big stars and not implied with the "and more [performers]" in an advertisement for the event. "It was crazy that I wasn't in the 'and more'!" she says with a chuckle. Casel was also mentored by Gregory Hines, and speaks of him lovingly and nostalgically. She learned from him in the '90s, when tap was having a resurgence, she says. She's performed at the White House twice (under President Bill Clinton) as well.
Looking toward the Harvard fellowship, "it's a whole new world," she says. "Artists can get caught on the hamster wheel of staying focused on making work and doing other projects, and just making enough to pay the rent. So it's nice to be able to step back and dive deep into something I'm really interested in, and not have to worry about all of that." She almost didn't apply for the program, she shares, but her wife encouraged her to — and she's very grateful to her for that!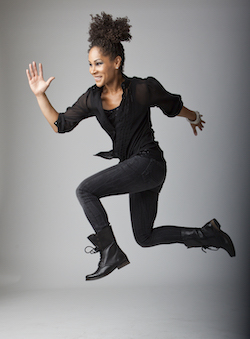 It's a very interdisciplinary cohort, with fellows in areas from physics to history to political science. Casel describes how during her time as Artist in Residence in the 2018 academic year, she had a long conversation with a physicist who was also a dancer. She looks forward to engaging in more of those sorts of interdisciplinary connections. She underscores how so much out there in the world can connect with dance. "I feel so grateful to be supported while I investigate something that I love," she says.
Casel also emphasizes tap's rich history, tied with cultural, social and political history. Yet, she notes, women tap pioneers (particularly women of color tap pioneers) have largely been left out of tap's historical record. The only sources we have are oral histories (such as from people who worked with these artists) and a few video clips. "When I think of the time, energy and love I've put into my own training and artistry, it feels like losing their work is a really sad loss," Casel says. "It's really important to preserve what we do."
As such, with the resources from the Harvard fellowship, Casel will be researching and assembling historical accounts of women tap pioneers, particularly those of color, and placing them in the context of tap history overall. "I want to connect those dots, with tap history and race and gender," she says. The project will culminate in a performance. Casel is also collaborating with six-time Grammy Award winner Arturo O'Farill for a season at the Joyce Theater, on stage September 24-29.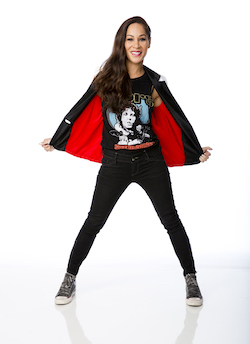 And beyond that, where to from there? Casel wants to "continue to produce and present tap," which she sees as "a skill and an expression that's highly sophisticated." Casel also wants to continue working with young people. She enjoys teaching them often, she shares, imparting lessons such as that tap is truly about communication, expression and love of rhythm.
"It's my desire that [young people] do everything we do and more," she says. "I want to push that forward and be part of that." She gets a little sentimental about Gregory Hines again saying this, as he always felt the same about working with young people. Hines is undeniably etched into tap history, and very rightly so. Thanks to the work Casel herself is doing, women — and women of color like her, in particular — will be etched into that history as well. She's showing that no matter what lack of visibility there's been, it's never too late to create it.
Ayodele Casel will perform at NYC's The Joyce Theater with Arturo O'Farrill from September 24-29. For tickets and more information, visit www.joyce.org/performances/ayodele-casel-arturo-ofarrill.
By Kathryn Boland of Dance Informa.