Jacqueline Green, Alvin Ailey American Dance Theater company dancer, describes the moment when COVID really seemed to change everything for her and her fellow company members. "I could feel something in the air," Green recounts. She was about to settle into her hotel room in Dallas, on an early stop in the company's 21-city national tour, when she learned that because of COVID the rest of the tour was cancelled — and they were sending the whole company home.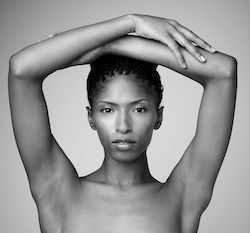 Nearly 10 months later, she's learned a lot, educated others in crucial ways and, yes, is still dancing. She's more committed than ever to representing people of color in an uplifting way through her art as well as fostering the conversations that lift up the art of dance itself. Dance Informa speaks with Green as part of our series on how and what high-caliber professional dancers are doing through COVID — what they're learning, what art they're managing to create, how they're growing, how they're giving back and more.
In that moment when Green was being sent "home", where "home" would be for her wasn't immediately clear, she shares; the numbers in NYC were going up, and heading to her family's home in Baltimore, MD, had its drawbacks as well. She settled on the family home of her fiancé, Preston Miller, in Chicago. The next uncertainty was when the company would be called back to the stage, and a key goal was "just staying in shape" so she'd be ready for that at any time, Green says. Where to dance? Where the hardwood floor is, in the kitchen, she settled on. 
She's taught online here and there, such as for a silent auction as part of a friend's studio fundraiser but notes that she "doesn't love" teaching online — mainly because that in-person connection is so important to her. Talking with other creatives is something that she's really enjoyed, however. "Zoom has been a way to connect," she says. Miller is a dance coach and actually built a studio through COVID, and she helped with that (and she could dance in a larger space than her kitchen when that was done!). Other than that, earlier on in COVID, she engaged her mind and passed the time through reading books and doing puzzles. "But that got boring," she says with a little laugh.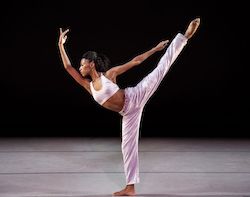 Reconnecting with old passions, such as math and finance, has also engaged her mind, passed the time and offered opportunities to connect; in some of those Zoom conversations, she shared financial guidance with friends, colleagues and family members. "It reminded me why I love math!" she says. She's also picked up new passions and skills, such as film editing, videography and film direction — something that's come out of necessity and practice this year.
At a certain point, Alvin Ailey American Dance Theater started offering digital content, and the dancers had to film themselves, Green recounts. That's something that requires directing skill and rehearsal, she affirms. "I noticed that performing is a muscle," one that needs to be exercised through rehearsing, she says with a chuckle. It's been a process to learn those skills, but she's happy to have picked them up.
As COVID crept on, the events of George Floyd and the summer's nationwide protests "took a toll" on her and "affected her artistry," she shares. "Everyone grieves in their own ways," she believes, and usually dance is her therapeutic outlet. In this time, with her dancing confined to a kitchen, she had to find additional ways to handle difficult thoughts and emotions.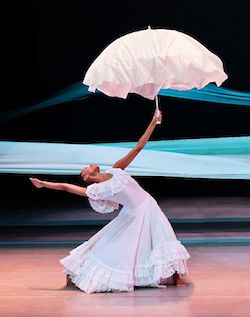 Taking walks, having time to think and reflect, and engaging in new passions has been healing for her, she says, as well as taking action through supporting Black-owned businesses and being vocal about racial justice. These are her "ways of contributing to moving the country forward in terms of racial justice — all in love," she says. Green is proud to be someone who stands as representation for people of color around the world, as an Alvin Ailey dancer. That's "part of" her and who she is in the world, and always will be, she asserts.
Green was back dancing in NYC once state guidelines allowed it. It was cathartic to be back in the studio with colleagues and creating together again, she says, with her fiancé also there directing the two new works the company was making. "Even though we were masked, physically seeing each other was amazing….[and] filming outside with my fiancé was just beyond words!" she shares.
Green also notes that the process of creating and filming Matthew Rushing's Testament was particularly powerful. "Learning Testament and what it was about was cathartic and therapeutic. I thought, 'I'm doing what I want to do to release built-up frustration from the year,'" she shares. These experiences reinforced for her just how important the arts are for getting through challenging times. She "hopes that people realize that we need the arts to get through this," she says.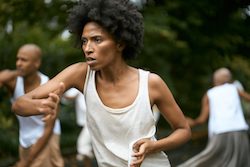 Asked what's given her light in these difficult times, she circles back to those new and old passions that she connected (and reconnected) with — those she'd normally be "too busy to explore," she explains. Green also mentions being able to connect with friends, even if virtually. As an "introvert in an extrovert world," she says, "I can do all of the social and energetic things necessary with what I do, but I love to just be home with my puppy and keep it simple."
During COVID, however, she had plenty of that quiet time at home "in excess," so it felt great to reach out and use her voice — to connect, to express and to share. "Quarantine [has not been] easy, and sharing the difficulties and discussing mental health" — to find mutual validation and support — has been "really really helpful," Green shares. She also notes how "out of trials and tribulations comes great art," and she draws a parallel from that truth to Ailey's master work, Revelations (which she says never, ever gets old to perform — she always finds something new and special in that experience!).
All of that complexity aside, she appreciates being able to "witness" Ailey's first virtual season, she says — at a time of year when she's usually busy dancing in it. Dance in it she has, if in film form, and dance she will — and learn, teach and connect. Just like dancers all across the nation and all across the world, Green has made it through these tough times with new experiences, new skills and new memories. We dance on!
By Kathryn Boland of Dance Informa.