"It's not a conventional path," says Madelyn Ho of Paul Taylor American Modern Dance (PTAMD) when asked about her multifaceted background — with a little laugh of true humility and groundedness. In addition to being a talented dance artist, Ho is an MD, having graduated from medical school. She's used that background to be an informed voice during this current public health crisis, as well as serving her local community in other ways and remaining connected with art and movement in safe ways (individually and with PTAMD).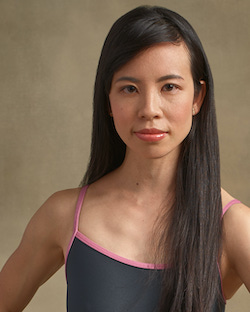 Dance Informa speaks with Ho as part of our series on what accomplished dance artists have been up to during COVID — what they're creating, what they're learning, how they're giving back and more.
Ho got an MD at Harvard Medical School (Cambridge, MA), and following that shifted course to dancing professionally — first for Boston's Urbanity Dance. In NYC, she danced for Alison Cook Beatty Dance and ultimately PTAMD. When COVID-19 first hit the Big Apple, Ho got in touch with a few hospitals to see if — with her MD — she might be able to help with the enormous demand for medical professionals. Because she's not licensed to practice, unfortunately she couldn't be of help in this regard. "But with my background, it's been helpful to be a voice for medical science for friends and family in this confusing, scary time," Ho says. She's also volunteered for a mutual aid organization, New York Cares, bringing food and other needed goods to neighbors in need.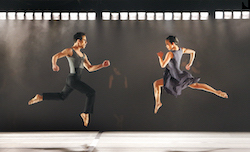 With respect to dance and the company, Ho has participated in virtual community events (which PTAMD typically hosts in the studio). A recent one right before last month's national election focused on voting, and others have had alumni of the company narrating over repertory works to give context and share stories. Ho has additionally met dance presenters and donors through virtual meet-ups, and partook in a Q&A with the company through the University of Michigan in place of a tour date. "It's been great connecting with and meeting new people virtually," Ho says joyfully.
She's also taught over Instagram Live through PTAMD. She loves teaching because she loves the Taylor work, she shares. It's also "really special" to be able to connect with people outside of NYC through teaching, which wouldn't be possible if teaching in person, Ho says. "But it's a whole other thing to be sharing space with people, especially since [Taylor] work is so much about relationships," she adds.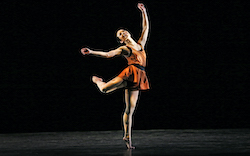 Ho has also cross-trained, taking exercise classes over Zoom and through videos on YouTube and Instagram. Even with those efforts to stay in shape, it was a "ramp-up" when PTAMD got back into the studio in small "pods" (groups of six dancers), she admits — especially also having to dance masked! Yet, it's been a special thing to get back into the studio with fellow dancers, she also affirms. "Warming up has never been my favorite part of class, but to be in space with people again in that first warm-up back — it was really wonderful." The company was rehearsing for an online benefit concert that took place November 19, when the company would have been dancing at Lincoln Center.
Ho highlights the beauty of dance's ephemerality, yet notes that film is a way in which the company can creatively keep the art and grandeur of that night alive in some way. In a wider scope, PTAMD is also currently creating work that can translate well to filmed work, as well as snippets of work for social media, she shares. She also notes how a benefit of creating dance film is that you can tape it again, but a drawback is that you can tape it again — multiple takes can get tiring!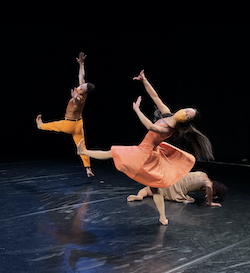 "We do have tour dates scheduled in 2021, but that's only something we're going to do if it's safe to do, of course," she confirms.
Ho also shares how dancing masked has been leading the company dancers to convey drama and meaning without full facial expression. "Taylor dancers love drama; choreographers will even tell us to tone that down," she says with a laugh, "but the question becomes, how can you carry emotion in every fiber of our being, rather than just in your face?" Ho quotes Taylor himself: "The connection is not just in the eyes and the face, but it's something that emanates throughout the whole body."
She additionally describes a recent experience of dancing barefoot in Brooklyn Bridge Park. "It was like getting back to the roots of modern dance!" she says with joy in her voice. Due to COVID-19, film has become "the new thing", Ho believes. Even without physically being in space together with an audience, Ho's experiences remind us that we can remain connected with the roots of what we do, as well as dance with truly all of our being. A pandemic can't stop that.
You can follow Madelyn Ho on Instagram: @madho4.
By Kathryn Boland of Dance Informa.