November 19-29, 2020.
Streamed on bostonballet.org through subscription. 
I remember the first time I saw a William Forsythe work. It was obviously ballet, but it was unlike any work of ballet art than I had ever seen before. (And at that time, I had seen, and danced, a lot of it.) My mind, body and spirit stood totally exhilarated. As a critic and dance lover, I feel fortunate to have had this peripheral connection with the iconic choreographer through association with Boston Ballet (as a resident of the city for several years).
As Artistic Director Mikko Nissinen shared in the introduction to a virtual program centered on his work, Forsythe has pushed fellow artists to reconsider the scope and breadth of what ballet can be. In the COVID era, dance companies have had to reconsider — and then redesign — what performance can be. Boston Ballet has demonstrated that process through initiatives such as BB@yourhome, a virtual subscription service to a series of virtual Boston Ballet programs. Forsythe Elements in that series shared Forsythe's norm-agitating work in a, necessarily so, norm-agitating performance format.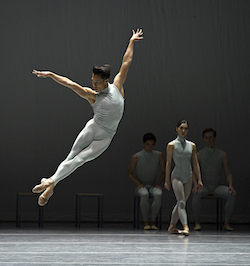 Part I was filmed in the studio, evidently in COVID times; in rare moments of more than one dancer in the frame, they stayed distant, and all of them also danced masked. Vibrant, energetic hip hop music punctuated the incredibly dynamic and virtuosic movement, which was heavily focused on turns with extensions and leaps. The choreography demonstrated these artists' strength and technical command. Dancing masked didn't slow them down or throw them off. The hip hop/electronica score was emblematic of Forsythe's pushing the boundaries of what we see as ballet. He's not one to shy away from popular music — nor instrumental scores, for that matter. It seems to all be fair game to his ears.
The dancers also wore matching sweats in vibrant colors to match the overall vivid energy. The costuming additionally brought a pedestrian feel but also a unified and satisfying aesthetic. Perhaps most intriguing, however, were the formations that Forsythe created out of split-screen solos and duets, in different configurations throughout the work. Forsythe has found a way to have formations of dancers in this dance-on-film age — which feels quite fascinating and notable.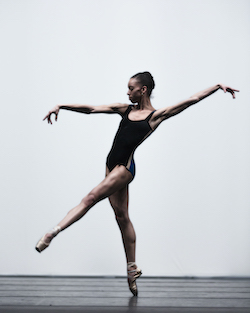 Part II featured excerpts from Forsythe's Pas/Parts, danced in the studio. This section reminded me of my fascination with and love for the work's typical leotards with different solid colors in front and back for the ballerinas; this design creates a visually entrancing effect of alternating colors when the ballerinas turn. The movement in the piece is fast, abstract and incredibly fluid for being so classically influenced, but its shape and intention are always crystal clear — to the credit of both Forsythe and the dancers. Movement amalgamations remain unpredictable in this work, and in much of the Forsythe cannon; a pirouette shifts into a flat back, shifts into a supported extension. Different influences seem to come together like ingredients in a delicious soup, boiled together in the daily work of the ballet studio.
Part III offered film excerpts of before-COVID Pas/Parts on the grand Boston Opera House stage. It was interesting to see the energetic, and in some ways aesthetic, differences between performances in the stage and studio spaces. The plethora and diversity of sections reminded me of the dynamism of the work — in that sense of sections, in their sheer multiplicity, but also in the movement itself. It's a high speed train all the way through, and it's undeniably exhilarating and by far one-of-a-kind.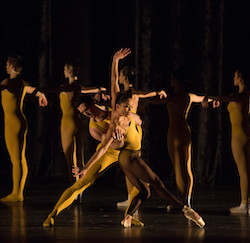 Forsythe's Artifact came before that in this section, in all of its wonderful abstraction and purposeful aesthetic rawness. Talk about questioning what ballet can be — one excerpt was a whole section that Forsythe created with a 2017 premiere, with dancers split in two groups on the stage speaking in rhythm, swaying and snapping.
Part IV features Forsythe speaking with Boston Ballet dancers. It reminded me of his warm nature, learnedness and wise leadership style. They discussed Forsythe's style of leading dancers to truly dance like themselves through a highly collaborative process. Their care for each other feels deep. It's all truly heartwarming!
A lovely shift from that, to Section V, is to the soulful Blake Works I. There is abstraction in the work, of course, per Forsythian interests and norms — but overshadowing even that is a clear value at hand of the beauty of the human body's possibilities and the connections between one or more of those bodies. The atmosphere — soft blue light, soft blue colors in the costumes and a tenderness in the music — perfectly compliments that beauty.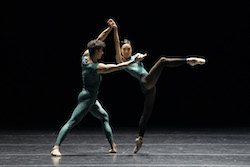 In the Middle, Somewhat Elevated brings something more mysterious, but with a similarly clear and unified aesthetic. That aesthetic helps build a specific atmosphere, and it hit me while watching it — that's truly something about Forsythe's work; in a way, the movement in its discrete parts isn't always definable, but you do know what you feel and the world that you've been brought into. The program ends with excerpts from the vibrant Playlist: EP. With its vivaciousness and sense of communal fun, it feels like the perfect way to finish the program.
I finished watching the program struck by the depth and range of Forsythe's work and the strength of this company of dancers — as technicians, as artists and dare I say as people (they dance in a way that I can see their humanity, and that's wonderful to experience). The larger organization is also showing strength and fortitude in how they're finding ways to share the wonder of what they do with the city of Boston and beyond through this challenging time. These times have necessitated that they stir the soil of proscenium performance norms, just as Forsythe has done for so long with the art of ballet. Brava and encora, Boston Ballet and Forsythe! 
By Kathryn Boland of Dance Informa.