Boston Ballet is committed to the safety and welfare of its dancers, musicians, stagers, artisans, faculty, administrative staff, volunteers and audiences. Given the ongoing impact of the pandemic, Artistic Director Mikko Nissinen announces a reimagined 57th season with three major components: The Nutcracker on broadcast television, the BB@yourhome virtual dance series and two in-person, live programs in May at the Citizens Bank Opera House.
"Boston Ballet is leading the way in adapting dance to a changing environment while supporting our dancers' professional well-being and growth; creating space for emerging, diverse choreographic voices; and bringing new innovative art and dance to our audiences," said Nissinen. "I could not be prouder of this upcoming season, the resiliency of our dancers, and the eternal support of our patrons. We are all ready to return to art-making."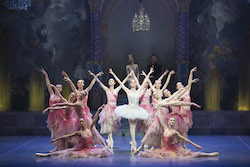 New England's beloved holiday tradition, The Nutcracker, will be brought to more audiences of all ages than ever before through an exclusive broadcast partnership with NBC10 Boston. It will air on NBC10 Boston starting Saturday, November 28, at 7 pm with encore airings and on-demand viewing opportunities on NECN and Spanish-language Telemundo. It will also be available for free for a limited time on bostonballet.org. Featuring sets and costumes by award-winning designer Robert Perdziola and set to Tchaikovsky's renowned score, this will be the first time Nissinen's production will be broadcast on television.
BB@yourhome, Boston Ballet's first-ever virtual season, will premiere six programs from November to April. BB@yourhome, available as a paid subscription, replaces the previously announced fall and winter seasons at the Citizens Bank Opera House. Nissinen has curated programs to feature new performances by Boston Ballet dancers captured live in-studio, bringing inspiring dance safely to audiences right where they are. With a commitment to new choreographic voices, BB@yourhome will premiere new works created remotely by international collaborators such as Nanine Linning and Ken Ossola, share compelling conversations with choreographers including William Forsythe, and celebrate dance from past iconic performances.
Boston Ballet will present two live, in-person performances at the Citizens Bank Opera House: off the chART (May 6–16, 2021) and ChoreograpHER (May 20–30, 2021). Both programs have been optimized for the health and safety of patrons and performers by shortening the length of the program and eliminating intermissions, while honoring Boston Ballet's commitment to showcasing historically underrepresented choreographic voices in ballet.
off the chART features the company premiere of internationally-acclaimed choreographer William Forsythe's New Suite, a collection of pas de deux from selections of his earlier works, and a world premiere by Stephen Galloway (originally slated to premiere in May 2020). These dynamic duets showcase the groundbreaking style that secured Forsythe's place as an international visionary. Galloway, a protégé of Forsythe who also acted as the creative movement director for The Rolling Stones, says the idea for his ballet started 15 years ago when he and Mick Jagger first talked about a choreographic collaboration. Galloway has also enjoyed a successful career in fashion and costume design, consulting for fashion powerhouses like Gucci and Calvin Klein, and designing award-winning costumes for ballet companies worldwide, including Kirov Ballet and American Ballet Theatre. Galloway is working with Boston Ballet's Costume Shop to create fashion-forward costumes for his new work.
ChoreograpHER is a female-led program that celebrates innovative voices across the art world with five world premieres. New York City Ballet Principal Dancer Tiler Peck will create her first world premiere for the company. She recently received accolades for her work at Vail Dance Festival and directed movement for the film, John Wick 3: Parabellum. Claudia Schreier will also create her first work for Boston Ballet. Praised for her distinctive choreographic voice, which fuses neoclassical technique with a contemporary vocabulary, she has choreographed over 30 ballets and has been commissioned by companies and organizations including Dance Theatre of Harlem, Vail Dance Festival, American Ballet Theatre Studio Company, Juilliard Opera, New York Choreographic Institute and Joffrey Winning Works. Visual artist Shantell Martin, internationally-acclaimed for her landscape of lines and existential questions, will make her choreographic debut. Boston Ballet Principal Dancer and choreographer Lia Cirio will create her first main stage world premiere for Boston audiences. She made her choreographic debut with Sta(i)r(e)s during BB@home: ChoreograpHER in November 2018, and has since created two additional works in 2019 for BB@home and Boston Ballet School's Next Generation performance. Melissa Toogood, an award-winning dancer and choreographer, will create a world premiere. She is both a dancer and rehearsal director for Pam Tanowitz Dance. She was a member of the Merce Cunningham Dance Company and has taught Cunningham Technique internationally since 2007.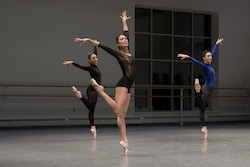 This program is part of Boston Ballet's ChoreograpHER Initiative, a multi-year commitment in support of emerging female choreographers. It was established in 2018, to give female dance students and professional dancers an opportunity to develop choreographic skills.
Dancers of Boston Ballet returned to studio rehearsals on September 21. The company has implemented numerous safety measures and protocols to keep dancers and artistic staff safe and healthy in the studio, while most of the administrative staff will continue to work from home to help de-densify facilities.
Given the financial reality of not presenting a full season in the theater, Boston Ballet has made workforce reductions including limited layoffs and reduced work hours. Employees who typically prepare work for the stage will work fewer weeks this season while retaining year-round health benefits, and nearly all remaining employees will participate in Massachusetts's WorkShare program working 80 percent of their standard weekly hours. This program provides an alternative to layoffs for organizations experiencing temporary reductions in normal business. Additionally, Boston Ballet announces a fundraising goal of $9 million to help pay salaries and support operations for dancers and staff throughout this season.
"Boston Ballet strives to be the ballet company of the future — and the future is now," said Executive Director Max Hodges. "This season shifted swiftly with the perseverance, support and creativity of our board, patrons, dancers and staff. I'm grateful for everyone who made and continues to make sacrifices for Boston's beloved ballet company and school, and we remain more determined than ever to bring inspiring, innovative art to audiences right where they are."