September 26-28, 2020.
Online at onstagedanceco.com.
A meaningful thing about the arts is how it can give people a voice, a space to express themselves and share their experiences. Being able to have one's voice heard is also a key way to empower people. Both OnStage Dance Dance Company (Malden, MA) and Nozama Dance Collective (Boston, MA) have been empowering people through the art of dance as a key part of their mission — the former as a space for adult dancers to perform while engaged in other careers, and the latter focused on empowering women through dance. The Empower One Another series is the brainchild of the two companies (OnStage directed by Jen Kuhnberg and Nozama by Gracie Baruzzi and Natalie Nelson-Schiera), and is grounded in the belief that collaboration can empower all involved and create something truly special.
Through the number of artists presented, it's also a platform for many artists to have a voice — all varied, all unique, all worth something special in their own ways. Baruzzi and Kuhnberg weren't about to let a global pandemic get in the way of this important work. In fact, this year's Empower One Another (the second annual) could give more artists a voice this year than the series has in the past. Additionally, a virtual video format allowed space for a short video from each choreographer preceding their piece, in which they could share a bit about themselves and the work we're about to see — and we could literally hear their voice.
Allo Movement Project's Unappreciate: V4, performed by Allison Rebecca Penn and with videography from Jesse Pierce, comes third in the virtual show. Dancers move in various outdoor locations, a sense of solitude in dancing alone. Is it solitude or loneliness? That remains an open and intriguing question. Penn dancing in these spaces, along with her pedestrian clothing, gives the work a quotidian feeling. Moving low in space adds a feeling of heaviness, like she is moving with a heavy heart. Evocative moments of passersby moving through and not acknowledging her adds to the feeling of solitude.
The score, a soulful R&B song, adds to that feeling. The speaker in the song seems to be experiencing a lot of confusion, and is also alone in that mental space. The energy of the movement — frenetic at times (hence, that confusion) but still weighty — seems to align with all of that. At a time when we can't always hug those we love, and uncertainty hangs heavy in the air, the work feels relevant and relatable. Mirroring our experience back to us, like art sometimes does, allows us to see it in new ways. What can happen from there? Only time can tell.
Dana Alsamsam's Mother Tongues comes next. Alsamsam explains how the work is commenting on our relationships with our mothers and the effect that they have on us throughout our life. Five dancers move through different levels, shapes of clear geometry and places in space relative to one another. They begin with four of the dancers kneeling in a sort of side lunge, leaning inside of their legs with arms wide. It's an intriguing shape that returns through the piece. One dancer also dances above them in space. That hierarchy through placement doesn't remain; dancers move in all which ways in relation to one another throughout the work. They weave in and out of one another, as if in tension even while they coexist. The score is haunting, a lone voice making long, lilting tones while other voices make vocalizations that are more staccato and frenzied. Maroon and black costumes in clean, simple cuts support the mood of the piece as well as contribute to a pleasing aesthetic organization.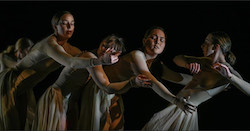 I imagine that long staccato voice being that of a mother in one's psyche, whether conscious or unconscious, while also hearing a cacophony of other voices in the surrounding world. The weaving in and out of one another through space feels like those voices and those influences meeting and finding some sort of toleration for one another. The multiplicity resulting from all of those paths through space feels akin to the multiplicity that comes from that cacophony of voices that may have an effect on us. Still, the mother's voice remains. To end, one dancer lays sitting, facing the four other dancers — the reverse of the structure in the beginning of the work. I think about all of the different ways that hearing our mother's voice can affect us, and all of the different situations we may find ourselves in which we hear her.
Shae Forest's Speak explores how dance can act as a language and the meaning of that for communication in society, she shares in her introductory snippet. Sadly enough, that's not a topic that's top of mind for broader society, a perhaps cynical part of me thinks. Yet anyone can appreciate the aesthetic offerings of this piece. The dancers, wearing elegantly-cut off-white leotard dresses, move with incredible facility through very technical and challenging movement vocabulary. They move with passion and commitment through that challenging work, such that it feels expressive and meaningful rather than just movement "tricks" for their own sake.
The darkened lighting and sensational instrumental score further build drama and expression. Forest also skillfully structured groupings in the work such that dancers are coming and going and groups are changing enough to be intriguing but not so much so to feel like those changes are coming too fast — those shifts perhaps representing a kind of communication of their own. Sometimes art has a widely accessible meaning, sometimes it's aesthetically pleasing or memorable, and sometimes it has both. None of those options are inherently misguided. They're all worth something.
Rachel Linsky's Selection is a memorable and thought-provoking work. Important meaning meets technical proficiency, and the result is something truly enthralling. In her pre-performance snippet, Linsky explains that the piece explores the process of "selection", by which the Nazis separated those able to work and those who would be killed immediately when bringing Jewish captives to concentration camps. Families were pulled apart through this process, Linsky shares, which has been a common tool of oppressors upon the oppressed throughout history. Outside of Boston's Holocaust Museum, the dancers form straight lines — in eerie alignment with Jewish prisoners on arrival to the place of their (likely) death. Smoke rises, another chilling reference here.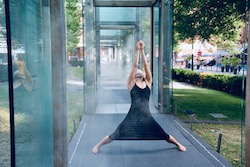 They move (within those lines) with a certain level of a bound quality, side-bending and rolling through the shoulders to hunch forward — embodying constriction and lack of autonomy. Supporting this sense, and a desire to escape the constriction while powerless to do so, they reach up into the sky but at other times fall to the floor or just above it in a deep lunge. The dancers wear masks obviously because of COVID, but it also brings to mind for me a sickness — like the one that led to the killing of six million Jewish people and six million others deemed a threat to Nazi power. Numbers flash before the dancers as they move, representing identification numbers of concentration camp prisoners. The weight of this historical trauma, this sore on history, hits me on a very visceral level.
Yet, the truly frightening thing here isn't the weight of the past in isolation — it's that past rhyming with things happening today. Toward the end, amongst the voices of other concentration camp survivors, we hear Bernard Marks confronting the Sheriff and Acting ICE Director at a Town Hall in Sacramento, California. He speaks with candor and ferocity, drawing parallels with how he was separated from his family in the concentration camps and how that's happening today in migrant detention centers right here in the USA. I take a moment of solemn reflection after viewing the work, vowing to never forget and to never excuse hatred. Works like Linsky's, with aesthetic command and a truly potent meaning, can have that kind of effect. 
Soon, however, ballerinas from New England Ballet Theatre of Connecticut offer something much lighter and more joyful. Gentle piano music accompanies their effervescent balletic movement through different outdoor locations — leaping big by a lake, lunging and gesturing arms on a classic home's steps, and spinning on a porch. Slow motion effects enhance the feeling of freedom in flight, and filters add a visual harmony that is truly pleasing. It all feels like an escape from the reality of COVID. The dancers don't even wear masks (which I find fine because they don't get particularly close to one another when dancing in the same shot). The tranquility and joyfulness of the work, not to mention the spaciousness and freedom with which the ballerinas move, feels like medicine for the soul in this time (or at any time, it could be). 
Yet the work is not wholly without emotional or conceptual range; toward the end, dancers make clawing motions up the sides of a building — apart from visually beautiful, conveying a reaching and a yearning for the unmet and unexplored (despite all of the spaces that they have encountered in the work). No matter what we find and experience, there is always something outside of that. New England Ballet Theatre of Connecticut has a voice that could bring us all of this, just as other voices offered gifts of their own through their voice. Brava to OnStage Dance Company and Nozama Dance Collective for creating the space for all of those voices.
By Kathryn Boland of Dance Informa.