What are two main things that people want right now? Freedom of movement and human contact, I'll say. San Francisco Ballet's six-minute dance film Dance of Dreams, directed by Benjamin Millepied and with choreography from Christopher Wheeldon, Justin Peck, Janie Taylor and Dwight Rhoden, brings us those things vicariously. Shot in various iconic locations in San Francisco, CA, dancers find connection with one another and with the open spaces around them through dancing. Experiencing their movement and their energy — granted, through a screen — can offer some kind of escape from a world in which we strongly crave that physical contact and freedom to move. Art has many different valid purposes. One is to bring us to another world, and in so doing offer temporary reprieve from present reality.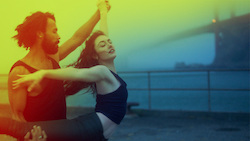 The film opens on what looks like a big rooftop, with Principal Dancer Joseph Walsh moving somewhat restlessly. The dynamism of his movement matches the crescendos and decrescendos in the score. There are moments of pause and seeming introspection, however, such as him bending into a deep second position to find a moment of grounding and slower speed. In either quality, he moves with lovely length and expansiveness, something craveable in this time of confinement to our homes for much of the day. Stepping back in a ball-change and reaching to the sky, there seems to be such life, freedom and energy in him. Lengthening in an arabesque or in a multiple low attitude turn (with sneakers not affecting his ability to turn, impressively), his potential feels limitless. In this age of limits, it's a dream in itself to imagine that condition — to live in it vicariously for just a moment.
We then move to an open space by the sea, at the Golden Gate National Recreation Area, overlooking the vast Golden Gate Bridge. Overlaying it is a thick blanket of that famous San Francisco fog. First we see two hands, grabbing the other's wrists. Soloists Ellen Rose Hummel and Daniel Deivison-Oliveira come together and then move apart several times, finding connection and then full independence (note — both pairs of dancers dancing together in the film have been physically distancing together, explains the film's credits). This section has a bit more accent and punctuation, even hip hop dance vocabulary-like movements at times.
A highlight is Hummel spinning with her legs extending horizontally, supported by Deivison-Oliveira — a bona-fide 1940s film dream ballet moment. Indeed, with such virtuosic partnering and the mysterious feel of the fog in the air, this section also feels like quite a dream. I want to live in it. Next we watch Principal Dancer Frances Chung on a space just above a cliff, spinning and extending through the space she has. She begins laying on dusty ground. I smile to think of those special moments, in childhood or even later in life, when you feel so carefree and joyful that you'll lay outside in something dusty or dirty and not mind staining your clothes. She rises to dance with beautiful attunement to the music and expansive use of limited space.
A graceful, low développé à la seconde, her spine gently arching toward her extending leg, reminds me that less is more. Even with the sweeping, dramatic score, grand locations and virtuosic movement, the film as a whole exemplifies that truth; emotion and meaning comes before "tricks", and production values are elegantly simple (with pedestrian clothing and lack of extra scenic elements, for instance). Viewers can find full production credits on YouTube.
The score, appropriately enough, is Bernard Hermann's "Scene d'Amour" from Alfred Hitchcock's iconic film Vertigo (1958). San Francisco Ballet Orchestra Music Director Martin West mixed and remastered the score from 150 tracks, recorded remotely by 60 different musicians in the orchestra. (I never would have known that they weren't all playing together!) While adding drama and power to the film's tone and atmosphere, it does so in a dynamic and complex way which allows for that quality of "less is more."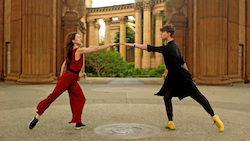 Next we come to the Palace of the Fine Arts, Soloist Madison Keesler and Principal Dancer Benjamin Freemantle leaping and turning with a circular quality that matches the space. It hits me then that movement in each of the sections aligns with the nature of the location in which it is danced: Walsh with expansiveness and clean geometric shapes on a rooftop, Hummel and Deivison-Oliveira with accents and shapes reflecting the terrain of around them and the bridge behind them, Chung with arms rising vertically like the cliffs beside her, and Keesler and Freemantle in the circular quality of the building they're in.
Keesler and Freemantle come together toward the end, almost touching, and then roll through their bodies in unison. Low lunges become an opportunity to support one another's back. It's all a sweet embodiment of support and energetic connection. The ending shot is a look up at the ceiling, this second pair holding each other's wrists and slowly separating — just as the first pair did. I'm reminded of those connecting threads that we experience in dreams, those recurring images that leave their imprint on us. From another perspective, these shots are beautifully straightforward illustrations of human contact, that which so many of us sorely miss these days.
Seeing these dancers move freely through space and experience that human contact — and, moreover, harmony with themselves and their surroundings — it is indeed a dance of dreams. Looking deeper, there are even more profound levels of meaning, quality, and tone to acknowledge and to enjoy — many which this review describes. Yet that level of a dance of dreams alone, of escape from what can feel like the nightmare of life in COVID, is enough to bring joy and ease. Art for escape can be enough.
By Kathryn Boland of Dance Informa.