Many would agree that these are uncertain times….uncharted for most of us. We don't know what the future holds, let alone tomorrow. The landscape of performing arts and theater across the globe has changed, and there is no way of knowing what it will look like in the coming year. With dance studios and schools opening back up, there is hope for many, but with it often comes fear and anxiety. This and so many unanswered questions bring to mind the theme of uncertainty.
Uncertainty isn't new, but our association to it these days is undeniable. The predictability of life, daily routines, even our communication is not what it once was. While that is not to say that we won't get back there, we must acknowledge where we are now in order to move through this difficult time. It is even more pertinent now because we have grown accustomed to a new norm of social distancing and Zoom meetings. Emerging back into society and daily life outside of a virtual platform will most definitely bring out a new round of fears and anxieties for children and adults.
This begs the question, how can we move through uncertainty? More importantly, how can we do it authentically so we are validating our own experiences and not just doing what we are told or what we see others doing? Here are five ways to explore moving through uncertainty.
#1. Acknowledge its presence.
Take a moment to let that word "uncertainty" live in your body. Is there hesitation? Dissociation? Notice how it takes up residence. What parts of your body connect to a sense of or feeling of uncertainty? If this feels uncomfortable, you are not alone. The brain seeks comfort and familiarity, and thus our movement habits follow suit. When we safely find a way to challenge these ingrained habits of mind and body, we can explore the paths less traveled.
#2. Literally move it.
Feeling inspired to dance? Create a dance, a piece of choreography, a sequence of movement inspired by your own uncertainty. Notice the qualities of the movement, and allow this process to illuminate and express your own experience.
#3. Embrace uncertainty.
Feeling unsettled or uncomfortable by uncertainty? Try a little more exposure Find ways to add more uncertainty into your day. Not only can it be empowering to take charge of your uncertainty, but it will help you grow accustomed to the feeling. Examples are walking/driving a new path, exploring new forms of dance, and mixing up your schedule or routine so it is not so predictable.
#4. Find stability and grounding.
One of the best ways to manage uncertainty or the feeling that the ground is unstable is to tap into a felt sense of grounding, balance and stability. This can be done mentally as well as physically. You can mindfully focus on your breath and heartbeat to bring a sense of center and calm to the body. You can physically ground with your feet on the floor and a lifted posture. Lastly, try finding balance in your body through dance-based exercises that challenge your balance and encourage you to find your way back to center.
#5. Connect to certainty.
If sitting in or exploring uncertainty is too much for you, then a wonderful option is starting with certainty. Think of a time, place or even situation when you felt most certain, and begin to get a sense of what that feels like, emotionally and physically. Being able to bring that felt sense to times and places that feel uncertain can be a powerful tool to help manage the intense feelings that come up when you are feeling anything but certain.
Giving ourselves permission to feel a less than desirable emotion like fear or anxiety can help normalize the experience and make it easier to acknowledge when we need extra support during uncertain times. While social distancing, it is important to remain connected and find ways to do so. Creating a community where others feel the same fears and worries can help us feel less alone and validate our feelings in the process.
Most importantly, keep moving! The best and sometimes hardest thing to do through the challenging times is to simply find ways to move. This can be dancing, exercising, walking, breathing, meditating, talking…the list goes on. Remember, we are always moving. We just need to become aware of how we are moving and how it supports or hinders our current state of mind. We can all find comfort in knowing that as uncertain as these times may be, movement will get us through.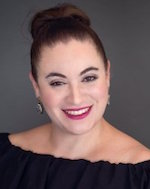 By Erica Hornthal, LCPC, BC-DMT, Dance/Movement Therapist.
Erica Hornthal is a licensed professional clinical counselor and board certified dance/movement therapist based in Chicago, IL. She received her MA in Dance/Movement Therapy and Counseling from Columbia College Chicago and her BS in Psychology from the University of Illinois Champaign-Urbana. Erica is the founder and CEO of Chicago Dance Therapy, the premier dance therapy and counseling practice in Chicago, IL. As a body-centered psychotherapist, Erica assists clients of all ages and abilities in harnessing the power of the mind-body connection to create greater awareness and understanding of emotional and mental health. For more, visit www.ericahornthal.com.