Boston Ballet Principal Lia Cirio is honest about the difficulty of being a dancer in COVID times; the mental and physical toll she describes is something that so many dancers out there can directly relate to. At the same time, she was able to rise above those feelings and refocus on the positive — what she can do and how she can make a difference in these difficult times. Cirio demonstrates a spirit of thoughtfulness and generosity that we can all learn from! Dance Informa spoke with her for our series on how prominent dance artists are making it work, nurturing themselves as artists and giving back in spite of COVID topsy-turviness.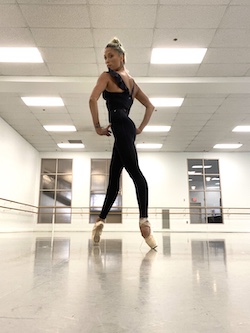 How are you staying in shape and creatively inspired?
"At the beginning of quarantine, it was still pretty uncertain when we would get back to work, and because of that, I was doing a barre or center barre every day. I bought a stationary bike (which I still ride, once again, every day), and I did a lot of Pilates. I also took advantage of the time to create a little dance video, with my quarantine buddy and fellow Boston Ballet Principal, Paul Craig, called Reverie. We were able to choreograph it together and have it filmed by videographer Ernesto Galan. We also had our good friend Josh Knowles compose some music for us. It was super inspiring for us to be able to create and collaborate during such a strange time.
During the months when we all found out that quarantine would continue for way longer than anticipated, I took some time to rest my body and was not doing as many classes as I had before. I took an online course for a leadership certificate through eCornell. I worked a little bit with Helen Pickett through Zoom and was part of her Home Studies series. This project really helped with making me still feel like a dancer and kept me inspired. I also began to get back in shape and work again, when my (and my brother, Jeffrey Cirio's) summer dance company, Cirio Collective, started planning a small and COVID-safe season."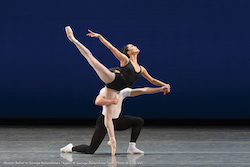 Are you managing to deepen your artistry in this challenging time?
"At first, being in quarantine and all the news of cancelled shows and seasons really took a toll on me mentally and physically. For a little while, I wallowed on my couch and watched Netflix. But after a few days of that, I snapped out of it and began figuring out what I could do with this time. First, I began a campaign of t-shirts and other products called 'Art Heals'. I have been selling them for different causes and donating the proceeds. This time has made a lot of us feel very helpless, and I tried to create something that made me and others feel as if we were making a difference in some way.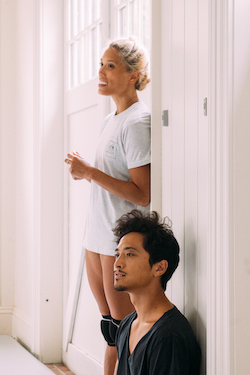 I also used the time to create the Reverie video, and took part in Helen's Home Studies. Both pushed my artistry, and I found ways to create in small spaces. It really made me realize how much I love dancing and performing. In addition, planning Cirio Collective and creating a season that felt a bit impossible with Jeffrey and our Company Manager, Bradley Schlagheck, was an incredible feat. It spurred my desire to create and give art to the world."
What have you been up to that's exciting and new? Do you have anything coming up that our readers can tune in to or support?
"Yeah! Well, first, people can visit my website to purchase one of the 'Art Heals' products. And I will be working on a new project to be released there pretty soon, so watch out for that on my Shopify account.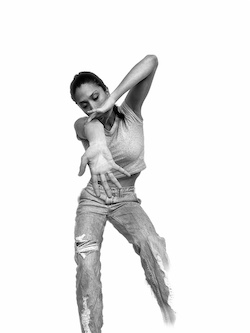 Definitely check out our video, Reverie, on YouTube.
You can watch Helen's Home Studies on September 10, through Virtual Pathways Dance Festival and get tickets here.
Follow @ciriocollective to see what we got up to this season and look out for an art film release created by filmmaker Quinn Wharton. I might also be starting another project with Helen Pickett, but that is still in the works.
Finally, I have been asked to create a world premiere for Boston Ballet for their ChoreograpHER program. Hopefully it will premiere on stage, but of course that is still up in the air. Fingers crossed. I have been working on ideas for this new piece, picking music and costumes, and casting."
How are you making the best of this time?
"Like I said, these past few months have been strange and uncertain, but I tried my best to stay active and creative. I have found I am happiest when I am very busy, and so I have continued to try and stay as busy as possible. It has been wonderful to take advantage of all this free time and use it to better myself and push my art."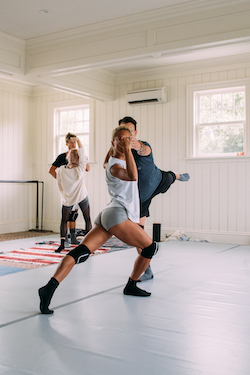 What's it been like to get back in the studio — what feels freeing, what feels constricting?
"Currently, Boston Ballet has been providing studio time when we can work individually. I am now working on getting back my strength, working on my technique and cleaning up bad habits. It is a unique time, almost like starting with a clean slate. Although at times I find myself getting a bit frustrated, this chance to work in a studio again (alone) has proven to be so very special and important. And yes, it is extremely freeing. I get to travel and jump again. I don't think there is much feeling of constriction; however, I do find myself tensing up a bit as I try to hold my turnout.
I know it's so incredibly difficult right now, but we are all in this together, and we are going to come out of this stronger humans and stronger artists."
By Kathryn Boland of Dance Informa.