Last year, I was rehearsing for a show — a dance theater adaptation of a Tennessee Williams play — in a downtown studio in NYC. Later that day, I received an email stating that I couldn't rehearse theater in the dance studios. I immediately wrote back an impassioned response explaining the nature of dance theater. I am first and foremost a dance artist, and the work I do relies on dance. In addition, theater studios often have concrete floors, smaller spaces and are cluttered with chairs and props, which make them unsafe for dancers. I had a myriad of responses: anger, fear, confusion, frustration. This studio champions different performance styles. Why was the art form I work in being questioned? Things were easily resolved, but it left me wondering, why is dance theater so misunderstood?
What is dance theater?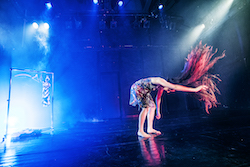 Dance theater is a dance-based art form in which a world is created through physical and psychological interactions on stage. Roland Langer (1984) exemplifies the elements as drawing on "dance, speaking, singing, conventional theater, and the use of props, set and costumes in one amalgam. Usually, there is no plot; instead, specific situations, fears and human conflicts are presented." As a result, it is often as much conceptual as it is dramatic and physical.
History
The origins of dance theater are attributed to Rudolph Laban (1879-1958), Kurt Jooss (1901-1979) and Mary Wigman (1886-1973), who developed an expressionistic form of dance referred to in German as Ausdruckstanz. They were inspired by the early 20th century German Expressionism movement in painting which sought to emphasize inner feelings and ideas over replications of reality. After WWI, artists saw the old way of doing things as stagnant. In dance, ballet was considered a genre of the old-garde which did not express the individual and their situational responses, such as fear and longing, to the events of war and its aftermath.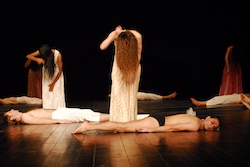 Jooss's disciple, Pina Bausch (1940-2009), is considered the doyenne of dance theater. Royd Climenhaga (2018) suggests that Bausch, who was a young choreographer in the 1960s, was not only influenced by her work with Jooss and German Expressionism but also by the experiments of theater artists who were seeking to "create a world of the stage, rather than a world on the stage" at the time.
Bausch's work doesn't have a traditional theatrical arc. Instead, it is constructed as a series of vignettes and is inspired by a theme or place. On stage, a physical world is conjured up through symbolic signifiers such as water, flowers, dirt and rubble. In this world, performers speak, run, dance, sweat, hit one another and swoon. Individual responses to human experience are acted out with intensity, and movement vocabulary is distinct and expressive. Her work has helped usher in a serious aesthetic consideration of the genre in Europe.
Dance theater on American soil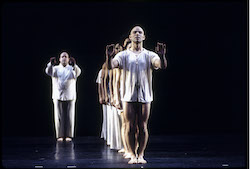 Dance theater doesn't have an historical tradition in the U.S., and, as a result, has not been as popular. The early pioneers of modern dance such as Martha Graham, Sophie Maslow and Anna Sokolow created dances with socially aware themes and developed an expressive dance vocabulary, but by the 1940s, there was a move away from Expressionism toward abstract dance making, typified by the work of Merce Cunningham.
For a brief period of time, however, from the mid-1980s to the 1990s, a generation of choreographers emerged who could be considered dance theater artists. These choreographers — Bill T. Jones/Arnie Zane, Doug Varone, Bebe Miller, Ralph Lemon, Sara Pearson and Patrik Widrig, and Tere O'Connor, who are still creating work today — were downtown dancers in NYC who were exploring political and social themes and creating work similar to European dance theater with its amalgamation of dance and theater, spoken word, theatrical vignettes and use of the body as a locus of expression. They would have known of the work of the early modern dance pioneers, as well as would have seen, or been aware of, the experimental work coming out of the Judson Theater in the 1960s, in which artists amalgamated genres and challenged aesthetic norms of performance.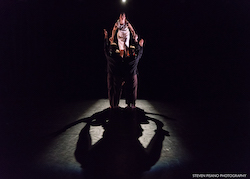 The 1980s, like the 1960s, was also a time of great social and political change, and individual artists were highly affected by the economic recession during the Reagan era, the AIDS epidemic, the rise of neo-conservatism, and the continued insidiousness of racism and misogyny expressed in everyday society. Miller states that her work is "rooted in the human condition." This artistic line of inquiry captures the concerns of this generation of choreographers and is reminiscent of the impulses of early German and other European dance theater makers.
By the end of the 1990s, dance switched tracks again, and the emphasis was on abstract and movement-based choreography. Dance theater became an outlier.
And now?
In the U.S., there is an emerging interest in dance theater. Dance critic Siobhan Burke (2017) cites Annie B. Parson, Okwui Okpokwasili and Faye Driscoll as current dance theater artists. David Neumann and Raja Feather Kelly should be added to that list. As more and more dance makers become interested in dance theater, there is still some difficulty in terms of its identity. There is not even a unified spelling in English. The Library of Congress cites Tanztheater (German) as the name of European dance theater, but in English, it's dance/theatre, dance theater and dance-theater. Semantics aside, the real challenges that face the form on American soil are in the realm of training and performance opportunities.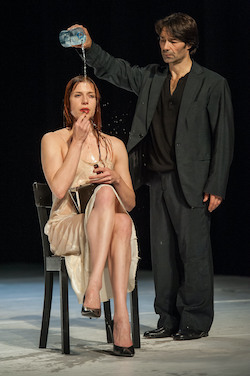 Training for dancers who want to perform in dance theater works is critical. In a concert I saw by an upcoming choreographer (billed as dance theater), the work relied heavily on narrative, but the dancers didn't have the skill to speak audibly on stage. The experience was very frustrating, like listening to music with one headphone tuning in and out.
Additionally, curators of small theaters which present dance can make intentional space for dance theater when programming. In doing so, they would provide artists more opportunities in which to develop ideas and work out creative issues (such as speaking on stage). It's possible that curators shy away from presenting dance theater because of the difficulty in defining the genre. Moreover, without a unified spelling, curators may not even know where to begin. As a result, many important opportunities are lost for dance theater artists.
The ethos of the American art scene, historically, has always been highly experimental. At the same time, American society is driven by labels. These two values have often relegated art movements and forms to the sidelines. Perhaps it is time to stop worrying about how to label or define it. Let it be what it is: a dance-based art that draws on an amalgam of forms. Instead, let's address the issues that will give it a chance to develop and grow on American soil and become something of its own.
By Nicole Colbert of Dance Informa.