Episode Four of The Hollywood Dance Podcast has arrived! The Hollywood Dance Podcast sees Tony Selznick and his co-host Megan Hunt, of MSA Agency, interview industry professionals to discuss the hot topics affecting dancers and choreographers today. This week, Selznick invites Tessandra Chavez and Mark Meismer to speak about how teaching and education has changed in the commercial dance industry.
Tessandra Chavez is an Emmy Award-winning choreographer, who has worked on shows such as So You Think You Can Dance, Dancing with the Stars, World of Dance, America's Got Talent, and American Idol. In 2015 Chavez, along with Derek and Julianne Hough, won the Emmy for Outstanding Choreography for the season-finale routine on Dancing with the Stars to Sia's "Elastic Heart." Chavez has also worked with iconic band MUSE, Dancing with the Stars in China, Abby's Ultimate Dance Competition, D-Trix's Dance Showdown, Disney's Dance Crew and the film Heartbeats directed by Duane Adler. Chavez is a world-renowned teacher – for six years she was head of Jazz dance at the Debbie Allen Dance Academy. Chavez continues to work with a new generation of dancers, and believes in making them both great people and performers.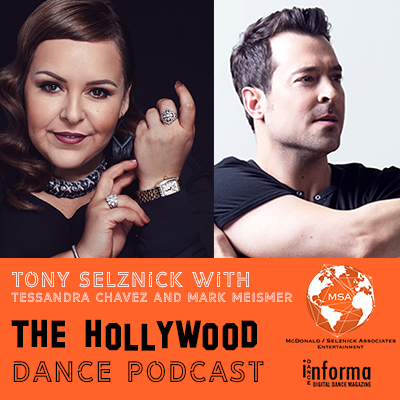 Mark Meismer has been dancing and teaching professionally for more than twenty years, and has worked with artists like Madonna, Britney Spears, Celine Dion, Ricky Martin, and Paula Abdul. On screen, Meismer has worked on Austin Powers 2 and 3, Starsky and Hutch and A Time For Dancing. Meismer has also worked on several TV shows, including Dancing With The Stars, Scrubs, Will and Grace, The MTV Video Music Awards, The American Music Awards and The VH1 Vogue Fashion Awards. Mark is also an original member of Mia Michaels' NYC dance company RAW, and worked as Michaels' assistant choreographer on Celine Dion's A New Day in Las Vegas. As well as running his own dance company, Evolution, Meismer teaches master classes and workshops across the USA and internationally.
Selznick, Hunt, Chavez and Meismer spend this episode discussing how teaching and education has changed in the commercial dance industry, and how today's choreography requires a phenomenally high standard of dance from the performers in the pieces. In many ways, choreography and teaching now go totally in tandem. Listen below, and stay tuned for Episode Five! You can catch Episodes One, Two and Three here.