Tony Selznick, legend in the Hollywood dance industry and co-founder of McDonald Selznick Associates (MSA), has played a pivotal role in establishing the careers of some of the world's biggest choreographers for stage and screen. With more than 30 years of hands-on experience behind him, he's partnering with Dance Informa to bring a new project to life – The Hollywood Dance Podcast.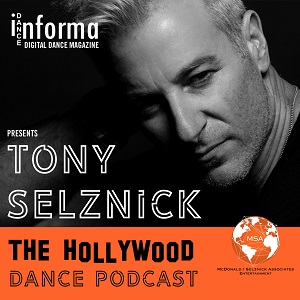 Covering everything from the history of dance to the impact of social media on the dance scene, the podcast will offer listeners an insider's view of Selznick's experiences in Hollywood and across the world. Special guests will join Selznick and his co-host, MSA Talent Coordinator Megan Hunt, to discuss their own careers and advice for making it in what is one of the most challenging industries to break into.
Episode 1 sees Selznick and Hunt interview Julie McDonald, Selznick's partner at MSA and founder of the first talent agency ever dedicated solely to dance. While representing her clients across all areas of dance and performance, she advocated for better terms and working conditions for artists and devoted herself to increasing the visibility of the craft of commercial dance and choreography. Selznick delves straight into McDonald's fascinating career, discussing her work with icons like Kenny Ortega and Jerry Mitchell and where it's taken her today.
Don't miss this behind-the-scenes look at the industry with one of dance's most influential leaders. Selznick's foray into the world of podcasting is certainly welcome, and with the buzz around the first episode, we can't wait for more.