There's been an uptick in fresh faces on the choreography scene in a big way. Concert and commercial, across the board, there's a turnover of creative power brewing. And not only is it younger choreographers taking up the mantle, but a lot of them are women. In an all too often male-dominated role, what are women bringing with them to the front of the room?
For your education and enjoyment, here is a list of young female choreographers rising in the industry — a little inspiration going in to the new year.
Let's start with the obvious. Emma Portner shot straight to the top of stardom in 2015, after choreographing the music video for Justin Bieber's song, "Life is Worth Living". Since then, she's accumulated an impressive list of clients, including Apple, Netflix, Vogue, New York City Ballet, and was the youngest ever choreographer for a West End musical. Portner's story is the commercial dance "dream" of getting discovered, becoming famous and being commissioned by the biggest names in the industry. As impressive as it is, that's not the only path to success. And with the expansion of dance into more platforms and industries, success can look a little different depending on where it is you're looking.
On the concert side of things, School of American Ballet-trained and once New York City Ballet hopeful Gianna Reisen was crushed when she didn't get an apprenticeship with the company. But after two commissions as the company's youngest choreographer, she's doing okay. Add a brief stint at the Dresden Semperoper Ballett, and Reisen is now happily settled in with Benjamin Millepied's L.A. Dance Project, creating new work on her fellow company members. That sounds like success to us!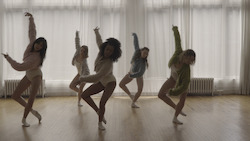 Some young choreographers, like Dasha Schwartz, blaze their own trails on to the arts scene. After having trouble finding creative collaborators in New York, Schwartz started Cardboard Stage as a platform to connect artists across art forms and bring the resulting works to unconventional performance spaces for broader audiences. As the company's founder and director, she's a curator of dance films and events, on top of her role as choreographer. Cardboard Stage has connected dancers, cinematographers, musicians and fashion designers, and worked with New York Fashion Week, WeWork, and a growing number of clothing and jewelry brands.
L.A.-based dancer Micaela Taylor started her professional career with Ate9, and then BODYTRAFFIC. During her time with each of these companies, she was asked to choreograph on her fellow dancers. She mixed her hip hop foundations in with her classical training to create a style that has since caught the eyes of L.A. Contemporary Dance Company, Springboard, Gibney Dance Company and Ford Theatres (who awarded her multi-month residency). Taylor founded her own company, the TL Collective, in 2016. It is now one of L.A.'s emerging dance companies. Goes to show how cross-contaminating movement styles can really give you an edge.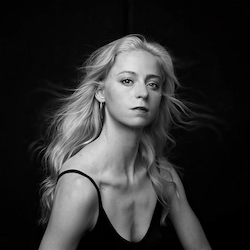 Montréal is treated to Brittney Canda's creative forces through her work with Kyra Jean Green's Trip The Light Fantastic dance collective, as well as interactive, interdisciplinary art experiences with electronic musician Sheenan Ko. Canda is another dance film phenom, having won a Vimeo Staff Pick for her short film, Wrap Me Up (also in collaboration with Ko); been featured in a series of Trip The Light Fantastic dance films; and having danced in and choreographed a plethora of other music videos for musicians like The Barr Brothers, Richard Reed Parry, Elisapie, Calum Graham and Michael Bernard Fitzgerald.
These are only a few names of the many, many talented young women choreographers out there. With all this change and opportunity, this is such an exciting time to be a creator. While the iconic choreographers of established styles still draw crowds to their classics, the expansion of creative content to social media and other online platforms gives the younger generation an almost instinctual upper hand. Given the internet's insatiable craving for content and habit of connecting like-minded people, dance is more in demand now than it has been in a long time. And this growing demand is less sexist, less racist and overwhelmingly less ageist than the expensive and intimidating structures of proscenium theaters often ever allowed for. This brings new perspectives to new audiences and, with them, more chances to connect communities through art.
Calling all choreographers, all backgrounds, all ages! Let's get rid of the term "prodigy" and just recognize talent where, and when, it is.
By Holly LaRoche of Dance Informa.