Dance Informa offers the next installment in our series on alternative dance gigs. This month, we're talking about dance and tech, and the various ways you, as a dancer, are perfect for the job.
Dance Informa speaks with Kat Sullivan, a visual artist currently living in Brooklyn, NY. Sullivan's work focuses on the intersection of movement and technology through a variety of mediums such as motion capture systems, projection mapping and kinects. She received her Bachelors from Skidmore College in Computer Science and Dance, and worked for several years as a software engineer before discovering ITP and a community that didn't think a CS/Dance double major was the strangest combo out there.
When did you first hear about motion capture?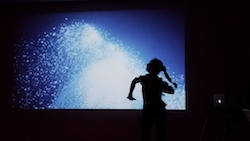 "Like most people, I remember seeing behind the scenes of Gollum for the Lord of the Rings. At that point, I never thought I would be involved in that industry."
How did you fall into it?
"In 2015, ITP (interactive telecommunications program) and IDM (integrated digital media) at New York University offered the first iteration of Bodies in Motion, a performance-based motion capture course where the concept and equipment came from Reid Farrington's The Return. It was taught by Todd Bryant and Javier Molina."
What does being the subject for motion capture involve?
"It requires a lot of body awareness. The cameras looking for the 43+ markers on your body use infrared, meaning they can't see through solid objects. If you block a marker with your body, the cameras can't see it, which is a problem called occlusion. It takes a lot of body awareness to make sure you aren't blocking any of the markers through your various actions or choreography. You also need to be aware of your surroundings and understand the physical limitations of the capture volume, or how much space you have to act/dance while the cameras can still see you."
How has being a dancer been an asset to you while working in motion capture? What skills do dancers bring to the table in that environment?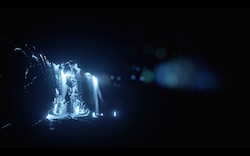 "Dancers have a lot to offer a motion capture session. Their keen body awareness is always an asset, and they take physical direction very well. They are quick to see what movement works and doesn't work, and adjust accordingly. As a motion capture director, it allows me a certain eye when looking at a scene. I feel it has enhanced my ability to plan out pathways, and has given me the confidence to rework choreography or a fight scene when something isn't working out because of technical issues. Most importantly, I have a much more expansive repertoire of how to land!"
What kind of work has motion capture brought you to that you wouldn't have expected or encountered otherwise?
"Most jobs are unexpected. I've done virtual reality training simulations that will be used at the police academy, I had a job for a live motion capture pop-up party sponsored by the tequila brand Jose Cuervo, I even did a gig for a Childish Gambino visual set."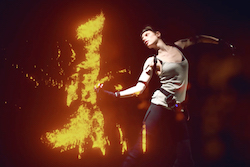 Do you find that you adjust how you speak or explain when communicating with non-dancer creatives?
"Yes. I had a huge problem in my class, Bodies in Motion, where my brilliant engineering students would dream up incredible concepts and have all the technical skills you could ask for, but then bring in a dancer and essentially say, 'Okay, dance now.' Something had to change. The 'non-dancers' needed to feel they had agency in the movement, and the outside performers needed to feel a little more on the inside. My class talks a lot about 'shared vocabulary'. It's a waste of time to get into the finer details of how this technology works, but to have a general understanding and know how infrared works I think is very valuable. And while I don't teach my engineering students about formal choreography, we do cover Laban efforts, and think about ways we are already masters of movement. You don't need 20 years of formal training to tell someone, 'I want you to move from this point to that point as if you are moving through or from honey, and the movement is initiated from your hips.'"
What would you suggest to dancers interested in getting in to motion capture?
"Finding specific motion capture training is difficult in New York, but whenever looking to book gigs, it's always the little things. Respond to emails promptly, be on time, and have a dance reel! Why does no one have a dance reel anymore? They are so helpful, when I'm dealing with clients and they want to see potential performers they can work with."
Follow Kat Sullivan's work at katsully.com
By Holly LaRoche of Dance Informa.