Balzer Theater, Atlanta
July 21 2012
By Emily Yewell Volin.
Cherrise Wakeham's Project 7 Contemporary Dance Company fused genres and styles in the company's performance of Equiliftrium, presented July 20-21 at the Balzer Theater at Herren's in Atlanta, GA.   The current concert dance community has a tendency to label work as ballet, jazz, modern, contemporary, hip hop or any other number of titles, and hold the work hostage within that microcosm of the industry. Cherrise Wakeham's work forgoes these labels and presents work that is equally entertaining and artistically satisfying.
The cast of Equiliftrium moved.  Wakeham blended classical jazz and ballet vocabulary with elements of acting, modern dance, and gestural nuances. The audience's enthusiasm for the work was palpable. The evening-long program intended to 'lift awareness' and 'shift perspective'. These goals resonated at the heart of the production and balanced nicely with Equiliftrium's full-throttle dancing and cleverly designed sets and costumes.
Equiliftrium thematically followed the lives of five female characters as they navigated urban life.  A struggling artist, a time-crunched executive, a delusional homeless woman, a college student/barista and a naive young performing artist became unlikely companions as a result of various happenstance occasions of stopping to notice one another.  The story line was linear, though a strong suspension of disbelief was required to keep focused upon the journey.
Wakeham appeared to occasionally struggle with allowing her work to be what it really is, an unapologetic and wonderfully crafted fusion of styles.  However, her overall choreographic intuition is strong and, when she is true to it, the pieces she creates are engaging, edgy and beautifully staged. Optimist and Hyperballad were pieces in which the elements seemed in harmony while logically perpetuating the story line.  Both featured precisely crafted characters, while showcasing the youthful dancers' technical and emotional proficiency. Caffeine and We Don't Eat were also skillfully choreographed and performed, though difficult to work into the overall story.  Starbucks was the only miss of the night. It was a novel idea for a piece and would have benefited from more gestural movement exploration.  The concert's consistent qualities were Wakeham's edgy, exciting choreography and her charismatic performers who earnestly acknowledged and openly engaged the audience.
The highly celebrated cameo appearance of Swagger Crew was another highlight of the show, though their sudden piece lacked character development for both the crew and Project 7's dancers.  While hugely entertaining, athletic, and well rehearsed, Promises' relation to the perpetuation of Equiliftrium's storyline was a long stretch.  All the same, kudos to Project 7 for bringing Swagger Crew to the concert dance arena.  I hope the future holds more in-depth collaborations between Project 7 and Swagger Crew.  The creative possibilities of developing that relationship are exciting.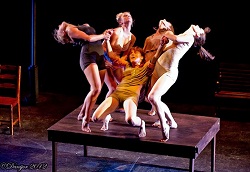 The evening's soundtrack was pleasantly diverse, though the transitions were often jarring.  It's worth considering what shape the piece would take if Wakeham had the opportunity to commission an original soundtrack for the entirety of the work.
The final track of the evening's performance was Jessie J and Rihanna's recording of We Found Love.  As they sang "we found love in a hopeless place", I couldn't help but think Project 7 Contemporary Dance Company has brought contemporary dance to what often seems a hopeless place – into the concert dance spotlight.  Keep on eye on this company, they know the pulse of contemporary concert dance and are on the move.