Helen Hayes Theatre, New York, NYC
July 10 2012
By Belinda Adams.
Rock of Ages has enjoyed much hype recently thanks to the movie release, so to see the musical version on Broadway was a real experience.
The small theatre was decked out like an 80s' rock party and made me feel like I was part of the show from the moment I walked down the aisle to my seat.  I could feel the audience's excitement building even before the first chord was strummed and once the lights went up and the music started I felt like I was part of the LA music scene.  There were even drinks being served during the show to get the audience into the 80s' party theme.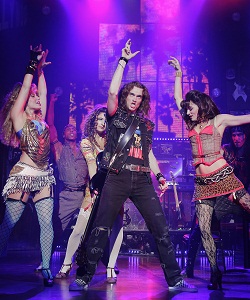 Each of the characters played their personalities well on stage and were believable as either the protesting hippie or the wannabe rock star.  Although the lead characters were fantastic, it was Genson Blimline as 'Lonny' who really captured my attention.  With his witty narration and quirkiness he was a real crowd pleaser.   Also a favorite for the eager audience was Cody Scott Lancaster who played 'Franz', the son of German industrial entrepreneur Hertz.  His happy, gay personality and innocent delivery of comical one liners had the audience in stitches of laughter.  Overall, the lead actors were well rehearsed and 100% into their characters.  Their voices were flawless whether they were hitting the highest note or forming a harmony.
There were only a couple of downsides to the performance.  The ensemble, which consisted mainly of four girls, had some trouble staying together in their choreography and patterning and seemed a little flat in their overall performance.  Also, the venue that they chose (Helen Hayes Theatre) was rather small for the production.  There were a number of times when they could have done with a bigger stage to really show off the staging.  All that being said, it was a great production with what space they had.
Rock of Ages is a very entertaining musical that will be pleasing crowds on Broadway for many years to come.  It is an adult musical that brings you back to all the 80s' hits that we remember and even grew up with. I definitely left the theater singing "Don't stop believing, hold on to that feeling!"
Photos by Paul Kolnik