As a kid, when it came to dance, So You Think You Can Dance Season 12 Winner Gaby Diaz wanted to "try everything." Tap became her primary style, but she studied many extensively. In many ways, that broad interest hasn't left her; now, years later, she's rehearsing to star in the world premiere musical, Only Gold, a story about coming to terms with one's deepest truths and letting one's heart lead the way. Musics and lyrics are by Kate Nash (Netflix's GLOW), with book (along with Ted Malawer), direction and choreography from Andy Blankenbuehler.
It's her first time performing professionally in musical theater. That's a big leap, and one that could be nerve-wracking for just about anyone and everyone. In the face of that challenge, Diaz is bringing an attitude of just showing up and getting the job done to the best of her ability, and of staying both open and intentional when it comes to making key creative choices.
Dance Informa speaks with Diaz about her time on So You Think You Can Dance, working with Blankenbuehler, where she is now on her creative path and much more.
When did you start dancing, and when did you know it was something that you love? What, specifically, drew you to tap?
"I started dancing at two years old. My older sister was in classes, and as soon as I was potty-trained, I was in classes as well! From then on, I wasn't really interested in specializing in any one style; I wanted to try all possible genres. I thought that if I do that, I'll never be bored!
But I also found my way to tap. It was just in my blood. My dad was a percussionist, and I have an ear for percussion. Tap become my connection to my dad, and to percussion and musicality. It came pretty naturally to me, which does characterize my relationship to dance in general. Yes, I train and work hard – but, to a certain extent, I think that [dance] is just in you.
When I got older, I got introduced to competition and also went to an arts school. I was confused as to what I should be doing, with many other influences around me. I thought about veering away from tap and toward more competition, but my mom was adamant about me sticking with my 'why.'
She told me to not allow myself to be influenced by what I saw as 'successful.' She encouraged my curiosity, but also let me know that it was not the time to pigeonhole myself. It's never really a great time to pigeonhole yourself, but when you're young is the safest time for you to try new things and find your thing. There's less time to do that when you get older and there are deadlines. And there's a distinction between influence and inspiration, of joining something that already exists versus allowing something to shape what's really your own."
What were some of your favorite parts of being on So You Think You Can Dance, and what were some of the most challenging aspects?
"So You Think You Can Dance first came on when I was nine or 10 years old. It was my dream to be on it, and the first specific goal I had that I could check off on a list. It was physically demanding, but I was just so, so happy to be there.
I will say that the reality show aspect of the show was challenging, how you sort of become a persona. There's a vulnerability to letting cameras in on your life. The show has created a sort of dancer celebrity culture that we hadn't seen before, which has been wonderful in the sense that show contestants have been able to become business people in their own right.
There was also a really challenging mental aspect, in that the entire country was voting. But the producer was always great about saying that you're not being voted against; it's just that some contestants are being voted for to go to the next round.
With all of that, however, all that I was focused on was embracing every minute that I was there because it was just such a dream. Also, there was no time to think about it too much – it's a live show, the cameras are rolling, and in between pieces we had quick changes! The mentorship program was incredibly helpful as well, to be mentored by former contestants – who had been through the whole experience – and to be a mentor to contestants myself, to pass that on."
What's it been like to shift into a major musical theater role?
"I've never professionally done a musical before! I don't think we ever really know who we are – but as I've grown, I've learned more about my strengths, as a mover and as a physical storyteller.
When the process started, I was transparent about my lack of experience with voice and acting as storytelling, but that I was also ready to put my all into it. I'm open to being vulnerable and not thinking too much about the stakes. I know that [this show] is not going to make or break me as a physical storyteller.
I'm not going to come at it with a desire to please or with stress. I know that that's just not going to work – especially through voice, because audience members would hear it in my voice! I feel security and ownership over what I have to offer in the room. That helps me in those moments when I feel naked and vulnerable singing and acting."
What's it been like to work with Andy Blankenbuehler?
"Andy has been dreaming this project up for years. It's my first time working with him. A friend connected me with him, and we started talking about working together. He trusts me a lot, which I appreciate. At this stage of my career and life, I'm not interested in being micro-managed. I'm interested in being engaged as a collaborator. But I also know that I'm there to help bring his vision to life. He trusts me to make those decisions that he doesn't have time to make…because this show is a beast!
Andy is incredibly passionate about the show, and how I can help is just to take care of myself and do the job that I'm there to do – because he's got a lot else to worry about. There are a million little details, but I try to not worry about that above and beyond doing my job. Every day in rehearsal, there's a million questions for everyone. It comes down to, 'Is this the best choice that we can make in this moment?'
It all comes from a place of passion, and not even about if the show will be 'successful' – but to have the hours of hard work appreciated, and to exhale and see that we've made something beautiful. You just can't be intimidated. I can't be in the room desperate to please."
I love the ethos of Only Gold – about following your heart and re-writing your truths – and also the central place of movement within the story. With both that message and the importance of a shared language of movement, how do you think the story might speak to what we collectively face today?
"It's a message that you can't reiterate enough. And there's something so visceral about watching people move and sharing their truth through movement. Andy has been a dancer, before he was a choreographer, before he was a director. He sees how movement can empower all of that. This is now his opportunity to fully embrace, and answer only to, his desire and his vision.
And yes, we're certainly not skimping on movement in this show; everyone's dancing their heart out. It feels like every day we're doing the impossible. When you're this close to something, it's hard to have perspective, but I know that there'll be a moment when we can step back and truly appreciate what we've made.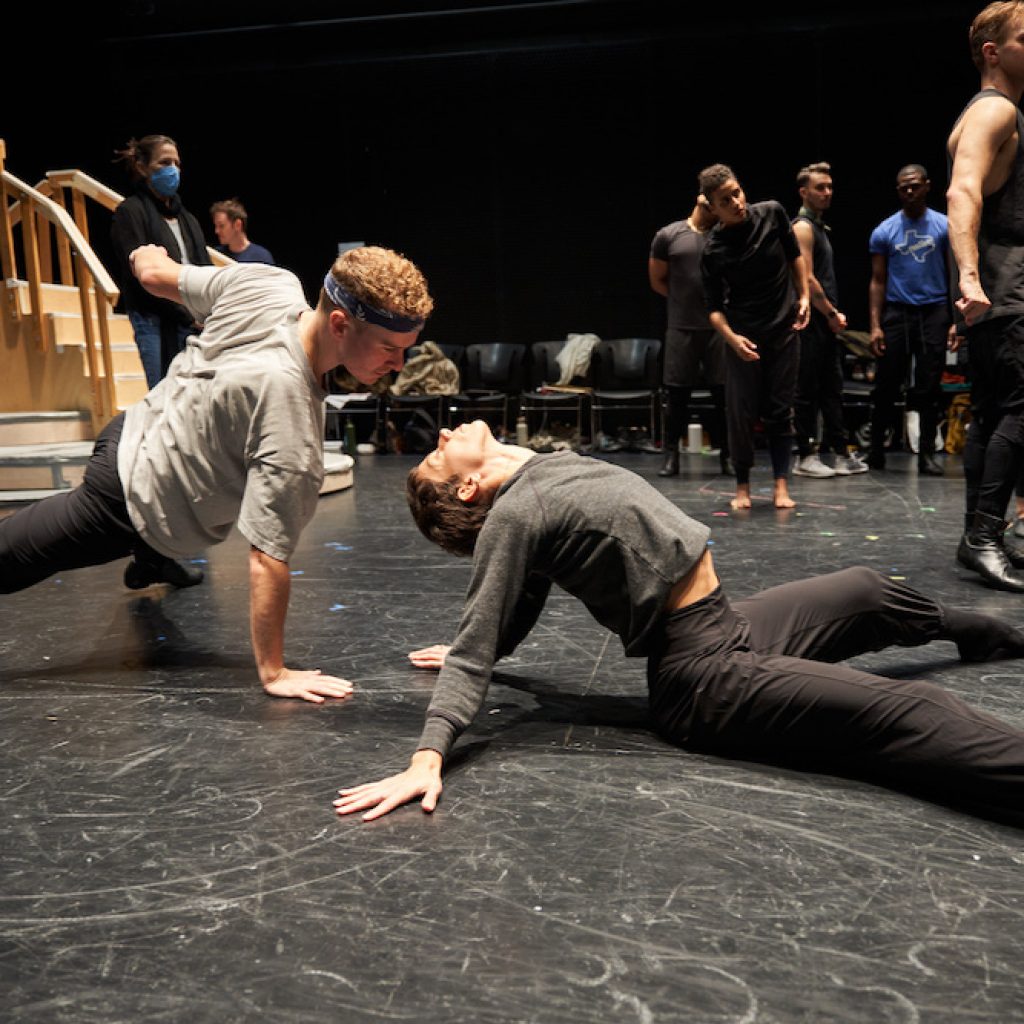 It means something different to everyone in the room, but we're all coming together and agreeing that it's important. We're going to show up every day and work hard. People will have their opinions about it, things will be written about it, but I hope that we never forget these moments of it coming together and what that's meant."
What's next for you? What steps would you like to take next? What challenges would you like to take on?
"I've been having this conversation a lot lately, actually! So You Think was so, so huge. At 19, it was a reckoning. Ever since then, when I set a very specific goal, I get pulled elsewhere.
The discipline and the order I had when I was growing up was helpful. But beyond that, it's like, okay, now I did that, now I've afforded the right to do what I want to do. And if I decide to do it, then I'm responsible. I can't be miserable, because no one is making do me it.
I had an amazing jumping off point with So You Think. I think part of why I wanted to do the show was to be in this place where those doors have been opened, so that I can control what I do and my relationship with my art. So, I've sort of shifted my goals to energetic goals. For example, I understand that dance might not always make up my income. I don't want to come from a place of 'I need this,' of desperation. So, to be honest, I really don't know what's next! I'm just making the art that I want to make, and it feels great."
Only Gold will run through November 27, at NYC's MCC Theater. For a performance schedule and tickets, head to mcctheater.org/tix/calendar.You can follow Gaby Diaz on Instagram: @itsgabydiaz.
By Kathryn Boland of Dance Informa.