Governor Cuomo has announced Broadway will fully reopen to 100 percent capacity on September 14, with ticket sales starting up on May 6. For the first time in 17 months, performers and theater workers will finally be getting back to work, and New York's favorite two billion dollar industry can get back to business. But until then, shows face a few barriers before they can go on. With performances already underway in Australia, and set to start in London's West End this month, Broadway is itching to get back in the limelight.
Dance Informa chatted with Broadway choreographers Andy Blankenbuehler and Joshua Bergasse, discussing their thoughts on what it will take for Broadway to bounce back. Listed below are some of the issues to address before that can happen, and Blankenbuehler and Bergasse's input.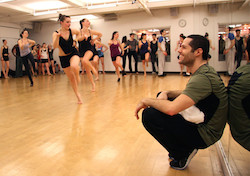 #1. It will take time and money to rehearse.
As magic as Broadway might seem, those shows don't appear overnight. We know the arts have been struggling financially throughout the pandemic, and even big-budget Broadway isn't immune to that. Once funds are secured, the productions still need to be recast, restaged and rehearsed to the expected standard.
Says Bergasse, "It's very demanding, physically and emotionally, to do eight shows a week. I hope that dancers and all company members are giving the time, training and rehearsals to get back into performance shape before shows open again."
#2. Shows need to be recast.
The mass exodus of artists who couldn't afford New York prices while out of work may have left the city's talent pool a little shallow. Blankenbuehler has been sad to see the industry shrink over the past year. Bergasse has as well but is also optimistic about incoming dancers. In what will likely be a marked generational turnover, this might be the chance for fresh faces to book their big break.
"I moved to New York City right on the backend of the AIDS crisis," shares Blankenbuehler. "Sadly, a whole generation of choreographers died, so there was a gap in talent. I think that is going to happen a little bit. So many people, so many graduating seniors who were ready to move to New York City now have another career. They have given up. I know a lot of Broadway dancers who have done five, 10 shows, and they are, like, 'You know what, I am going to hang it up now.' People are walking away. And I think that it is a little sad that we will miss out on talent that should have been with us."
Bergasse adds, "It's sad to think of all the artists who have left New York in the past 14 months. I hope many will return. We can only hope that there will be wonderful new talent that will step up and fill the void left from those who don't return."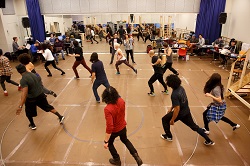 #3. The tourism industry is nowhere near recovered.
Tourists compose the largest part of audiences, and that industry won't be back in full swing for some time. Broadway's bounce back will likely be tied to tourism's, as they're almost one and the same. A solution might be marketing ticket sales to New Yorkers. That only stretches so far, especially when we ourselves are still recovering from financial hardships, but it could be enough to start us off.
"My guess is that New York theatergoers will want to see some of the newer shows that they didn't get a chance to see (or shows that didn't get a chance to open) before the pandemic," Bergasse notes. "These shows may do really well when things start to open up, even if tourism hasn't returned in full force yet."
"It is going to be a slow process, any way you look at it," says Blankenbuehler. "Like the shows that have been open for a long time, New Yorkers are not seeing those. Those shows were being seen by tourists."
#4. Limited capacity isn't financially feasible.
While it might be possible to put distancing and other safety protocols in place for the performers and stagehands, there's no way to spread out audience members without drastically limiting capacity, and that practice would render performances unprofitable. There have been rumors that productions might be able to sell out full houses if they can require audience members to provide proof of vaccination upon buying tickets. Although other performance venues in the city have experimented with this approach (including Lincoln Center with its upcoming outdoor shows), this isn't yet set in stone for Broadway.
But with all the obstacles and restrictions, Blankenbuehler has spotted a silver lining. "People like me, artists who have been so impacted by this time, are going to be better when we come back than when we left. We are going to be so much more focused, the product that we create in the coming years is going to be really poignant. It does not mean that the product is COVID-heavy and dramatic; it just means that we are going to choose to tell the stories that matter."
With a renewed outlook on what's really important, there's hope that the industry will bounce back better. With the recent March on Broadway protests against discrimination and harassment in the artistic workplace, there's discourse buzzing that could better Broadway creatively and morally, even if it does take some time to bounce back economically. Not to mention, Broadway brings in huge revenue for the city — close to $2 billion yearly — alongside high employment numbers. So help from the government to kickstart a safe reopening would only make sense. This year, even more than before, giving the arts in NYC the recognition and funding they deserve will be the city's road to recovery, financially and more.
Beyond the analysis of potential pitfalls, Blankenbuehler recognizes a universal truth. "Ultimately, I think people know that live interaction is vital, whether it is going to a sports game or the theater, or lunch with your friends. That cannot be traded. I think it is going to take time for the full economy of it to come around, but I think the work is going to be inspired."
By Holly LaRoche of Dance Informa.