Dramatic pop music, flowy costumes, dance paws, sequins and rhinestones, emotion-filled reaches and leaps to the floor — these are some of the images that "lyrical dance" conjures. Is that stereotypical image accurate? Where does lyrical come from, who dances it and where? What is its place and purpose in today's evolving dance world? How do we even define this dance style — a mish-mash of ballet and jazz, its own style, or both?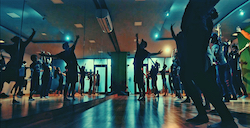 To get clarity on these questions, Dance Informa speaks with three teaching artists: Jen Kuhnberg of Arlington Dance Place and Cheryl A Sullivan's School of Dance and director of OnStage Dance Company; Emily Bufferd of Steps on Broadway and Broadway Dance Center (BDC) and producer of The Young Choreographer's Festival; and Eric John Campros of BDC.
What is lyrical? Where does it come from?
Bufferd sees lyrical as a derivative of jazz, "a freeing and beautiful jazz idiom." Campros sees that jazz and ballet technical base but underscores ballet over jazz. "If you don't have that strong technical ballet base, it's not going to feel good," he affirms. He also believes that lyrical itself is "a style, not a technique." With a riff on that sentiment, Bufferd says, "Lyrical is a vibe; if there's a story to it, you're probably dancing a derision of something that is a mature version of lyrical."
Bufferd offers an analogy of an impressionist painting, particularly applicable to lyrical amongst dance forms — technique is the strokes in the painting, and style is the aesthetic effect one experiences when stepping back to see the full, clear picture. Kuhnberg says that dance parents will often ask her what lyrical is, and her go-to definition is "ballet technique with jazz styling with a mix of storytelling tied to a song." That usually suffices to clear up parents' confusion, she explains. While it's certainly not a scientific sample, one can see here that there's no shared, strict definition of lyrical amongst dance teaching artists.
Lyrical began as a way to tell a story of a particular song through movement. That brings the question of what kind of music can accompany lyrical, or typically does accompany it. "You could dance lyrical to Celine Dion or Missy Elliott or Beethoven…the possibilities are limitless," Bufferd affirms. "Many teachers have been doing lyrical for a long time and really set the stage for its proliferation and growth."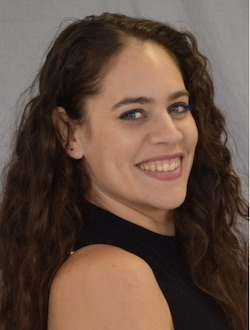 One might also wonder the differences between contemporary ballet and lyrical, and contemporary and lyrical. Campros and Kuhnberg note that those dancing contemporary ballet are typically more mature and developed in their technical foundation, as well as their artistry. They also agree on a big difference between lyrical and contemporary: of course with certain expectations, with lyrical one is dancing a story and with contemporary they're dancing their story.
Kuhnberg also notes the greater diversity of movement vocabulary in contemporary than in lyrical. "You could go to five different lyrical classes and the movement will look pretty similar, whereas you could go to five different contemporary classes and the movement looks completely different."
Where is lyrical danced, and who dances it?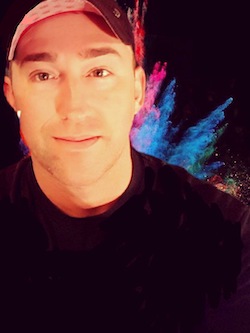 Campros believes that a lot of the lyrical at competition isn't really lyrical, because acrobatics and other technical tricks often overshadow storytelling and emotional expression — things that lyrical, strictly speaking, should put first. "There's some freedom within definition of style, but I'll often see 'lyrical' that's full of acrobatics and think, 'That's not what I expected to see.' It can feel a bit phony, and there aren't many jobs for those skills," Campros explains. There may also be a difference between what a lot of competition lyrical calls for and the skills 21st century professional dancers need to get hired and thrive professionally. Kuhnberg teaches mainly recreational students, so that's not something she sees as often, she says.
Bufferd believes that some of what we call "contemporary" is actually interchangeable with "lyrical", because of a centrality of storytelling and high level of emotional expression. Campros, disagreeing somewhat, notes that there aren't really lyrical companies or full-length productions — although it is seen "a little bit here and there on stage…it's just not something I'd pay to see for two hours," he says with a little laugh. He believes that — in contrast — lyrical is popular in studios and in competition because it can help kids, tweens and teens get in touch with their emotions through dance. "You can get in your 'feels' and it feels good!" he says. At the same time, and even though lyrical requires a lot of stable technique, "the music does the [emotional] work for you."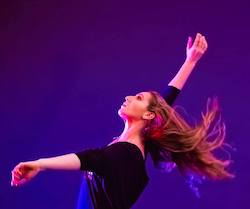 What does lyrical bring to dance education and dance art more broadly?
Kuhnberg sees lyrical as a useful bridge from ballet to contemporary for young dancers. "It's a great introduction to how to use technique but release from the rules a little bit," she believes. Bufferd thinks that it's useful for imparting the idea of telling a story through movement and the body, and can also encourage dancers to take up space and make clearer energy lines — things that can be transferred to all other dance styles.
Kuhnberg believes that it's often something "kids age out of" and just dance contemporary. Campros disagrees and says, "I'll go to a lyrical class regularly because I can't cheat. There are certain things I can't get away with." He sees that coming back to technique as essential for career longevity. "Technique is your foundation," Bufferd notes. "We use our foundation to be able to enjoy the freedom that comes from it." Again, we see some agreement but some difference of perspective on this dance style within a group of teaching artists. 
Bufferd also believes that lyrical can be a space where young dancers can "give more than they knew they had to offer and step into dancing beyond what their initial comprehension is." Yet, it's the responsibility of the teaching artist to create a space that feels safe enough for students to be vulnerable in that way — and also to keep subject matter age-appropriate and accessible. 
To encourage that dancing with meaning and emotion in an original way, Campros will give challenges such as "this is what this song means to me — can you dance like it means something different to you?" Bufferd will take time at the beginning of teaching the class phrase to listen to the music, a deep dive with eyes closed and ears open, and then openly discuss its meaning with students before asking them to dance their interpretation. She wants to ensure that they stay fully connected with their performance.
Where to from here?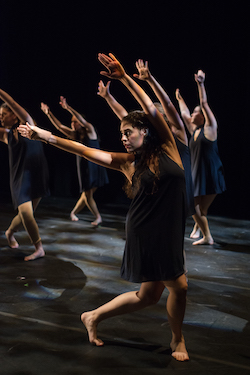 Kuhnberg notes that she'll hear conversations about lyrical's relevance in today's dance world. "It's a staple in dance studios, and young dancers really do enjoy it, so I think it'll stay in studios," she believes. Campros also thinks that it'll remain in studios and in competitions — even though his American students would rather dance contemporary, he notes. When he teaches lyrical internationally, although it'll sometimes be called things like "western jazz", the response is incredibly enthusiastic — and they'll ask him back to teach it often.
At the same time, he'll see a lack of the technical foundation needed to make lyrical really look and feel good. "If they can get that technical training piece down, I think that could be a big part of where lyrical is going," he thinks. Kuhnberg underscores how trends in dance training and dance styles evolve. When she was growing up in studios, she didn't see contemporary, and it evolved to grow in popularity in studios along with lyrical, she recounts. No matter what the evolution in trends will be, lyrical can be a space that gives young dancers "permission to shine," Bufferd believes. From there, they can learn how much they have to give and to experience — and the sky's the limit from there.
By Kathryn Boland of Dance Informa.