Ann Reinking was an iconic dancer, actor, Tony Award-winning choreographer and Bob Fosse muse. "Annie", as she was lovingly called, passed away this past December and left fans, students, colleagues and family heartbroken. She had an incredibly successful Broadway career, dancing in the ensemble in Cabaret; performing Pippin, choreographed by Fosse; and later playing Roxie Hart in Chicago at the age of 27 and then again in her 40s during the show's Broadway revival, which she also choreographed.
Aside from the performing, Reinking was also a dedicated dance educator and mentor. She served as a judge of annual New York City public schools dance competitions for inner-city youth and founded the Broadway Theatre Project, a musical theater summer program.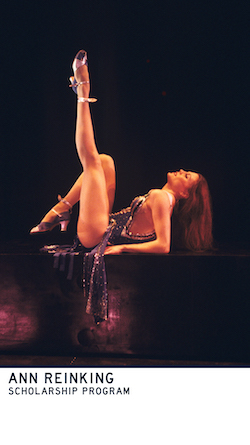 In honor of Reinking's career and legacy, and her own story of moving to the Big Apple when she was embarking on her performing journey, NYC-based non-profit Off The Lane has created the Ann Reinking Scholarship Program, which sees its inaugural year. The program is offering one $5,000 scholarship to a dancer moving to New York, with curated mentorship in their dance concentration, access to community events and resources through Off The Lane's programming, and hands-on professional guidance. Applications are now open through June 30, and the winner will be announced on November 8.
"When Annie passed in December, so many of us were heartbroken," says Mindy Cooper, advisory board chair of the Ann Reinking Scholarship Program. "A huge light had gone out in the Broadway community and in the dance world. I watched a video of an interview she had recently done, where she spoke at length about her youth and training and moving to New York to find her way. I was moved to team up with Off The Lane, which had a robust mentorship program for young performing artists, and create a scholarship in her honor, continuing her legacy of artistic support. Annie was such an advocate for talent and a devoted mentor. We knew it was a perfect fit – a scholarship with a mentorship program, supporting young dancers in their journey, as she did daily in her life for decades!"
While it may seem like the scholarship would be geared strictly toward musical theater and Broadway-aspiring dancers, Cooper explains that it is not limited at all. "We want dancers from all concentrations/genre to apply," she says. "In this inaugural year, applicants must be between the ages of 18-22 at their time of submission and must be ready to move to NYC within the coming months. They are ready and passionate about actively pursuing their professional career."
Along with Cooper, the Ann Reinking Scholarship Program Advisory Board includes other Broadway and performing stars like Hinton Battle, Gregory Butler, Caitlin Carter, Gary Chryst, Dylis Croman, Charlotte d'Amboise, Erzsebet-Liz Foldi, Joel Grey, Marilu Henner, Bonnie Oda Homsey, Bebe Neuwirth, Chita Rivera, Tommy Tune and others. Together, Cooper says they are looking for a scholarship recipient who has "talent, passion and the focus it takes to be the finest artist you can be."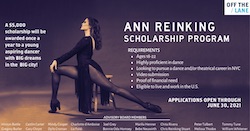 Cooper adds, "Dance as a career can need a very early start. Training the body as an artist is a full-time, lifelong commitment. To receive both financial and artistic guidance is such a great help, especially in their formative years. We hope that receiving this award gives a young budding professional a leg up! It is often so rewarding and confidence-building to know others believe in you and your talents. We hope that our award winner will have the confidence and resources to create their perfect artistic path!"
There will be a two-tiered application process for interested dancers, including the submission of a video essay on their career goals, videos of two contrasting dance pieces and a letter of recommendation, as well as a Zoom interview. Further application requirements can be found here.
"We believe the Ann Reinking Scholarship Program is unique in that it mentors as well as financially supports the dreams of a young dancer," Cooper says. "Annie, as a mentor, moved mountains to help dancers. We strive to attain these same morals, supporting dancers in the many ways Annie would have."
To learn more about the Ann Reinking Scholarship and to apply, visit offthelane.org/ann-reinking-scholarship-program.
By Laura Di Orio of Dance Informa.