Sure, there have been tons of dance classes made available to us during COVID and we're able to dance at home while in quarantine, but without dancing completely full out in a real-size dance studio, without the actual experience of competing on stage with an audience, without the watchful eyes of instructors and without critical feedback from judges at a competition, can you still improve during this time in isolation?
Well, according to some judges from Groove Dance Competition and Convention, the answer is yes! Dancers can use this introspective time at home to learn and grow as artists, and to be ready to come back to the next competition season feeling stronger and more ready than ever! Read on for some great advice from judges Rachel Brown, Jill Lazzini, Jonathan McGill and Mallory Swanick.
How do you think dancers can improve their competition technique while in isolation?
Jill Lazzini, judge, teacher and choreographer for Groove Dance Competition and Convention
"One of the best ways to improve and maintain technique while in isolation is to go back to basics. Ballet barre does not take up a lot of space and will help strengthen and maintain proper posture and technique. Basic jazz technique will maintain strength while preparing for the higher level and more difficult progressions. For example, holding a passé relevé is just as important as practicing the actual pirouette. Also, focusing on strength training and flexibility are important when dancers are not putting in as many hours training in the studio. Pilates is an excellent way to train flexibility and core strength."
Mallory Swanick, convention teacher and judge for Groove Dance Competition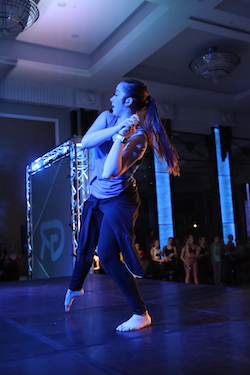 "The best way to improve your technique is always to break it down. A pirouette can be broken down into exercises that focus on the fundamentals of a pirouette position, such as weight distribution in your supporting foot, lower abdominals supporting the lower back to maintain neutral spine, and activation of the VMO muscle as you take a parallel prep. A tendu can be broken down to focus on the supporting leg but also the articulation of the working foot, the initiation of turnout, and the importance of posture for weight distribution, port de bras support and the use of breath. While dancers are in isolation and perhaps do not have the space to work on pirouettes, allegro or choreography, they can work on the components that make up these 'larger' skills. I would work on foot articulation in everyday technique exercises but also by utilizing a TheraBand. Continue relevé exercises in both turned out and parallel positions. I would also suggest cross-training. While cardio can improve stamina, I would also encourage finding a way to practice Gyrokinesis and/or Gyrotonic to build strength and awareness to support their dancing, as well as Progressing Ballet Technique to encourage muscle memory and injury prevention in a way that directly correlates to classical ballet technique."
Jonathan McGill, judge and teacher for Groove Dance Competition and Convention
"Make sure you're properly warming up your body before any stretching or dancing. I remember when I was younger, my 'warm-up' consisted of me sitting in a center split for about 30 seconds. Now, I start every class with a short cardio series (jumping jacks, running in place) to get the blood flowing into my muscles. This helps to prevent injury, while also preparing the body for choreography. You should literally feel warm after your warm-up. Whether you are naturally flexible or not, actively engaging your muscles while stretching will help increase and maintain flexibility. Next time you're in a split, try engaging your hamstrings and adductors while holding the stretch for 30-60 seconds. For ankle stability, I do slow and controlled relevés in parallel while squeezing a Pilates ring just above my ankle bones. This helps to engage the stabilizers while keeping the ankles aligned so they don't roll inward or outward. For core stability, do planks, crunches, sit-ups. Stabilizing your core is so important in dance, especially for balance. Focusing on these often overlooked basics will also help improve other areas of your technique as well."
Why do you think this is a time when it is possible and important for dancers to use the time to learn and grow?
Rachel Brown, lead judge and master teacher for Groove Dance Competition and Convention
"There are so many less distractions now. Why not take this time to watch some dancers online, discover dancers you never saw before, order a book about your favorite technique and learn about the origins? Dance is so much more than the movement. This is a great time to expand your knowledge in the dance world. You can focus on you and being the best you that you can be!"
McGill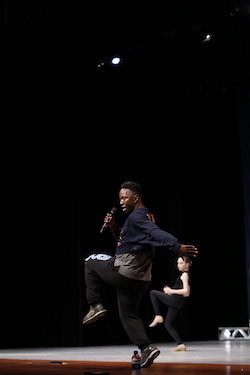 "Using this time to learn and grow is important because time does not stop. You're either moving along with it, or you're falling behind and trying to catch up. I think this specific moment in time that we're currently in, allows us as dancers to come off of auto-pilot, step outside of the normal day-to-day routine, and start to peel back layers and reveal very specific areas of our technique that may need a bit more focus and fine-tuning."
Lazzini
"I think it is important for dancers to use this time to learn and grow because they need to find their own inspiration and strength. Without a teacher telling them what to do and other students around to inspire and push them, dancers need to find the inspiration from within to keep going. It is harder to keep pushing yourself when you are alone, but it is also where dancers mature and grow."
Swanick
"I think this is a great time for dancers to learn and grow because they might have more time to focus on doing so. Isolation has provided more time for individuals to train outside of their existing routine. I think it is particularly important for dancers to take advantage of this time because every dancer operates best under different conditions. Some dancers need to find different ways to physically train their bodies so they feel stronger in class, some dancers need to find inspiration by participating in other art forms or by being an audience member, some dancers need to participate more in life outside of their dance schedule in order to further enrich their artistry, some need to take a step back from training to reset. All are valid. I believe that the more a dancer can learn about themselves during this time, the more they will be able to grow."
Do you think it would be helpful for dancers to watch back their competition routines from the last few seasons and see and celebrate their improvements, as well as what they can work on?
Lazzini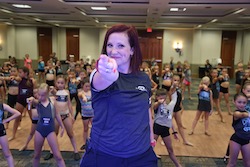 "I think watching past routines or any recordings is an excellent idea! It's wonderful to celebrate where you are have grown and improved. It is also a useful tool to see where you would like to put your focus and where you need to work. Watching performances lets dancers see their performance quality, their strengths and their weaknesses, all of which are necessary to focus on growth."
McGill
"I definitely believe looking back at previous competition routines can be a useful tool for growth. I find it helps to bridge the gap (if any) between what a dance looks like and what it feels like. On stage, in the moment, you might see a bent knee, hunched back or flexed foot. In that situation, what it felt like, wasn't necessarily what it looked like. Ideally, you want those two to be as close to the same as possible. Watching old videos can also reveal any bad performance habits that you may be unaware of. It's also a great way to see your improvements. We, as dancers, are probably the toughest on ourselves, and may not always notice the small improvements as they are happening, so it's okay to take a moment to see how your handiwork has paid off. Let seeing that growth inspire you to work even harder so next time, you have even more to celebrate."
Brown
"Yes! First, watch yourself over the years and enjoy the growth! Notice how far you have come. Then, re-watch those recent performances! We need to learn by being self-aware. Watching back videos is fun! I love doing it. I suggest watching it back for fun first, and then dig in. Really look at your movement and performance. What do you love? What did you see that can be improved? Set goals and work to fix the things that need improvements."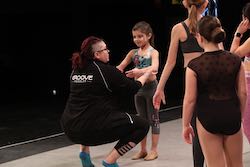 Do you have any other tips for using this time wisely to improve and grow and to come back to the next competition season even stronger than before?
Swanick
"Work hard when it is time to work hard, but also give yourself a break if that is what you need. You want both your body and your mind to be strong and ready when competition season starts back up."
McGill
"Commit to being consistent, and be patient! It may not happen overnight or all at once, but if you commit to putting in the work and doing it correctly every time, you will see the result."
Lazzini
"My biggest tip is to focus on yourself and your goals. Try not to let how others are training affect you. Everyone has their own situation and their own goals. What are your goals? Focus on them. Focusing on strength, placement and flexibility will always help you get to your goals. Also, don't be afraid to put music on and just dance! Listening to music, feeling music and letting the music move you will greatly help your performance quality."
Brown
"Eat well and find joy in your life – go for walks, work out outside, take mental and physical care of yourself. Find ways to be happy. Even if it's not dance-related. A happy heart makes a stronger more confident dancer. Humans have danced since the beginning of civilization. We used it to communicate, to teach, to entertain. Dance will get us through this time because it has gotten us through literally everything before it. Keep dancing, and stay positive. I can't wait to see you all up on stage again."
By Laura Di Orio of Dance Informa.