Streamed through sfballet.tv.
April 26-May 6, 2021.
A uniquely special thing about dance art can be the way aesthetic elements come together — choreography, music, costuming, lighting and scenery — to support concept or simply to elicit a certain response. While dance on film or archival footage doesn't create the same indescribable feeling for viewers, we can still recognize and appreciate aesthetic unity in support of concept or creating audience response. San Francisco Ballet's Program 05 presented three archival works (previously performed and filmed) with clear aesthetic unity — an achievement that led to each work provoking thought and delighting the senses in their own ways. 
The program opened with San Francisco Ballet Artistic Director Helgi Tomasson's 7 for Eight (2004), a work of classical elegance and modernist ingenuity. Throughout shifts of mood and tone, the work created an intriguing juxtaposition of minimalism and going for more. The work opened on a pas de deux with a contemplative mood. Low lighting (from David Finn) and elegantly simple black costumes (by Sandra Woodall) instilled something somber, yet a certain sprightliness in the score offered something with more energy and joy.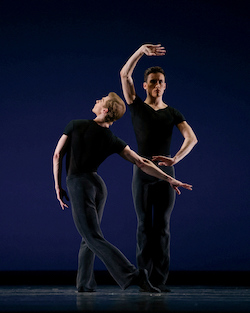 The quality of dancing was similar — expansive and energetic but also with an intriguing reservation, a compelling feeling of holding just a bit back. Imagery of getting tossed in the wind came with arms fluidly moving side to side, and then a gentle lift up and forward as if carried by the wind. The following pas de deux, on a fully lit stage rather than just in a spotlight, was joyous and playful more than contemplative — taking up more stage space and meeting the more uplifted energy in the score.
There was even more joyful energy with a pas de trois, with one more dancer joining. An accumulation effect was happening across various aesthetic elements in the work; as more dancers joined the energy in movement was brighter, the lighting literally brighter, and the score more allegro. In this unified and expanded energy, movement of circling and spiraling made me think of the new growth of spring. 
After sections of that brightness, a regal and stately feeling, and a memorable solo of sophisticated suave, a new pas de deux brought us back to the contemplative feeling of the opening section — with the same dancers who danced that opening section. It had the lift, circling and expansiveness of prior sections — that accumulation effect. There was a sense of circularity through returning to the opening, yet now with those new movement qualities present; cycles change as they turn. Finally the lights faded down and the pair continued dancing, through a new spotlight into darkness. 
For me, the piece could have ended there and been structurally and aesthetically satisfying, yet a high energy section of various groupings followed. Nevertheless, those sections were undeniably satisfying in and of themselves; the choreography was fresh and intriguing, and the performances full of heart and passion. There was lovely musicality in both aspects — little footwork flourishes on trilling piano notes, for example.
In a wider view, the work illustrates the value in understatement through its pared-down aesthetic. Yet, structurally speaking and through that air of grandeur, it upholds the opposite. That could seem like a contradiction, but in truth it all stands as a demonstration that neither is wrong or right, they just serve different purposes. Besides, contrast can enlighten and thrill. 
Cathy Marston's Snowblind (2018), an adaptation of Edith Wharton's Ethan Frome, is a narrative work in a contemporary ballet idiom — full of mystery and pathos. The curtain rose on low-lit, ominous shapes moving in a serpentine, continuous quality. Those dancers cleared the stage and lights rose on a man and woman, moving with poignancy and weightedness (lighting design by James F. Ingalls). Gesture and shape conveyed tension — seemingly, both internal and external. Period dress and scenery paced the scene at hand in centuries past (costume and scenic design by Patrick Kinmonth).  
The mysteriously moving shapes returned, and one danced with the man. It was not certain what they represented — temptation, an internalization of inner darkness or something else? Whatever they were, they didn't appear here to bring joy or ease. The mood shifted as more dancers joined, including what appeared to be couples joyfully dancing together. The stage picture was full — at times too full to feel optimally organized to the eye, yet that effectively brought across a carefree party feel.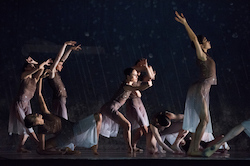 Underneath that joy was something more tumultuous, as the ghost-like creatures returned and emotions became more complex; temptations and relationship uncertainties filled the air. Contemporary inflections such as flexed feet, hips thrown off linear alignment and unique gestures helped to build an atmosphere that could hold that complexity of emotion. 
The score, full of deep, rich tones, added a sense of foreboding to that complexity. Body language and specific movement choices, such as one character using a servant of hers to help her stand, told a story of power dynamics. In dance alone? Yes — power, or the lack thereof, is felt in the body itself.
A pas de deux full of weight and emotional resonance seemed to be a turning point, when the ultimate choice was made. The servant character was left to dance among the ghostly spirits, unsettled and chaotic through her movement and physical expression. Both she and the man were soon caught amongst the circling, continuously-moving spirits, stopped in their tracks with lifts into the air — literally, physically obstructed. 
A finality of darkness permeated the end of the piece, with stillness and weightedness through the body illustrating the slow, heavy feeling of mourning. Interlocking arms, the three characters were inextricably tied in thought, deed and emotion — one sequence of movements telling thousands of words, it did feel like. 
The emotional resonance here seemed possible because of the superb acting of these artists, along with the technical facility that laid the groundwork for their characters — and thus those emotional depths — to shine. All of that wouldn't have been effective without the work's overall aesthetic unity — visually, musically, choreographically.
David Dawson's Anima Animus closed the program — a work exploring duality: light and darkness, yin and yang, opposites in dynamic tension. All elements of the work — movement, structure, score, other aesthetic elements — worked cohesively together to create that effect. "Anima" means life force — "prana" in the yogic tradition, "chi" in Chinese spiritual and wellness tradition. "Animus" means hostility, ill-will and the motivation to harm. As the piece proceeded, this title became fully clear. 
The movement had a clear classical base but a contemporary wrapping, with originality of shape, weightedness at times and frequent defiance of classical norms. It was consistent and fluid, whether vibrant with larger groups or slower with smaller groups — illustrating a life force (anima) of its own. There was also a life force in the multiplicity of groupings and formations — in that, discovery of the plentiful possibilities at hand. 
On the other hand, the music brought tension and ambiguity. The dancers wore white and black (costume design by Yumiko Takeshima), standing out in silhouette against a white backdrop (scenic design by John Otto). Together, all of that conveyed duality, yin and yang in tension yet also parts of a final whole — a whole that wouldn't be the same without either.
That liveliness of movement, and exploration of new ways of relating in movement, stayed consistent despite the darkness also present. That felt like hope and resilience — something that can soothe the soul in a time like the one we're all in. The concept and its execution were commendable and memorable, yet perhaps the movement was the most pleasing part; the facility of these elite artists was on full display through movement both multilayered and full of pleasing clarity.
Brava to San Francisco Ballet for finding that creative sweet spot, and overall aesthetic unity — both looking and feeling different in each work in the program. In each case, those are effects that can resonate through the bones and the soul for a long time after viewing, even if through a screen. We dance and we create on!
By Kathryn Boland of Dance Informa.