"Lights, camera, action!" — there are the sounds of pointe shoes across the Marley and the ruffling of tutus, while the score plays in the background — "aaand cut." Pop-culture dance films have become a well-known genre of their own. Barton Cowperthwaite has been in several dance films and television shows — including Fosse/Verdon (2019) and Center Stage: On Pointe (2016) — an intersection of his experience in dance and acting. Viewers worldwide can now also catch him in Tiny Pretty Things on Netflix, a ballet-themed thriller.
Cowperthwaite has faced the challenges of being an elite dancer through this time but also the blessings of connection with fellow artists, the fulfillment of civic engagement and getting deeper into his artistic crafts. For him, it's the everyday work that matters. Dance Informa spoke with Cowperthwaite as part of our "dance life in quarantine" series, breaking down what select high-profile dancers have been up to through COVID times: how they're staying in shape and creatively inspired, what they've been creating, how they're giving back and more.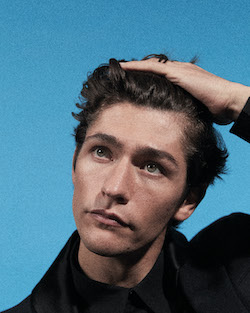 When COVID hit, Cowperthwaite had been dancing La Traviata at the Metropolitan Opera House, partnering with Sara Mearns. He quarantined on Long Island with his girlfriend and her family until the city got its outbreak more under control. He took class in their basement two to three times a week. To stay in shape, he did TRX and other cross-training like push-ups. Back in the city, he has a 9'x7′ training space right in his bedroom: a ballet barre, a yoga mat, dumbbells and resistance bands over the door. "If it's close by and stares at you, it can bring a little guilt that can actually make you do it. And I can wake up and do some tendus!" he says with a laugh.
Craft and self-compassion
At the same time, he urges other dancers to accept where they are right now — that it's okay to not be at peak condition as a dance artist, and that you're not alone in that. He acknowledges how self-critical dancers can be and underscores that you're not alone in beating yourself up either. At the same, we should question our work-focused culture and be patient and kind to ourselves. "I haven't taken this much time off dancing in my life, and I've been working really hard to be forgiving of myself," he says. "These are unprecedented times."
Cowperthwaite has been able to rent studio space in the new year, however. Sometimes he'll give himself a class and improv, and other times he'll work on acting — doing self-tapes, running lines and watching acting seminars. It depends on his motivation, he says, and he maintains that spirit of kindness to himself by following that.
For him, his crafts of acting and ballet are absolutely in conversation with each other. The two crafts call for different skillsets, he affirms, particularly when layering in speech with acting, but there are certainly common threads, such as keying into one's vulnerability to bring the emotional life of a character or an idea to life.
Cowperthwaite hasn't been working on as many projects as usual through COVID, but he's certainly delved more into craft, he says — the daily work of honing and refining technique in both acting and dance. He's taking a class at NYU Film School, and is hoping to get deeper into acting work post-COVID: Broadway, film, straight plays and hopefully another Tiny Pretty Things season. "Dance will always be there for me, and I'll always consider it," he assures. He has a project coming up which he can't discuss yet, but we can look forward to that news.
Whatever it is for him, he'll keep doing the work, he confirms. "It's great to want to have your name in lights, but what truly keeps you going is the work and staying true to your craft," he believes. Dancing in his 9'x7′ space and not having all of the fanfare that would typically come from the launch of a show on Netflix demonstrates that. "It's not always glamorous," he affirms, but the work will always have its own wonders, always with that self-compassion, of course. "I won't sugarcoat it; it's been really hard," he says, but that wonder of craft and creative engagement can be a small light in a dark time.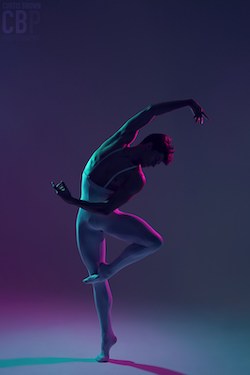 Taking action and finding light
Outside of dance, Cowperthwaite has gotten more civically engaged in this time. He felt compelled to get involved with the movement for racial justice and police accountability over the summer, and following that with the 2020 election. He began writing letters, through Vote Forward, to voters in underrepresented communities — those who often face various barriers to voting and tend to vote at lower rates than other communities.
He pledged to donate to the NAACP with every 25 letters written, and his followers just had to tag him on social media to alert them to their civic action. Both Vote Forward and Levi's took notice, and they pledged to match his letters and donations. All in all, their efforts raised $7,000 for the NAACP. When he felt like he was in a bit of a creative and artistic rut, it was reinvigorating to put his creative energy into activism in these ways, Cowperthwaite shares.
His Tiny Pretty Things cast family has also given him light, he says — the people who actually inspired him to get more civically involved, he adds. He's also been incredibly grateful to see the positive response to the show around the world (from Luxembourg to various African countries, he notes). "I haven't been recognized on the street, but my phone has blown up," he says. "I got over 200,000 followers in a month!" He's even gotten many messages from viewers sharing that the show got them re-inspired to dance again.
"That's been a huge boon, to bring dance to so many people all around the world," he says. Those are some of the things that drew him to dance, he shares, its aliveness and universality across borders and cultures. The world is all facing COVID together, so perhaps, for those reasons, dance can have more impact now than ever. Staying dedicated to craft, creatively engaged and working to make the world a brighter place for all through civic engagement, Cowperthwaite will be part of that impact.
You can follow Barton Cowperthwaite on Instagram: @bartonc.
By Kathryn Boland of Dance Informa.