It's been a challenging year, and the holidays are probably going to look a bit different this time around, but that doesn't mean we still can't spread the usual holiday joy and cheer. We put together a Christmas Gift Guide, complete with great gift ideas for the dancers in your life – dance teachers, studio friends, daughters and sons, and dance fans. And everything is available to purchase online, so you can shop safely at home. So be sure to end 2020 by spreading some cheer and making the dancers in your life excited for the year ahead with their new gifts!
#1. Stylish dancewear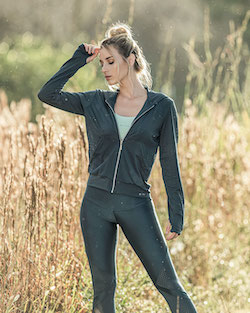 Every dancer would appreciate some dance clothes as gifts! We love these Só Dança Bend and Snap Leggings, which are great for dance classes at home or in the studio, conditioning workouts, and are even sleek and stylish for an everyday look. And of course you need a top to go along with those! The Beyond the Studio Jacket is buttery soft, super comfy and made of high quality material. You may end up with one as a gift and one for yourself as well!
This Camisole Leotard with a Webbed Mesh Overlay from Só Dança's Sara Mearns Collection is sure to be a head-turner and dancewear drawer favorite. It features a mesh insert around the waist, giving a very flattering look, as well as a gorgeous mesh overlay design on the double-layered upper bodice. And it's on sale, so stock up now!
For the younger dancers in your life, the Child Sweets Tank Leotard is sure to be loved! It comes in such cute (and sweet) designs such as doughnuts, candy, lollipops, ice cream and flowers. And don't you worry – the fun, colorful leotard comes in adult sizes, too!
Black dancewear doesn't have to be basic, and this Child Cap Sleeve Black Leotard with Lace is anything but basic. From Só Dança's Sara Mearns Collection, this leo is perfect for dance class, summer intensive auditions or even underneath a skirt with flats!
#2. Holiday face masks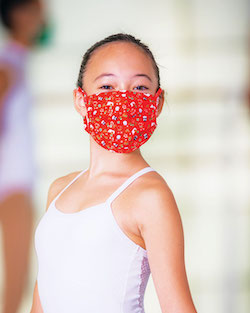 The holidays might look a little different this year, but that doesn't mean we still can't be festive and have fun! These Só Dança holiday face masks are the perfect stocking stuffer and can add a little more joy and color in anyone's life. The pleated face masks with ear loops come in child and adult sizes and are available in fun designs with Santa, penguins, snowmen and more.
#3. Dance books
There are wonderful dance-related books out there for readers of all ages! For your dance teacher or brainy dance friend, pre-order Dr. Peter Lovatt's The Dance Cure, to be released January 2021, which reveals the cognitive and emotional benefits of dancing and how you can dance yourself happy. Who doesn't want to be happy, especially in 2021?!
For younger readers, there's the sweet Welcome to Ballet School book, written by New York City Ballet Principal Ashley Bouder! She will take you through some basic ballet steps and then finish off with a fun retelling of The Sleeping Beauty. Kids may even like to act out the different characters of the story ballet along with the book's characters. There are some familiar faces in the book, too – the late Marcia Dale Weary; Bouder's own daughter, Violet; and some of today's top ballet stars.
Bouder isn't the only professional dancer to have published a book this year. Misty Copeland's Bunheads could be a great gift for young dancers. The book tells the story of a young Misty, who discovers her love of ballet through the ballet, Coppélia.
#4. Accessories for any dance lover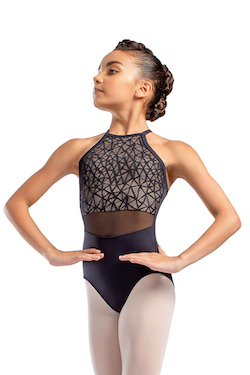 Dancers love their accessories – from dance bags to water bottles with fun prints and more! This holiday season, gift your dance lover with some accessories that are festive and totally come in handy. This Christmas Printed Coin Purse is the perfect case for everything from coins, cards and cash to hair ties, bobby pins and scrunchies. Another holly jolly stocking stuffer is this satin Christmas Printed Pencil Case, which could be a great addition to any dance bag for holding pencils, pens, hair accessories, a mini sewing kit and more.
Speaking of sewing kit, a handy stitch kit is always a great thing to have in your dance bag. So gift this Ballet Pointe Shoe Stitch Kit to your favorite dancer this holiday. It includes everything you need to sew your shoes – scissors, two needles with large eyes, a magnet to keep them in place, and strong thread for ballet and pointe shoe elastics and ribbons. Your dancer friends and loved ones will be so grateful for this!
#5. Virtual dance tickets
While most performances have been canceled this year due to COVID-19, and there aren't many Nutcrackers being presented this holiday, there are still ways to gift the joy of a dance performance this Christmas.
Jennifer Weber's The Hip Hop Nutcracker is being livestreamed through January 3, 2021. The production is set to Tchaikovsky's iconic score but features exciting hip hop choreography and is suitable for the whole family. Tickets start at $25 and can be purchased here.
Pam Tanowitz Dance is presenting a livestream performance event featuring two works, one of which was created in collaboration with Tanowitz's dancers while in quarantine via Zoom. Tickets are $12 per household through The Joyce Theater, and livestream performances will be available for viewing until December 26.
And for your classical version of The Nutcracker, always a holiday favorite and a "must" around the holidays, New York City Ballet is offering its George Balanchine production for rent through January 3, 2021. The performance stars Maria Kowroski, Tyler Angle and Megan Fairchild. Rental price is $25 and can be booked here.
Happy shopping!
By Laura Di Orio of Dance Informa.