"Well, it's been a rollercoaster!" says American Ballet Theatre (ABT) Soloist Calvin Royal III when asked what his artistic life has been like through COVID lockdown. In a conversation with Dance Informa on the matter, he demonstrates thoughtfulness, a positive spirit and a hunger to keep creating and keep stepping forward in his career no matter what challenges stand in the way. We're featuring Royal III in the first of a new series spotlighting how different accomplished dance artists are making it work through COVID — how they're keeping in shape, staying creatively inspired and moving forward as artists and as people.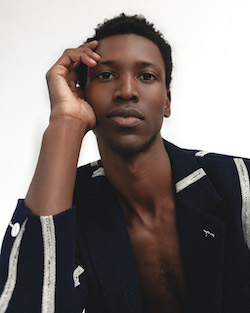 Dancing in lockdown
Interestingly, and sadly, Royal III was recovering from an ankle injury when ABT's studios closed up and ultimately its spring season had to be cancelled. Once he'd recovered, he was able to join the daily classes over Zoom that ABT offers the company. That's no replacement for dancing Romeo opposite Misty Copeland, as was planned for him this season — but he seems in good spirits, grateful to still be taking class and moving. Asked about how he maintains his signature elegant, unassuming movement style in his 500-square-foot apartment, he laughs a bit and says that it's a challenge — but he does the best that he can.
To stay in shape beyond taking class, he does core work and other cross-training in his apartment, he says. He's also been reflecting and thinking about next steps, as well as choreographing. "It's interesting, even before the pandemic, I was thinking about ways to move forward in my career and also give back," he reveals. As such, he's also been working on an organization to support rising artists. He journals a lot, as well, and writing is helpful for creating productive reflection, he shares.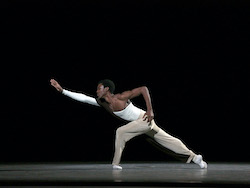 Creating together, social distance edition
Royal III describes two different projects that he's been involved with through lockdown, those involving other artists. That's meaningful to him because at difficult points in his career, what's kept him going is the potential to work with more great artists and dance in more great works. As one of those projects, he was supposed to be the Artist-in-Residence at the Vail Dance Festival, but it was cancelled. They asked him to create a dance film to be shown at a virtual festival instead. He created a film with artist Bobbi Gene Smith, dancing at Rockaway Beach in Queens, NY.
He's also programmed part of and choreographed for an outdoor and masked performance, to take place at the Kaatsbaan Summer Festival, up in the Catskills — along with several other artists, including Lloyd Knight of Martha Graham Dance Company, and Leonardo Sandoval and Greg Richardson of Dorrance Dance. To be even more cautious with regards to health and safety, all of the work in the festival is solo work, Royal III explains.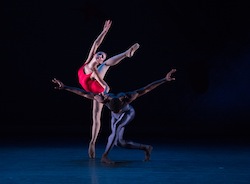 He was thankfully able to book some studio space in NYC to work on choreography for this project. "At some point, being able to move through a big space is essential for what we do," Royal III affirms. He agrees with the idea that in challenging times like these, to look for what's available out there and to simply ask around for what you need can be very helpful.
"In a time when everything's cancelled and it feels like there's not much to look forward to, this festival has been something to look forward to, and that's felt great," he adds. With both of these projects, he says, it's been great to be part of opportunities for artists in this tough time. He's doing what he can to "create space and create opportunity, not only for myself but also for fellow artists," he affirms.
Stepping forward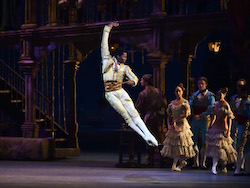 While working to create space and opportunity for himself and fellow artists, Royal III acknowledges that the field will inevitably change — with increased solo work, such as with the Kaatsbaan Summer Festival, for instance. He also thinks that dance artists will become more interested in and more skilled at merging with other art forms and collaborating with other kinds of artists.
Whatever happens, Royal III keeps the mindset of "how can we take the lemons we've been given and make lemonade?" he shares. He acknowledges other times during his life and his career when there's been a big obstacle or stasis, such as a major back injury and it taking several years to get promoted — but his love for the work and working with talented people kept him going. Whatever comes, persistence and positivity like Royal III's can help us make it through to the other side.
By Kathryn Boland of Dance Informa.