Davis Square, Somerville, Massachusetts.
July 18, 2020.
There's something uniquely magnetic about site-specific dance work, even by the standards of this exceptionally ephemeral art form. One silver thread, if not silver living, of what's transpired for the art of dance and dance artists because of COVID is an encouragement to explore what's possible with site-specific and outdoor work. Apart from being more likely to comply with health and safety guidelines, enjoying dance outside can be particularly meaningful in a time when so many of us feel trapped indoors. More than that, it can bring us hope and joy in what can also feel like a dark time. Lonnie Stanton and Dancers' Redirect and Progress, through the Somerville Arts Council, is a wonderful example of all of those dynamics.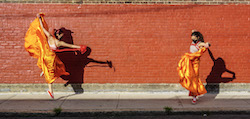 To start the work, dancers move expansively in a courtyard — reaching, turning, kicking. They move improvisationally and in different timing but are also so very attuned to one another. My own body craves this freedom of movement that's attuned to other bodies in this time of confined spaces and physical disconnection. With drumming and long orange skirts, dancers reaching all around and high while grounded in the earth, there's an organic and earthy feel to the space, as well — one that makes me crave all of that all the more. Supporting this atmosphere, the performers use the architecture around them, such as jumping on and then spinning down from a bench. 
As we move with the dancers from outside of a train station to across the street to another courtyard, outside store fronts and past passersby, I feel like I'm going on a journey with them. People sit and watch (or seem to ignore), or walk by on their way into the train station, moving on with their busy evenings — a striking meeting of art and the mundanity of life. At the same time, all wear masks. With all of the expansive movement, lovely costumes and enticing drumming, the reality of COVID is inescapable. With that is an inspiring resilience, however; art continues. Our lives continue. 
The camera pans out from the dancers in the courtyard, and we soon meet them again behind another building. They again move with spaciousness and energized grace. In a kind of defiance, two dancers come to touch and then hold hands as they walk. We must be very serious about social distancing guidelines. Yet the world does not crumble to bits because two people have physical contact. (They might be quarantining together and also have both tested negative, so let's not jump to conclusions, I do admit that I had to remind even myself.) 
To yet another space we continue to journey — us seeing the drummer as we do, which is an interesting touch, to have a visual of where that part of the experience is coming from. In a larger field, dancers move with a circular quality while joined together by a red string (the red harmonizing visually with the orange skirts). They move out further to have contact with the trees, bouncing off and coming back to them. There is something so beautifully natural about it all.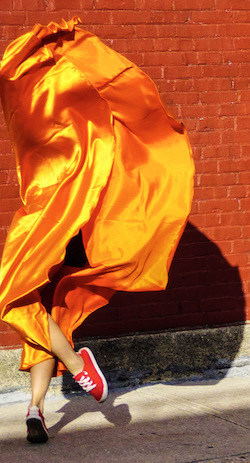 In a later section that also truly sticks out to me, two dancers move powerfully, in and out of unison. Two more dancers join them to form an off-center square. The energy rises to a new high point, and then the dancers shift to walking towards the street. They come back to bow. It feels like a potent reminder to dance on, move on and continue on with all that we have. 
Stanton then focuses the camera on herself and thanks all for tuning in. She shares that the theme was chance, and that the dancers dealt with the chance occurrence of the day's heat that the dancers bravely dealt with. I wonder if the perception of the work would have been different if she shared this theme at the beginning. I think that my experience of the work probably would have been more intellectual and less visceral. I certainly prefer the latter when it comes to art. 
All in all, I came away incredibly impressed by the dancers' synchronicity, resilience and stamina. I'm also moved to move, act and press forward no matter how immense the challenges that we face are. At least we face them together. We can redirect to a more positive perspective and progress together.
By Kathryn Boland of Dance Informa.