You know those hyper-talented families we're all secretly a little jealous of? The Bartons are one of those families. Sisters Cherice, Charissa and Aszure (from eldest to youngest) grew up dancing together but soon discovered that their dance careers were taking them in different directions. Although it wasn't always easy or straightforward, they each carved their own distinctive path in the dance world.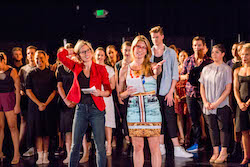 The sisters often broke from conventional paths laid out by the industry, and their advocacy for individualized paths serves as the motto for one of Cherice and Charissa's biggest and most meaningful projects: Axis Connect, a bi-coastal summer intensive that straddles the worlds of concert and commercial dance. For more information about Axis Connect, check back next month. In the meantime, read on to learn the secrets of Cherice and Charissa's success.
What is your background in dance? What makes the path you chose unique?
Charissa Barton
"All three of us (Cherice, Charissa and Aszure) started dancing in Edmonton, Alberta, Canada, at a very young age. We trained in ballet, jazz, tap, acting, theater and voice, and did both competitions (although they were much different than they are now) and performances. I focused the last few years of my childhood on ballet and joined Alberta Ballet as an apprentice, where Cherice was already in the company. After a year of apprenticing, I knew that being in a classical ballet company was not what I wanted.
I went to The Juilliard School, which proved to be exactly what I needed. From there, I joined Parsons Dance and toured for a few years; I felt incredibly lucky to be able to travel the world doing what I love. At that time, Cherice and Aszure were both in New York, and I performed in some of Aszure's choreographic projects.
In my mid-30s, an opportunity presented itself for me to get involved in some humanitarian work. The urgency of the work kept my attention for several years, which meant sacrificing pretty much everything else in my life.
That work ultimately brought me to LA, where I shifted my focus back into the dance world. Cherice moved to LA soon after. Our paths hadn't allowed all three of us to work together for several years, and we were searching for a way to collaborate. We always felt the most alive when discussing what has now become Axis Connect, a way to educate dancers not only through technical training and repertory but also through conversations about life more broadly. I often thought, 'Phew. I wish I knew then what I know now.' Axis Connect seeks to inform dancers about those kinds of things early in their artistic development."
Cherice Barton
"I followed a more traditional 'dancer's path' for a long period. Dance has always been my first love. I was scooped up by Alberta Ballet before graduating high school and was with the company for five years before joining Les Ballets Jazz de Montreal, where I stayed for a decade. I got to engage with many styles, travel the world and form invaluable friendships. After that, I felt very unsure about what I wanted to do because I only knew dance. I consulted my mom and even career counselors before serendipitously getting a job as choreographer assistant for Mia Michaels. Even then, I still had a lot of questions, and envied Charissa's ability to support herself while do the things she loved.
On a girls's trip to Vegas with longtime friend Crystal Pite, I discovered my next career step. We saw four Cirque shows, and when I stepped out of O, I thought, 'I need to be a part of this.' I landed a role as resident choreographer of La Reve. Transitioning from dancer/assistant to managing 80 artists was one of the most difficult things I've ever done, and although I wasn't perfect, I got the job done and left on good terms.
Even then, I thought, 'What am I going to be when I grow up? Aszure and Crystal are the 'choreographers', and I don't know if I have it in me.' I soon started teaching, and it became clear to me that the studio is my home. Teaching helped me develop my choreographic voice and enabled me to work on America's Got Talent and Spider-Man.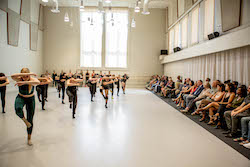 Around that time, Charissa and I started having weekly meetings, digging for what we really wanted. That's when we discovered Axis Connect, a platform to pool our resources, share stories, inspire the next generation of dancers and let them know it's okay to ask questions and to not know sometimes."
For more information on Axis Connect, visit www.theaxisconnect.com.
By Charly Santagado of Dance Informa.