Some dancers are bicoastal, splitting their time between LA and New York. But how many can claim most of North America as their market? Toronto-born and now LA-based dancer Dustin Wolf has made a name for himself twice over, both in Canada and the States. Dance Informa sat down with Wolf to chat about his takeover.
So nice to chat with a fellow Canadian! What do you find different between the American and Canadian dance industries?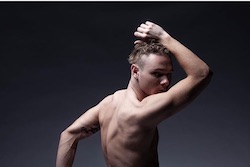 "I find Canada puts a big emphasis on classical technique and training, whereas I think the U.S. sometimes isn't as thorough there. In LA, I find hip hop and jazz funk are more prominent. I don't think that anyone is right or wrong; I think it ultimately depends on what job you're working, what audition you're at. That's what I've noticed."
I had a teacher in university ask me, 'You trained in Canada, didn't you?' They could tell!
"Yeah, I get that all the time. Even with choreographers. Just recently, Mandy Moore (La La Land, So You Think You Can Dance) told me, 'I've never not liked a Canadian's dancing.'"
Your agency in the U.S. is Bloc. But you're also with DaCosta Talent in Canada. Getting representation is a huge accomplishment, not to mention in two countries. Do you find it easier to get work now?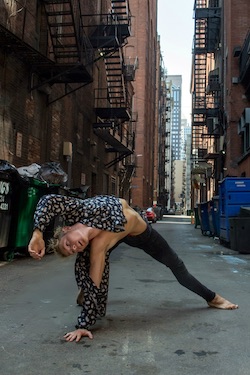 "I always wanted to be with Bloc. When it happened, it happened very naturally, which is when you know it was meant to be. I was going into my senior year of college, and I went down to LA to scope it out. I had a meeting with Laney Filuk. She and her brother own Bloc. She had never seen me dance before, but she took the meeting because a friend recommended me. She advised me to go to Mandy Moore's intensive, Playback. It ended up being the best experience I'd ever had, and Laney Filuk and Jennie Lacovey, another agent from Bloc, scouted me out. The rest is history. This was all before I even went into my senior year of college. I knew that when I got out, I was going to move to LA (which I did the day after I walked) and Bloc would be there waiting for me. I feel so lucky. When you have an agent, your job is to continue to vouch for yourself and put yourself out there. They're there to support you. You also want to make your agents proud. At least for me, they've become my mentors and guides. It's very much a team effort.
With DaCosta, I had just gotten back to Canada. I reached out to Peter DaCosta (who's the founder) sent him my reel, and I got a reply within five minutes. I didn't even know if I would get a response! I went in that week, and that was it. I'm very thankful. Being with DaCosta has been expanding my toolkit. Having support both in Canada and the States is priceless. Being Canadian, I think it's great to work both sides, and ultimately you'll end up where you're meant to be."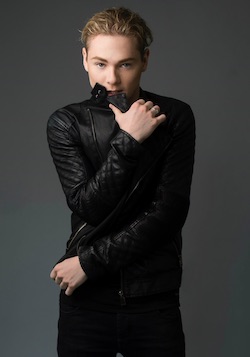 You've worked with some seriously impressive people. What's this project, Julie and the Phantoms, that you worked on with Kenny Ortega (Dirty Dancing, High School Musical) and Paul Becker (Twilight, Canada's Got Talent) ?
"It's a TV musical series; it's coming out on Netflix soon. It's about a teenage girl named Julie who meets a trio of ghostly guys. Together, they begin this amazing journey, and they start a band. You'll have to watch to find out more! But the whole process was so amazing. Everything just flowed, there was never a sense of panic; we were never rushed. We always felt so prepared, rehearsed and so safe on set. I've never felt so cared for by the director and choreographer. Kenny being so involved in dance, and Paul of course being a dancer himself, they really just understand what dancers need, deserve and the respect they should be given. And when you feel that, it just brings the whole team up. We're all trying to make the best product we can. All I can say about the show proper is that the dancing is going to be full out."
Does the U.S. market present more opportunities and connections?
"Dance is flourishing in Toronto and Vancouver for film and television. They're not filming in cities like Los Angeles and New York as much as they used to, because it's so much more cost efficient to film in Canada. People are starting to shift their mindset. If you wanted to be a commercial dancer, it was 'I'm going to go to LA,' whereas, now, Canadians are given this amazing opportunity to do what they've always wanted to do in their own country. And that's because of people like Kenny and Paul who are bringing these projects to Canada. I remember when we worked on Julie and the Phantoms, Kenny said, 'We should film this in Vancouver,' and they sent us to Vancouver. I think it'll only get busier for Canadian dancers."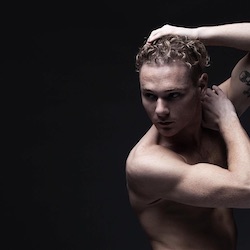 Is there a lot of crossover between the American and Canadian dance worlds?
"Funny story about that, actually. My first job in LA was for Tony Testa (The Greatest Showman, America's Got Talent) and this dance activist non-profit called Move the World. They were looking for dancers for an event called Parliament of the World's Religions. It's a huge, worldwide conference that's been running since 1893. Tony really dove in with us, and we spent months creating and experimenting. We performed at the opening ceremonies, and got a standing ovation from the 1,000 people in that room. Every year, it's hosted in a different country, and this time it was in Toronto. So the first job I booked in LA was a performance in Toronto."
Interested in following Dustin Wolf's story? Catch him on Instagram at @dustinwolf_.
By Holly LaRoche of Dance Informa.