Dance is pervading deeper and deeper into pop culture — for instance, So You Think You Can Dance, Dancing with the Stars, and long dance scenes in non-dance television shows such as Always Sunny in Philadelphia and Schitt's Creek. More and more, both pop-culture creators and their market recognize the beauty, grace, and astounding work ethic that dancers can offer. Nike has jumped on board with the trend, featuring a commercial with Ingrid Silva and Alex Thomas, narrated by tennis icon Serena Williams.
Dance Informa speaks with Silva and Thomas to learn more about working with Nike on the project, their careers, their aspirations and more. A native of Brazil, Silva has danced with Dance Theatre of Harlem, Dançando Para Não Dançar Company (Brazil), Armitage Gone! Dance, The Francesca Harper Project and many other artists. Thomas is from South Florida, and has trained at Next Generation Ballet, Joffrey Ballet Miami, The Ailey School and Boston Ballet School. Here they are!
How did you two meet and decide to work together? Was it before or for the Nike campaign?
Silva
"The Nike campaign came together through the Nike team. Alex and I actually never met each other before filming."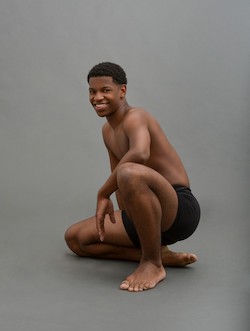 Thomas
"Nike introduced Ingrid and I once we were both selected to participate in the Nike commercial together. We had a chance to talk on the phone and send messages via social media and email to get to know each other better prior to meeting in person in NYC."
How did the Nike campaign come to be? How did the concept evolve in its early stages?
Silva
"I was notified in December 2019 about the opportunity."

Thomas
"Nike is well-known for its stance on breaking down racial barriers and promoting equality. This Nike campaign was probably, for the most part, in the making prior to us being chosen. Then, I think that once we arrived on set in NYC, the final details were created based on what they saw in us as individuals. In the early stages of this campaign, my jazz and musical theater teacher, Mr. Garry Lewis, chose dancers from my performing arts high school whom he felt were skilled enough as dancers as well as had a great journey in dance.
He sent Nike videos of each of us performing for them to review and select the one they felt would be best for their campaign. The competition was steep. Nike had difficulty choosing, so they asked us to answer a series of questions about our dance journey, our impact on others and on our community, as well as our plans for the future and basically how we planned on positively impacting the world. After this was submitted, Nike chose me to be a part of its campaign. It would be aired in February during Black History month! What a day that was when I learned that I was chosen! It was a dream come true!"
What was the process like? What did you learn or otherwise take away, most notably?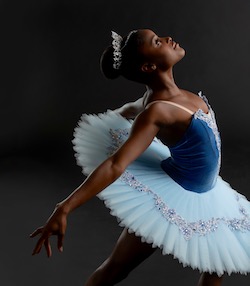 Silva
"It was a wonderful process with amazing people on set, quite historical."
Thomas
"The process was extensive. It entailed learning a new dance and large amounts of photography and videography at many different angles — all over the course of one full day, from around 6am to about 10pm. What I took away from this process was that the risk I took with my life had paid off. I put my body at risk, with my underlying cardiac condition, to follow my passion and my dreams.

I pushed myself through medical risks, mental blocks, peer pressure, negativity from peers and look at what happened….my dreams came true! What my parents taught my siblings and I about the importance of hard work and pushing through challenges — yes, they were right."
What was most challenging through the process?
Silva
"There was nothing challenging, everything was collaborative!"
Thomas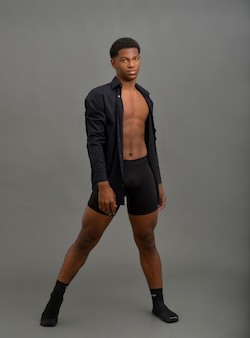 "The most challenging part of the process was understanding and processing what the Nike campaign staff was asking of me on set, as this was my first professional dance filming. I just wanted to do everything correctly and give them more than they were expecting."
On a wider scale, what's been a significant challenge in your respective careers, and how did you overcome it?
Silva
"Coming to the U.S. and not speaking English, that was the biggest challenge of my life! Also quite challenging was going into a new culture and not knowing what was next."

Thomas
"A significant challenge in my dance career was being told by my peers and other people whom I encountered throughout my life that I couldn't do this, that I couldn't make dance my profession. I overcame it by continuing to work hard, despite the negativity, continuing to persevere and utilizing the opportunity that I was given with Nike as a platform to show everyone that I can do it!"
What's been most fulfilling and meaningful? What experiences in this work have been truly game-changing for you?
Silva
"That has been getting this visibility worldwide, reaching the ones who dreamed of becoming professional ballet dancers."
Thomas
"The most fulfilling and meaningful part is having people approach me and tell me how much I have impacted their life. Also, I have been receiving offers from various dance companies to train and perform with them. The part that has been truly game-changing for me was making connections with Broadway and film! I can't begin to explain how significant and special that is to me."
Where to from here? Do you have any notable goals you'd like to mention? Anything in the works?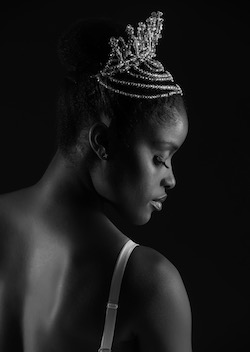 Silva
"There's so much I want to do. Honestly, I don't want to be known just as a dancer; I want to be known as someone who has contributed to a better future."
Thomas
"My goals at the moment are to do more commercials, films and book a job on Broadway. I am open to company and repertoire work as well. I also plan to attend USC or a school in NYC for college. The truth of the matter is that I am open to anything, as I am well trained, well disciplined and easy to work with.
I have started a shirt line called Styles 4 Smiles. It's a non-profit organization, and all proceeds will go to haircuts for children who are adopted and/or who are less fortunate. I mentor a young man who I have been taking for haircuts for three years. My goal is to lead a kid away from going into the wrong direction. The smile on their face is reassuring to me, and no matter how much money I put into this organization, the fact that I can make a child smile for a day and feel fresh is the best that it can get."
By Kathryn Boland of Dance Informa.