Debbie Allen and Nigel Lythgoe are putting a spotlight on LA's dance industry this coming April, hosting the first ever Los Angeles International Dance Festival (LAIDF) in venues across the city. With classes, workshops, film screenings and pop-up events happening all over, it will be impossible to miss. Catch LA native and visiting companies and choreographers like BODYTRAFFIC, Alvin Ailey, Jacob Jonas The Company, Bollywood Boulevard, Savion Glover, Syncopated Ladies and many more all around LA, from April 11-26. Dance Informa caught up with Allen and Lythgoe about the festival.
So this is the inaugural year of LAIDF!
Debbie Allen
"Yeah! This is the beginning of something that we think is going to be wonderful. It's a lot. Most of the Los Angeles dance community is involved."
How did it come about?
Nigel Lythgoe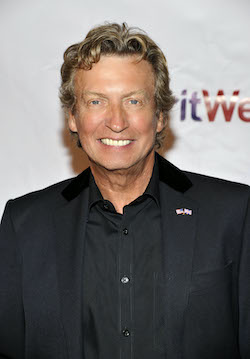 "Debbie and myself were on a panel together at the Wallis Annenberg Center for the Performing Arts discussing dance in Los Angeles. I suggested an LA dance festival and was told in no uncertain terms there already was one. I apologized, as I'd never heard of it. Debbie suggested it should be an international festival. I said I thought that was a great idea and it would create a lot of noise. Before you could say 'international' again, Debbie had called a meeting with anyone who was interested in helping organize it that Sunday morning. Ridiculous as it sounds, that was it. We were off and running."
It's a whole range of styles then?
Allen
"Everything! We have everything. From Bollywood to Flamenco, name it, everything. It really represents the city."
On top of the performances, there are classes and workshops going on as well. Are these aimed at professional dancers, or all ages and abilities?
Allen
"All of it! We're putting together a class called Colibri Arts, which is for the elders. Schools all over the city are going to be offering classes. Debbie Allen Dance Academy is offering ballet classes, African classes, hip hop classes. We're hoping all the schools in the greater Los Angeles area will participate. We'll keep updating those schedules on our website."
Would you talk a little about the Best of Dance show happening at the Segerstrom on April 25?
Lythgoe
"I spoke with ABC, BBC and NBC in order to let Dancing with the Stars and World of Dance join forces with So You Think You Can Dance (SYTYCD) for a charitable evening. All the profits will be donated to charities that use dance to assist in health problems like Autism, Parkinson's and drug rehabilitation. A sort of #DanceCares event."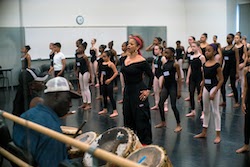 Aside from the Best of Dance show, what are you most looking forward to about the festival?
Lythgoe
"I'm looking forward to connecting specially abled dancers together with professional dancers. Thereby proving 'Dance is for All'. I want to constantly repeat and repeat that dance can have a positive effect on all our lives. It will be at the Broad Stage on April 13. We have Inverigo's 'Dancer's with Parkinsons', 'Free 2B Me', a Down Syndrome project and the Rollettes Wheelchair Company with the amazing Chelsie Hill. They will be joined by Chehon Wespi-Tschopp's contemporary company, alumni from SYTYCD and one or two surprise guest stars."
LAIDF is partnering with Los Angeles public schools. Why is that such an important connection to make?
Allen
"Oh my goodness, if there's any audience to reach first, it would be them. There's nothing like the arts to generate and stimulate creativity and thought; it's where innovation comes from. I know at my Academy, we do at least 20 or more lecture demonstrations for free all over the city at schools. There's such a void. The arts are the first thing to get cut out of public schools. We all have that same feeling and understanding that this needs to happen. It's a community service. You have to give back, and you can never give enough."
A festival of this size and prestige is sure to catch the attention of people outside of the dance community as well. Is part of its purpose to promote dance as a whole, on top of connecting dancers within the industry?
Lythgoe
"I love the fact that Debbie and I started this festival with three or four ideas. And although we are personally producing six events, so many brilliant companies, choreographers and producers have joined us and are showing the rest of the country how strong dance is on the west coast and particularly here in Los Angeles."
Allen
"The point of this festival is to connect our community and to bring forward what opportunities can be available in training. But it's also to develop the audience, and to gain respect for some of the wonderful groups who are doing such great work, and to connect the arts. This is happening as LA's getting ready to host the Olympics in 2028. There's a lot going on in the dance world that people need to know about. This is about connecting.
Nigel and I, and every person involved, are giving our own time, resources and money to make this happen. And we need more support alongside the wonderful organizations like the Wallis Annenberg Center and the Broad and the LA metro that are partnering with us. We're a non-profit, and we need to raise more money to make this the experience it should be."
Be sure to get tickets for LAIDF's Dancing for Life! at The Orpheum Theatre on April 24, and Best of Dance at the Segerstrom Center for the Arts on April 25, and browse through other performances here. Check back for newly added shows and events, and for added impact, shop merch! 
By Holly LaRoche of Dance Informa.