Dancer-designed leotard and dancewear lines are all the rage right now. From small to large, dancers with the world's top companies are dipping their toes into this creative enterprise, using day-to-day knowledge of what works to inform their design choices. Long-time New York City Ballet Principal Sara Mearns teamed up with Só Dança to produce a line of leotards, leggings and warm-ups. With the 2020 collection available soon, Dance Informa wanted to learn about what Mearns's days are like and how her designs help her succeed in the studio and on stage.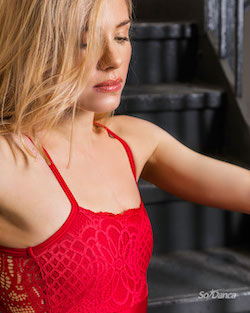 What is your morning routine like?
"I am a late sleeper. I wake up at the last moment and have just enough time to do everything I need to at home before going to the theater — cleaning, taking care of the dogs, taking them out for a walk, rolling out, stretching and making coffee. I have it down to about an hour or so now."
What is a typical workday like for you?
"I start with class in the morning and a workout sometimes, and then have rehearsals starting around 11:30am. We often go as late as 6:30pm or 7pm. We have a show at night, and most weeks I have five to seven shows. It's a very packed day. I also fit in PT, massage and eating something! Sometimes there are just not enough hours in the day, but it's all about staying focused."
What are some of your favorite dancewear items?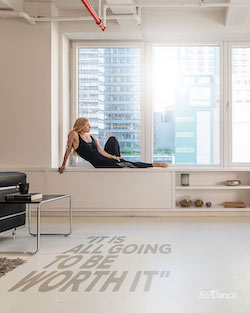 "I love the 2020 Só Dança collection of leotards. They are comfy but also very, very flattering to wear. I love seeing my colleagues wear them and feel beautiful in them. I have a different leo for every mood I'm in, and that can definitely vary from day to day."
What foods do you normally eat in a day?
"I usually have yogurt or toast in the morning. I eat dinner so late after the show, so I'm not very hungry in the morning. I have snacks at the theater all day to keep me going. Then, I have a pre-show meal of a ham and cheese sandwich. I have a big dinner afterward with good proteins, carbohydrates and veggies."
What is your post-show wind down routine?
"Post-show, I like to have a beer and lots of water in my dressing room. I don't rush to leave or go home. Stretching is very important, as well as decompressing mentally and physically. Shows really take it out of me, so I have to take a moment alone to calm down."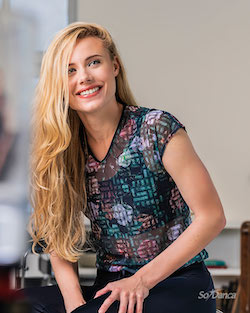 Which ballets excited you the most this season?
"This season was crazy for me, with a debut of Firebird, Alexei Ratmansky's new ballet, and all my other Balanchine and Robbins repertory. I was also in Justin Peck's new ballet and originated two other ballets of his. And, of course, Swan Lake with an amazing new partner, Guillaume Côté. It was such a whirlwind!"
For more on the Sara Mearns Collection for Só Dança, head to www.sodanca.com/women/premier-line/sara-mearns-collection.html.
By Emily Sarkissian of Dance Informa.